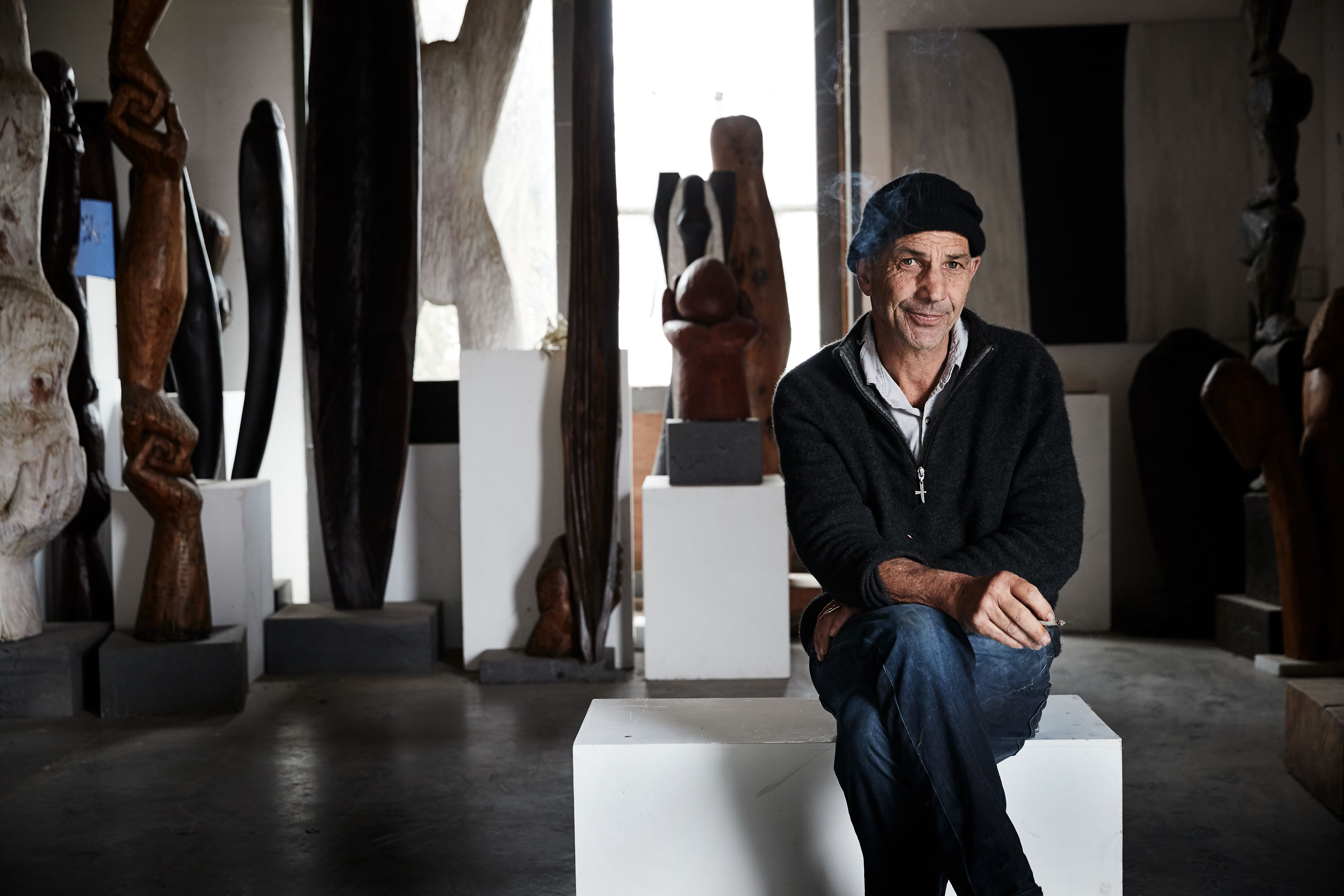 Mike Nicholls - Moment in the Sun
02.07.19
Artists
Heading down the long driveway of the Nicholls' family farm in Narre Warren South, you get a sense of Mike's proclivity for work. Wood carvings and totems lay idle in every green swale and greet you at the gates. The trees by the farm house are trimmed and clipped into neat shapes. Logs are piled up on the fence line. They must have been put there by tractor.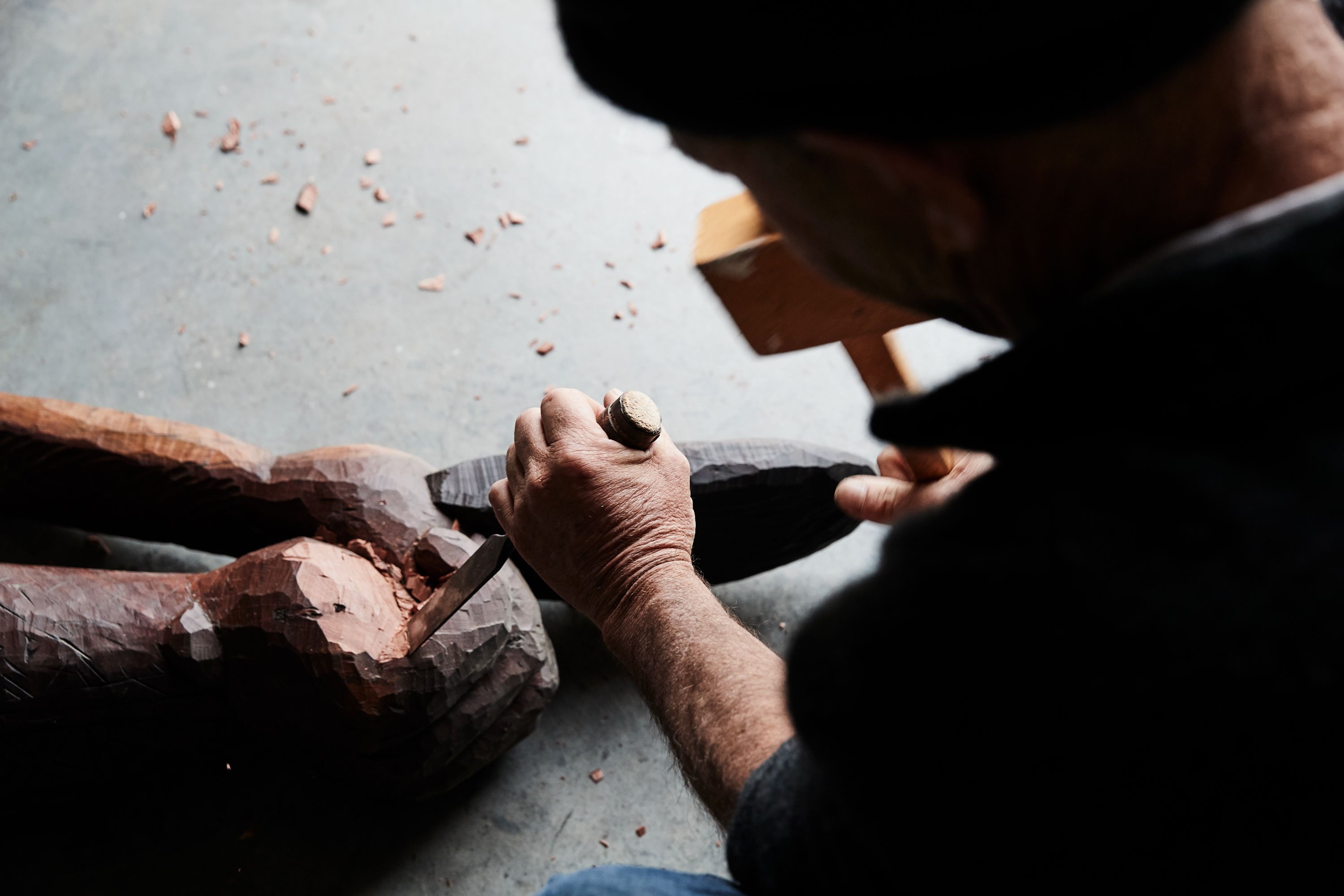 When I pull up at the house Mike is standing by a big corrugated shed with a woollen beanie on, rolling a cigarette with rough, cracked hands. He rolls the shed door open with a thunderous noise. "Once I finish a piece I spend another week or two refining it, so that i'm really happy with it," he says, walking through the shed. "I've been getting this space ready for a while." It's an open space with polished concrete floors and false white plaster walls. Mike's paintings hang under gallery-style downlights, sculptures are dotted around the floor. Mirror, a sculpture he's made for a collaboration with Jardan, is at the door; two arms reaching up in offering to a higher power.
Tied together with a masterful eye for aesthetics, the gallery space features some of Mike's best work from the past few years. In reality, it represents just a fraction of his back catalogue. Now 55, Mike's played his part in every major art movement in Melbourne for the last 40 years. Famously, he and a group of friends, fresh faced and just out of university, started an artist run gallery space on the clandestine streets of Fitzroy in 1982. Roar Studios would become a cultural icon, launching the careers of some of Australia's most celebrated artists including David Larwill, Judi Singleton, Wayne Eager, Jill Noble, Sarah Faulkner, Mark Schaller, and Mike. The Roar artists were notoriously precocious – which was subversive at the time – taking matters into their own hands instead of waiting for the art world to gratify them with praise.
"I had a good understanding of art and I was trained traditionally in sculpture. When I got involved in Roar Gallery I got involved in painting," Mike says, walking past a room in the back of the shed on the way upstairs. It's packed tightly with sculptures and paintings that he created in those early days. "We had a definitive style, but after a few exhibitions I decided that my work was becoming too busy – so I refined it and moved onto something new."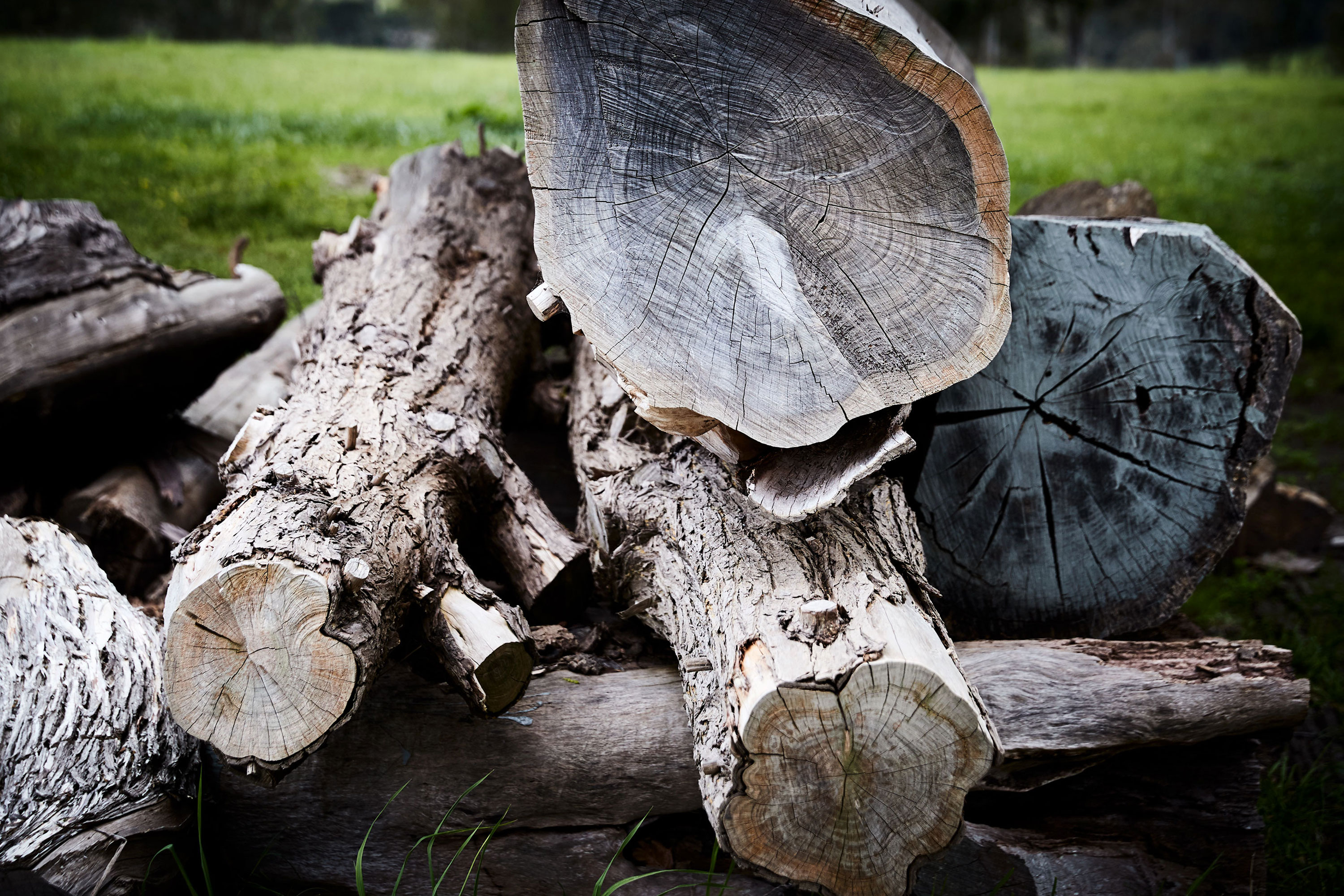 Upstairs paintings are rolled up and stuffed into pigeon holes. Hundreds of them, racks of canvasses splashed with dried paint and magazine and newspaper clippings scattered about the floor. Hundreds of them. Minutes after meeting Mike and looking through his collection you come to understand that he has, over a long period of time, developed his own visual language. It's something that very few artists do; something that takes a lifetime of work. He's unbelievably prolific and proficient – something most of today's up and coming artists can't boast. "Until you've developed your own language, then you haven't finished as an artist," says Mike. "Very few artists have actually achieved that. I'm just starting to do my best work now."
Sat in chairs upstairs, we talk about the strange dichotomy that every fine artists goes through. Where a musician or an actor historically finds fame in their twenties or thirties, the career of a painter can take a lifetime or more to mature. For an artist like Mike, who is so undeniably gifted and prolific in his craft, I mention that we're potentially sitting amongst Australian art history, a treasure trove waiting to be discovered.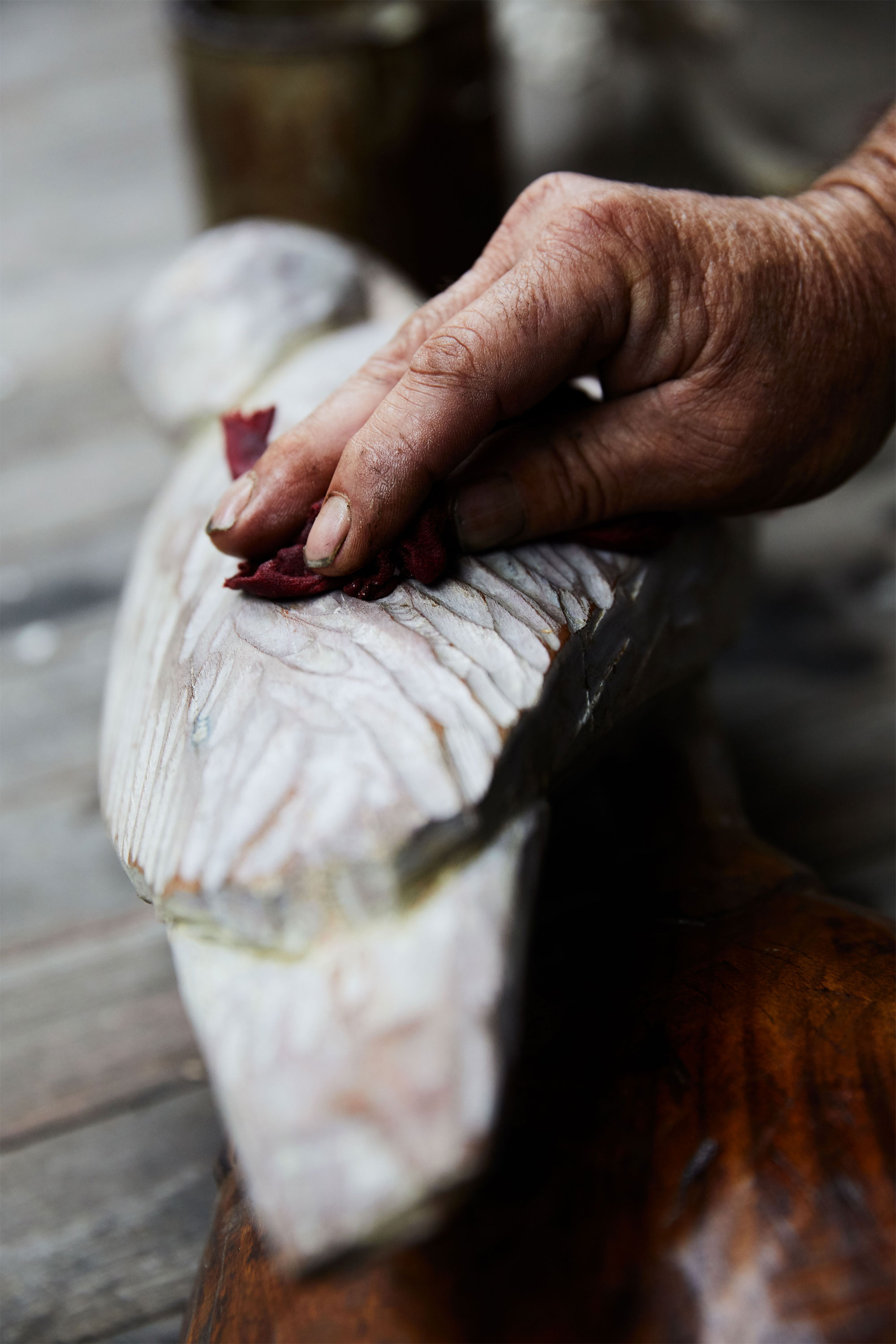 "I call it the long apprenticeship," he laughs. "Sure, we do our work because we want to leave a mark on society. But also, this is just what I do when I get up in the morning."
Select pieces from the Mike Nicholls collection are available at Jardan stores.