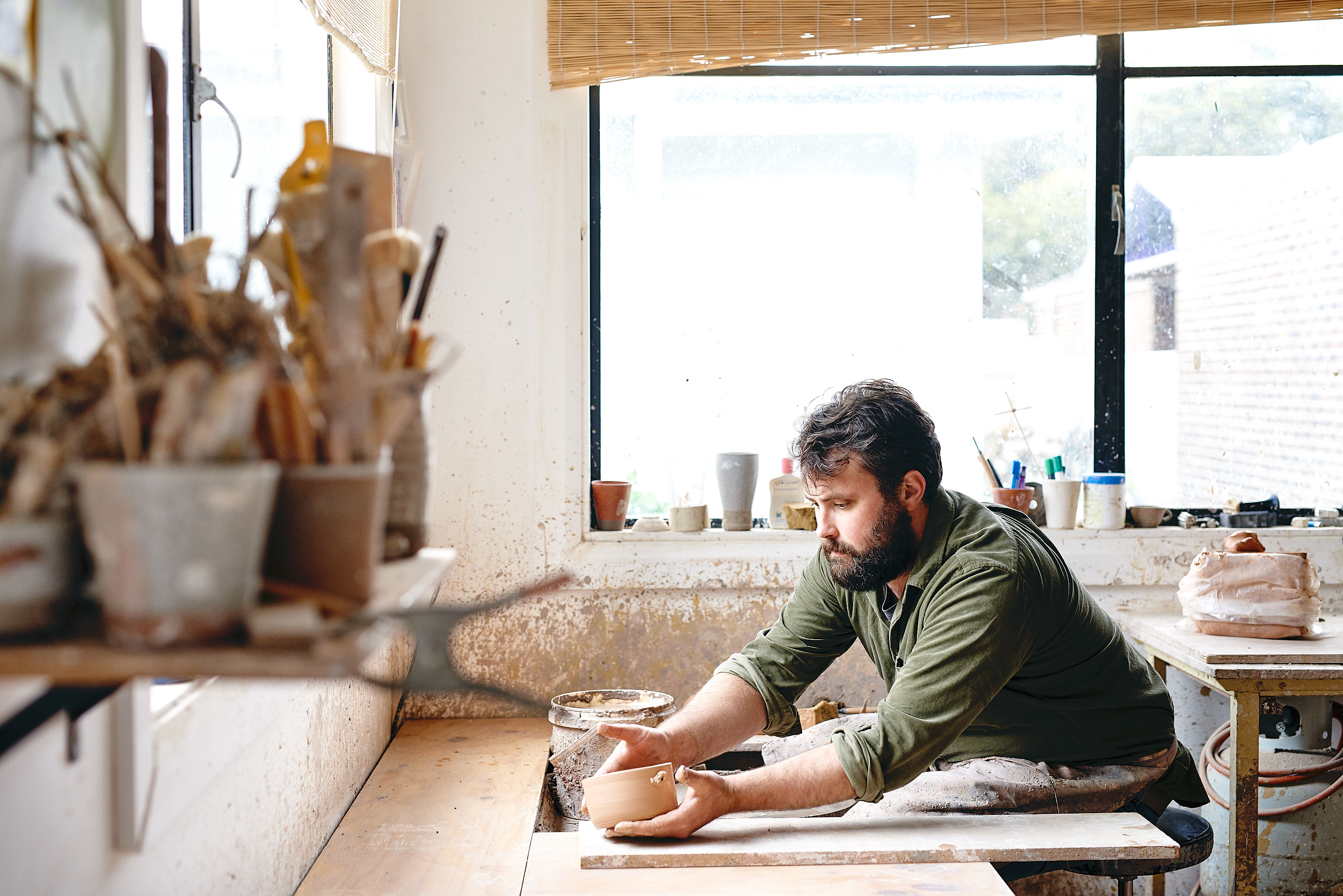 Meet the Maker: Andrei Davidoff - Art Vs Science
29.11.17
Friends
"I have my own kiln, in this room over here," says Andrei Davidoff, leading me through the studio space out the back of his home in Pascoe Vale, in Melbourne's north. Andrei is a ceramicist, and when you enter his studio you immediately notice a counterbalance between spaces.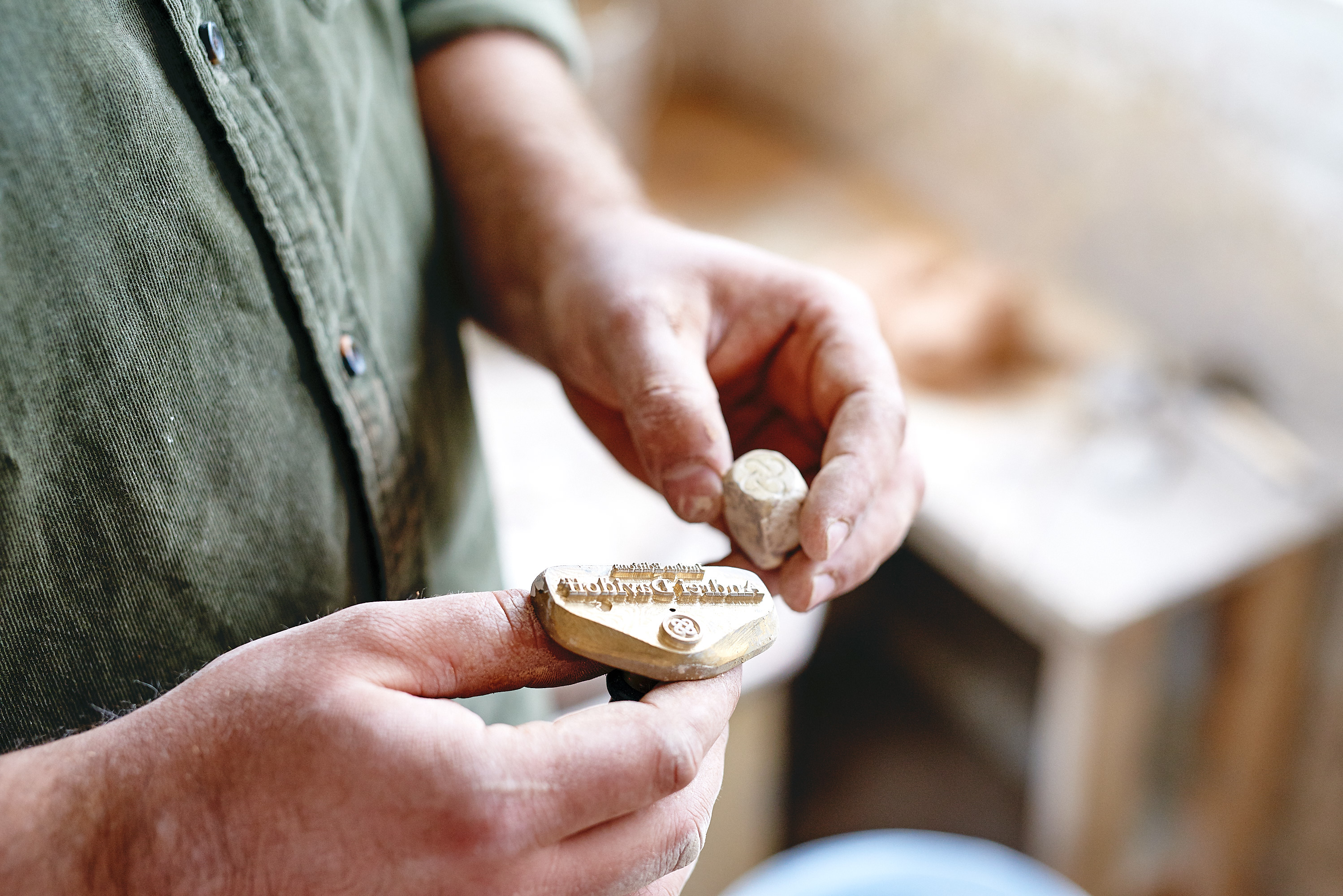 In the main room – where Andrei moulds the raw clay on two large spinning wheels – there's mess and chaos everywhere. The shelves are lined with ceramic pieces finished to varying degrees, and windows are splattered with dried pieces of clay that have flung off the wheels onto nearby surfaces. In the drying room it's quite the opposite. Filled with warm afternoon light, the shelves are neatly stacked with beautiful, naked ceramic plates and cups that are drying before going into the kiln at 1000 degrees.
It's the contrast between these spaces that gives you an understanding of how a ceramicist works. For Andrei, his art is about the constant shift between the messy shaping process and the scientific art of baking clay inside the kiln. It's a precision art form that Andrei does almost entirely by hand, using Australian porcelain and stone ware clays. And when you speak to him about how he fell into ceramics, it's easy to understand why he's so adept at navigating these two seperate worlds.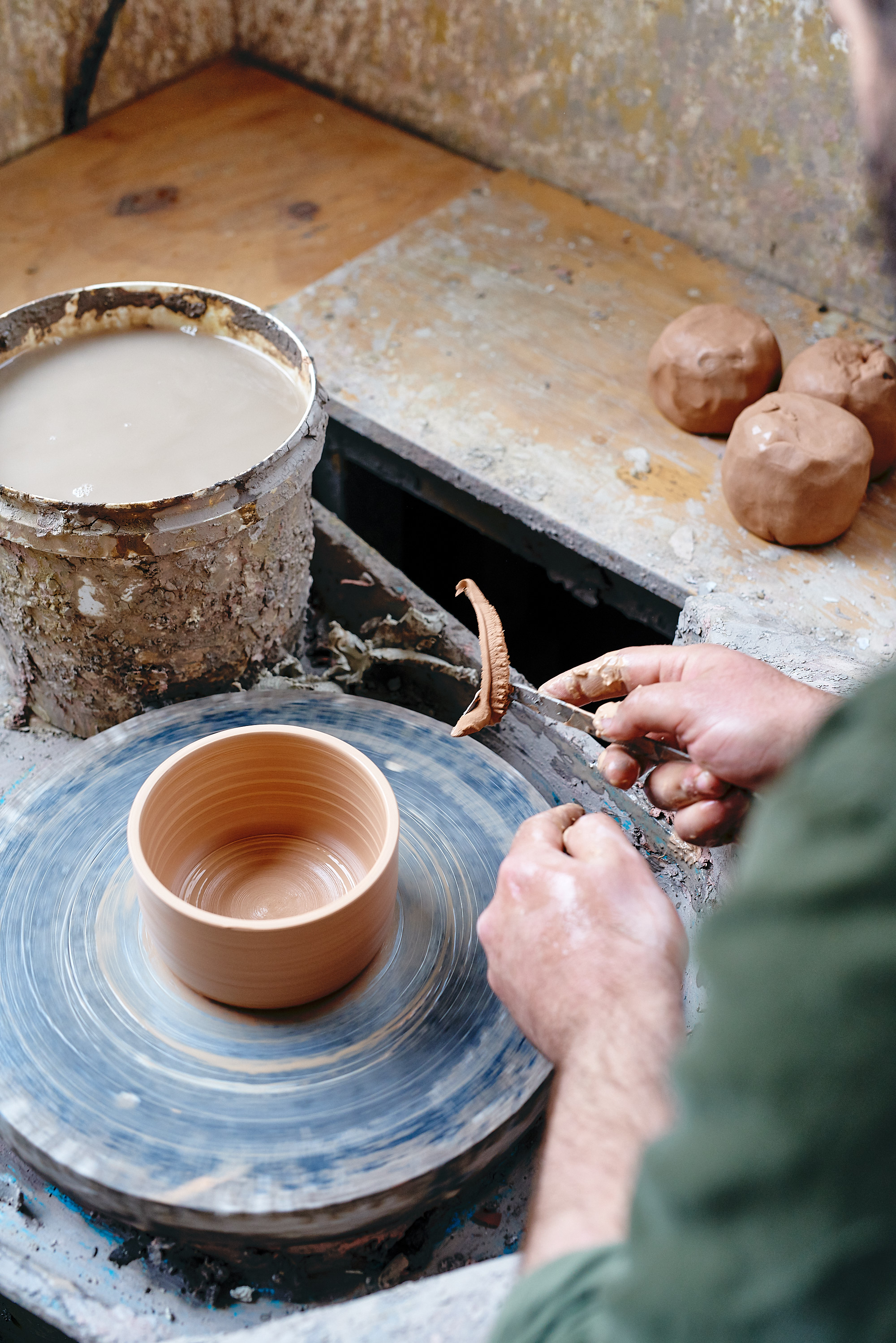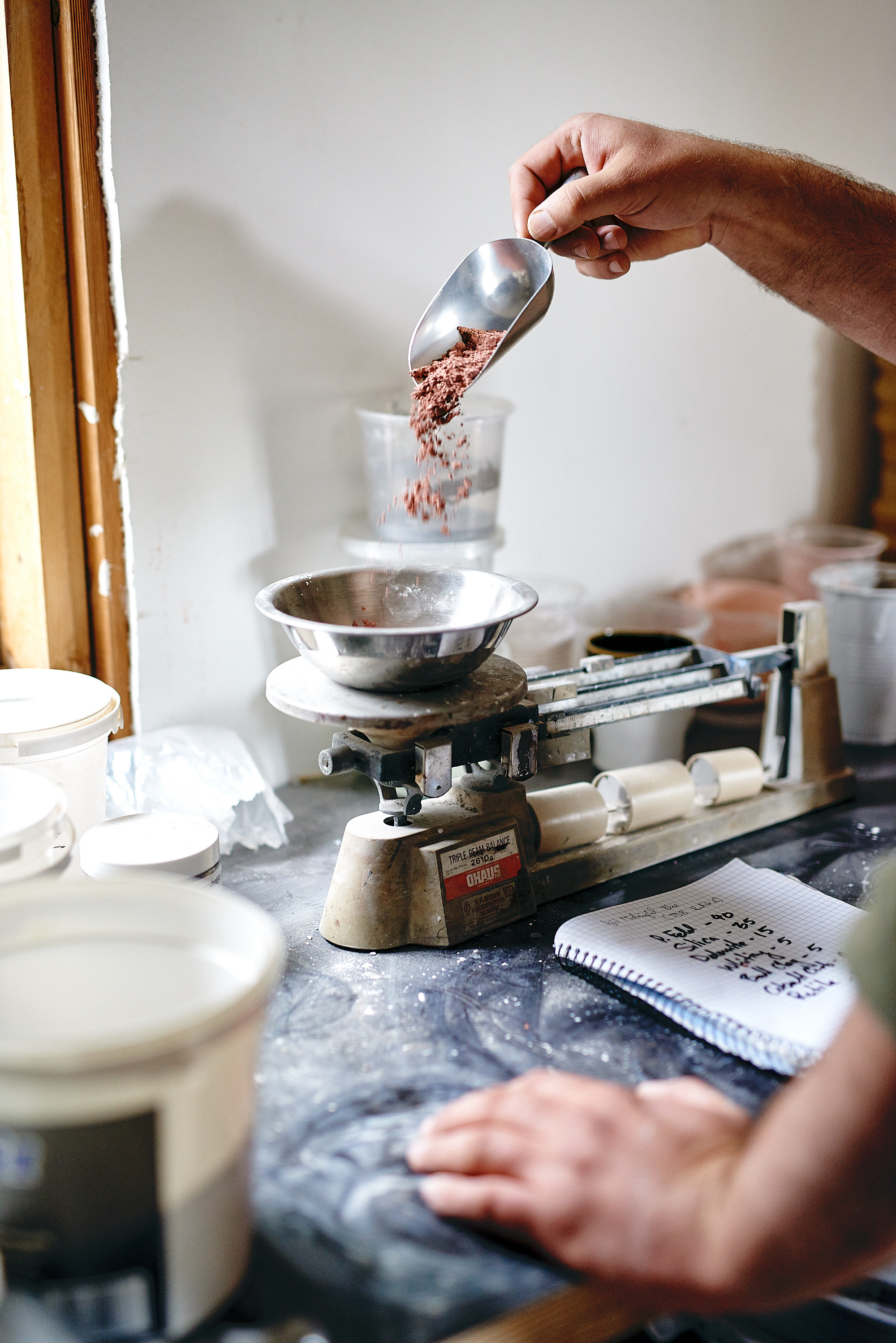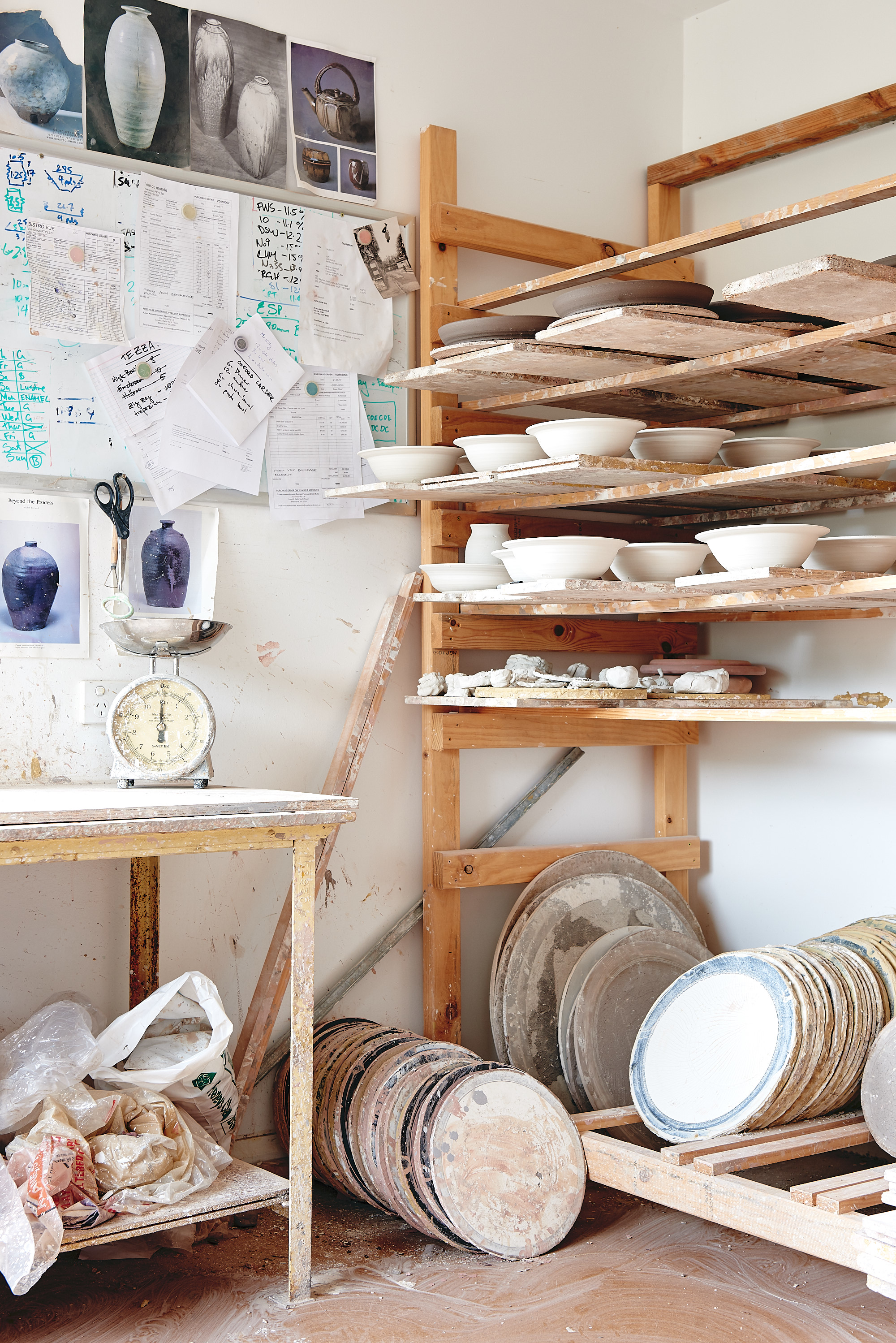 Andrei grew up a keen artist and photographer, but went on to study chemical engineering and science at university, which means he's wired to understand both the artistic and practical elements of ceramics.
"It didn't work out for me at university, so I did a lot of travelling and skiing," says Andrei, after our studio tour. "Then at the close of a long season in New South Wales, a potter friend on the mountain asked me if I wanted to join him as an assistant. He's a traditional Japanese-style potter, with a huge wood kiln, digging his own clay and chopping all of the wood to fire the kiln. I was staying with Sergei, enjoying living in the middle of nowhere, when I decided to give it a go for myself."
With that, two of Andrei's passions collided, and just a few months later he was on the road to Sydney to study at the New South Wales College of Fine Art, before relocating to Melbourne to complete his masters of Fine Arts at RMIT. During his masters, Andrei invested in the equipment he needed to start his own studio at home, and began working on both his fine art pieces and functional projects.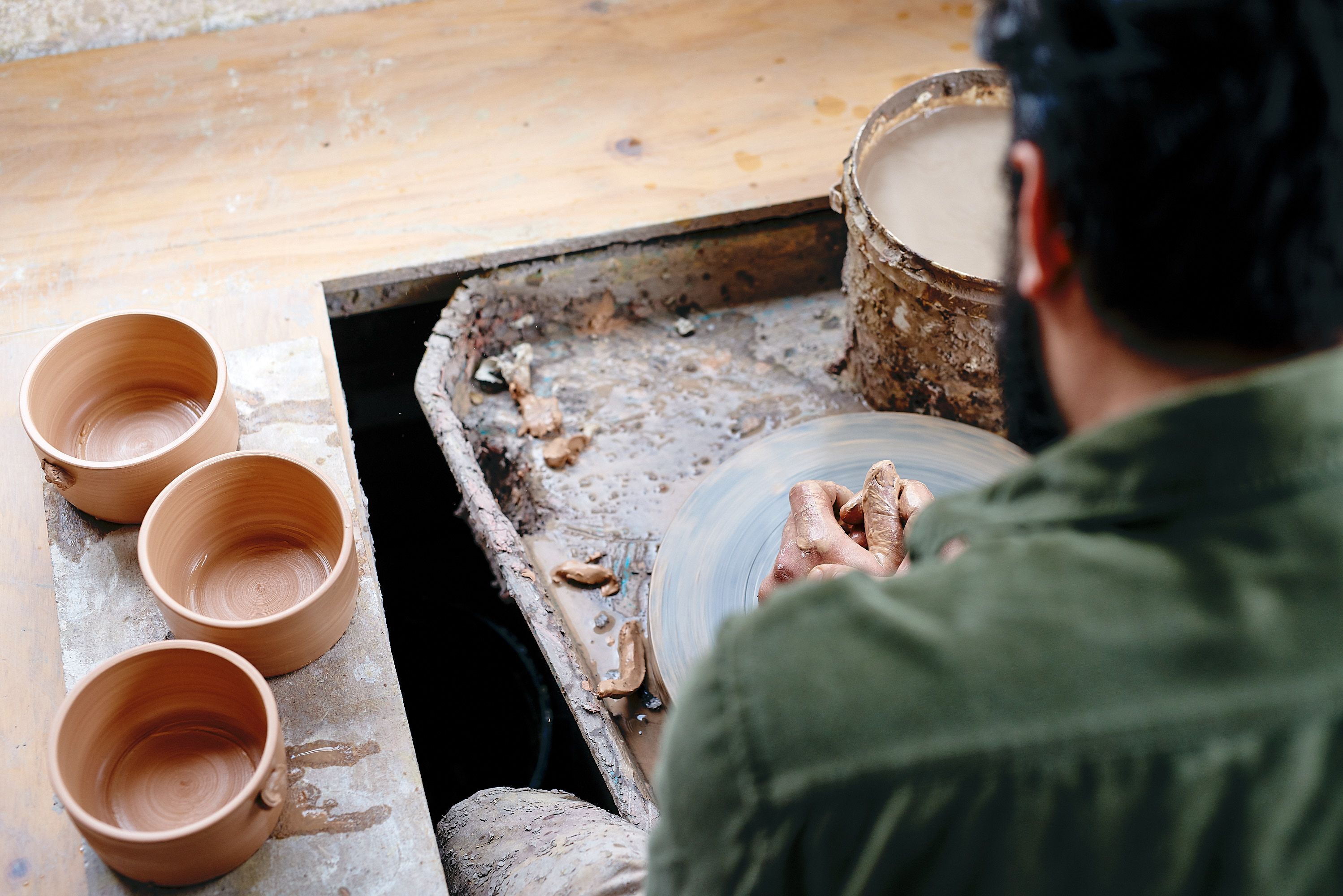 In the studio today, Andrei is working on a new batch of ceramic candle holders for Jardan. Titled Southern Forrest, the candle holder is first made by Andrei in his studio, a simple geometric form that is glazed at the top and raw at the bottom, with complimentary organic elements.
"With the candle holders, the idea was to take a traditional Japanese tea bowl, with earthy elements, and then add an organic counter point to that," says Andrei, back inside the studio. "While I'm shaping it on the wheel, I create a high foot ring, which makes the form look like it's floating. On the table at home, it gives it a lovely shadow and space."
While making the candle holders, Andrei takes a small piece of clay from the bottom and attaches it to the side, which when finished, contrasts in bright gold. "It takes a third firing, the gold. It's actually 24 carrot gold, dissolved in an organic compound," he says. "I glaze the cluster on, and then fire it at a very low temperature – it's a very expensive and beautiful liquid, and it's a really careful and delicate process, applying it with a fine brush."