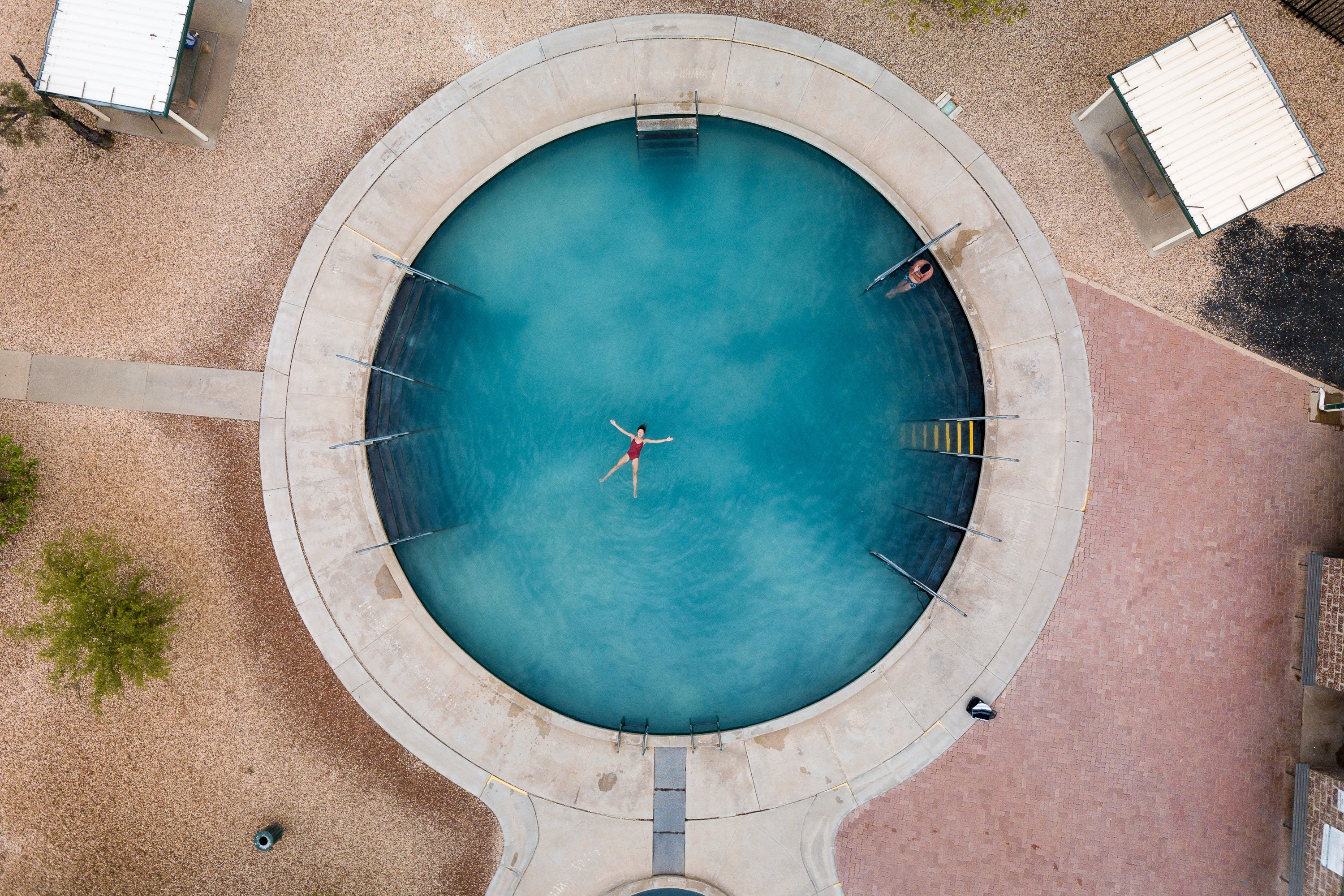 Places We Swim
12.08.19
Friends
Last year, partners Caroline Clements and Dillon Seitchik-Reardon hit the road in a beaten up troopy, crafting a guide to swimming in Australia. Along the way, they discovered that swimming isn't just the way we cool down on the coast. Whether you're down south or up north, inland in a mountain range: swimming is an innate part of being Australian.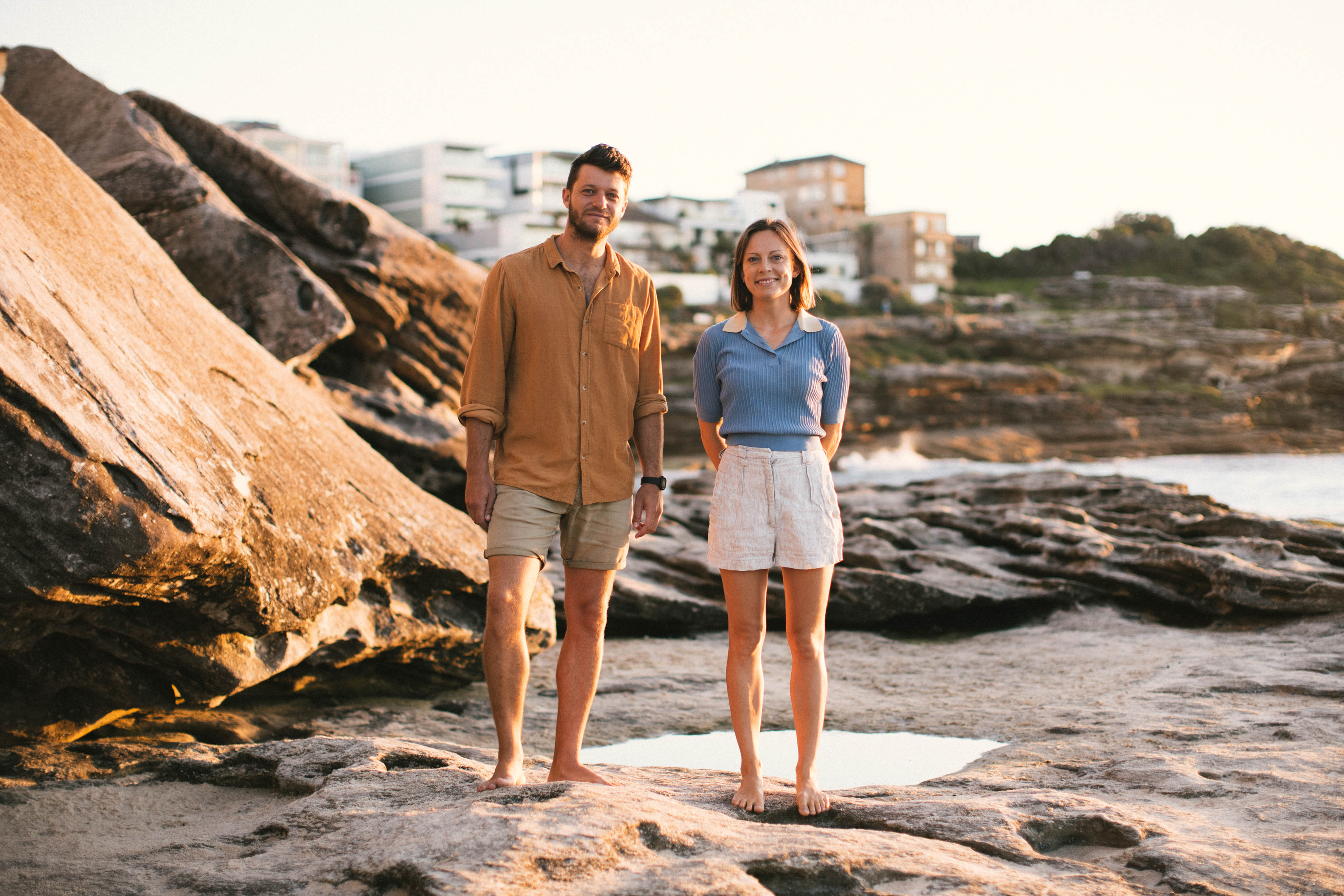 "There are books that cover our beautiful landscapes and our sweeping vistas in Australia," says Caroline Clements, down a wind-broken telephone line, gliding along on her bike between Bondi Beach and the Sydney CBD. "But we don't always capture people in these places. Our idea is often of perfect, empty beaches. But when we get to these places, we realise that it's the people, the activity and the colour that make them so unique and special. The little communities full of strangers, they are what really define our country."
One year earlier, when Caroline and her boyfriend – author, photographer, and environmental scientist, Dillon Seitchik-Reardon – hit the road, it was those places they went searching for. For months they travelled: in summer and winter. Wet season and dry. In the desert. In the cold. Where they were welcomed by strangers. Where they were most certainly not welcome.
As Founding Editor of Broadsheet, 'CC' had been instrumental in creating the most detailed map of Melbourne that exists today. One that outlines not just where things are but the culture you find when you get there. Cafes, restaurants, shops, galleries and artists: CC gave people from outside a doorway in.
So when it came to writing Places We Swim, Caroline and Dillon carved out a roadmap in the same way, plotting not just the places we swim and how to get there, but what it's like when you arrive, intertwining their story – a young couple in love – with an ocean beach's history, or a pool's moment in the sun. Dillon, who has already co-authored two books – DIY Garden Projects (2016) and Grow. Food. Anywhere (2017) – wrote much of the book, too, creating a lovely, dovetailing dynamic. "Dillon captured the environments and the people on camera as they went, while Caroline documented on the idiosyncratic details one finds at every watering hole around the country.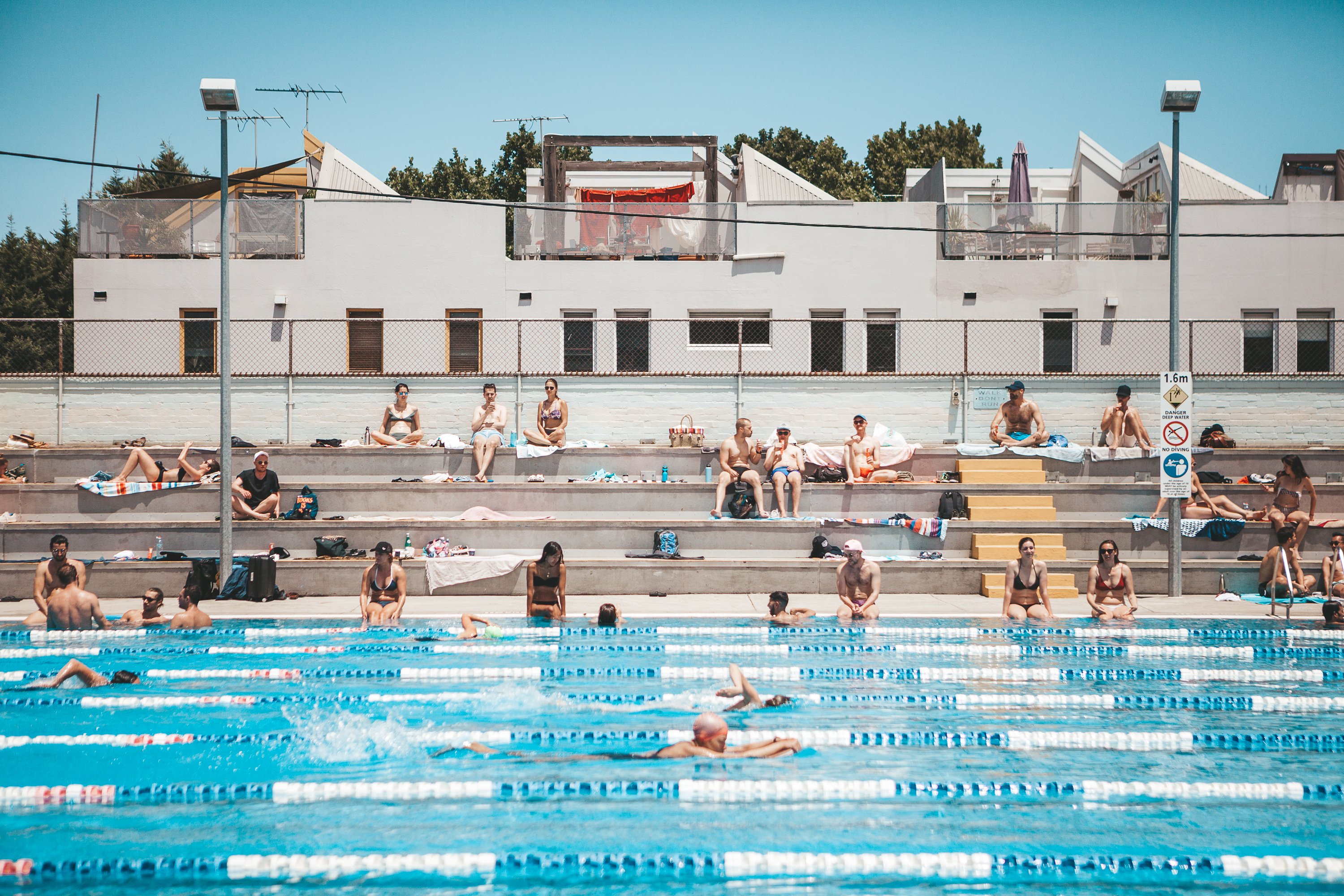 In Fitzroy, for instance, boys and girls ride their bikes across the Edinburgh Gardens and through the turnstile into Fitzroy Pool, laying out their beach towels on the grass, diving in under the sign that reads 'Aqua Profunda!' A Melburnian migration documented by writers and artists for decades, from Helen Garner to Courtney Barnett. Today, the sign is a beacon of the Victorian spirit for preserving culture, a nod to the Mediterranean migrants who flooded Melbourne with new verve and vigour in the middle of last century, and a heritage listed spelling mistake.
Over in South Australia, swimmers take pride in their remoteness. "It's a place for people who don't like people," says Caroline. A swimmer has the car packed at all times, ready to drive down one of three, fingered peninsulas. How long has it been since I saw someone on the road? One might think to oneself, by way of measuring his remoteness in South Australia. If I broke down here, would I ever be found?
At the northern tip of Australia, Darwin, only a fool would swim in the water at Darwin beaches for fear of death by crocodile or box jellyfish, or whichever one of the thousand things that'll kill you in the blink of an eye. Instead, people swim in public swimming pools or inland rock pools filled with crisp mountain water.
In Tasmania – where Caroline and Dillon spent a morning with Shane Gould – older men and women swim together every day of the year, sometimes in water so cold that it shoots pins and needles down your arms into your fingertips. "They support each other down there. They talk through their problems. It's more than swimming."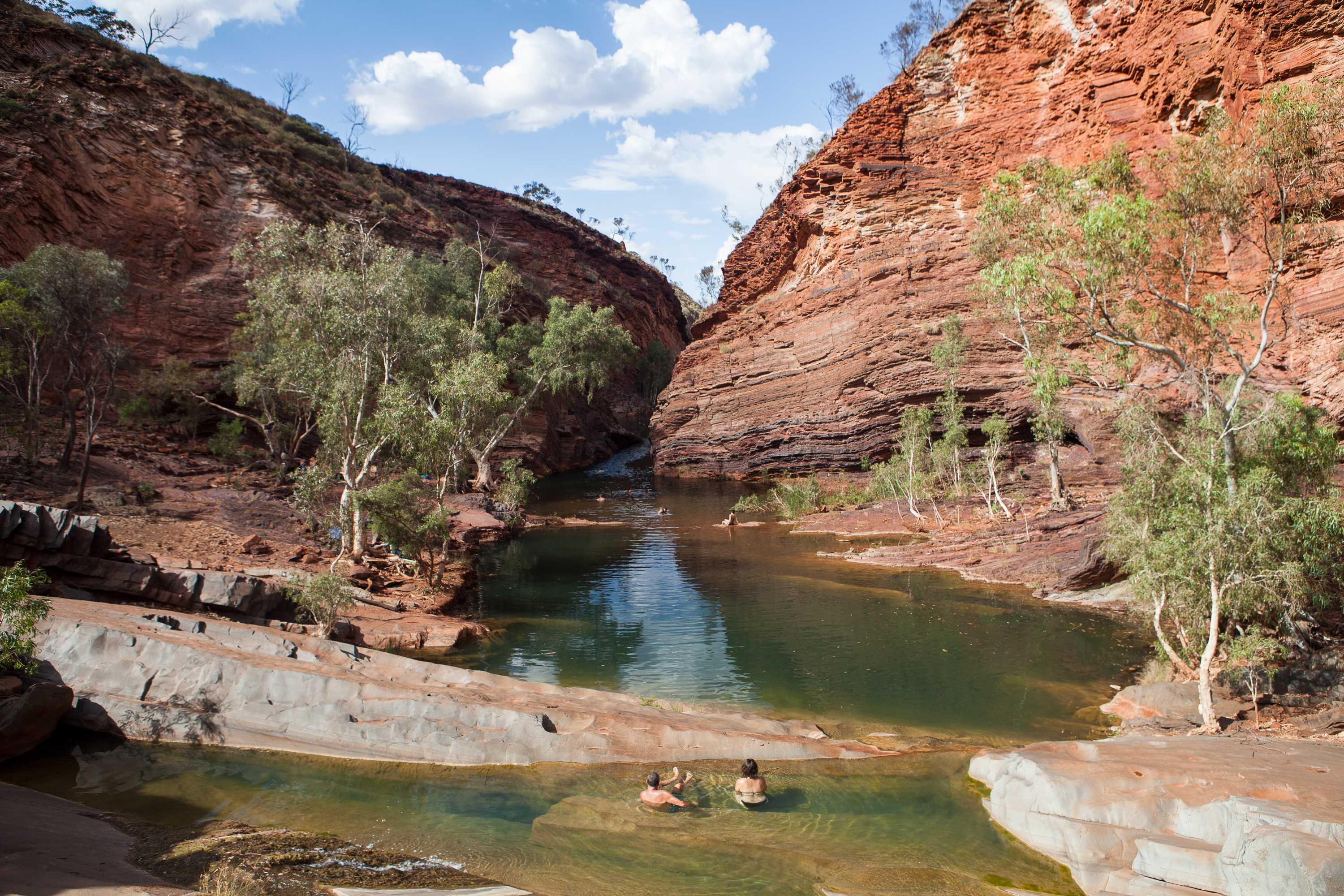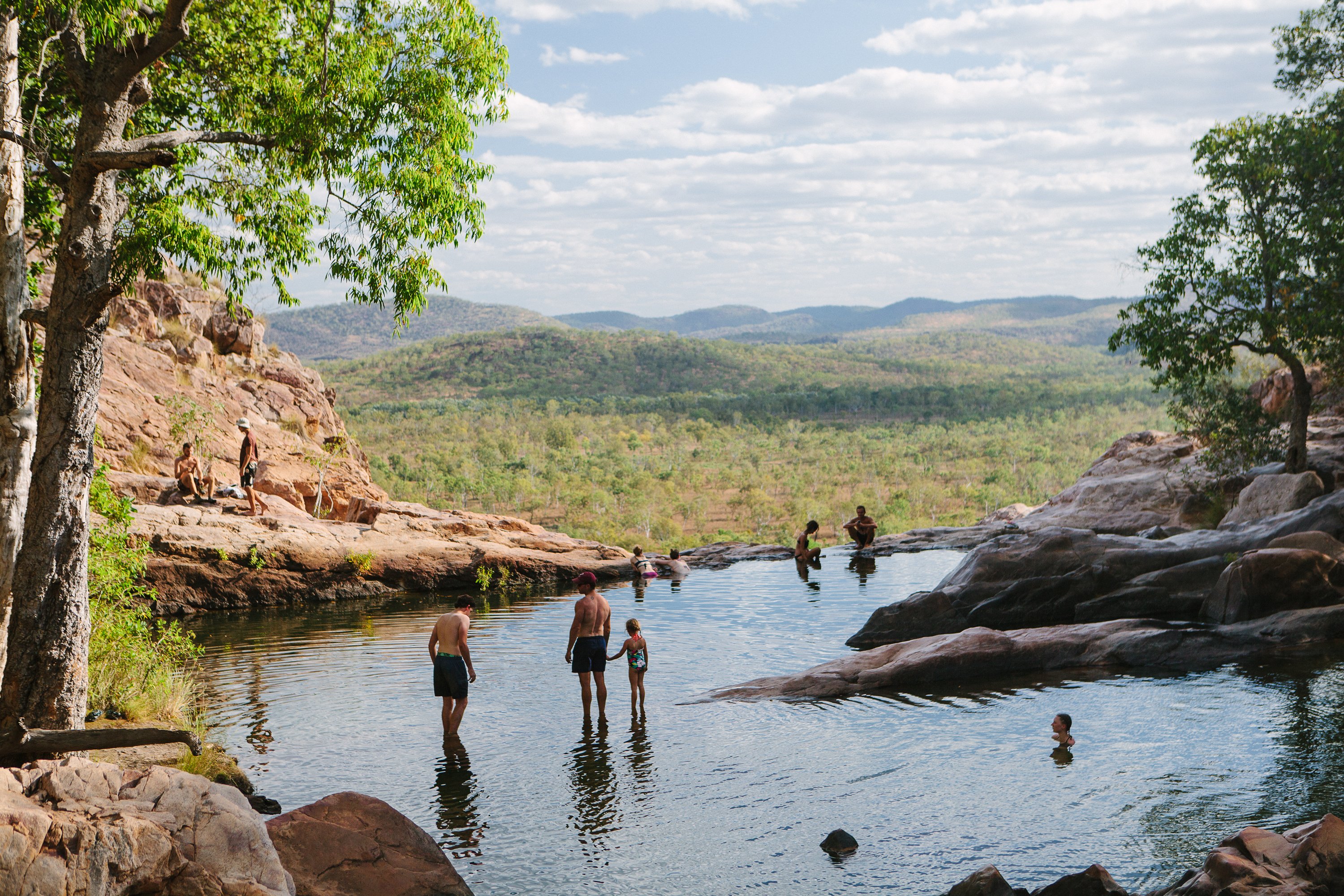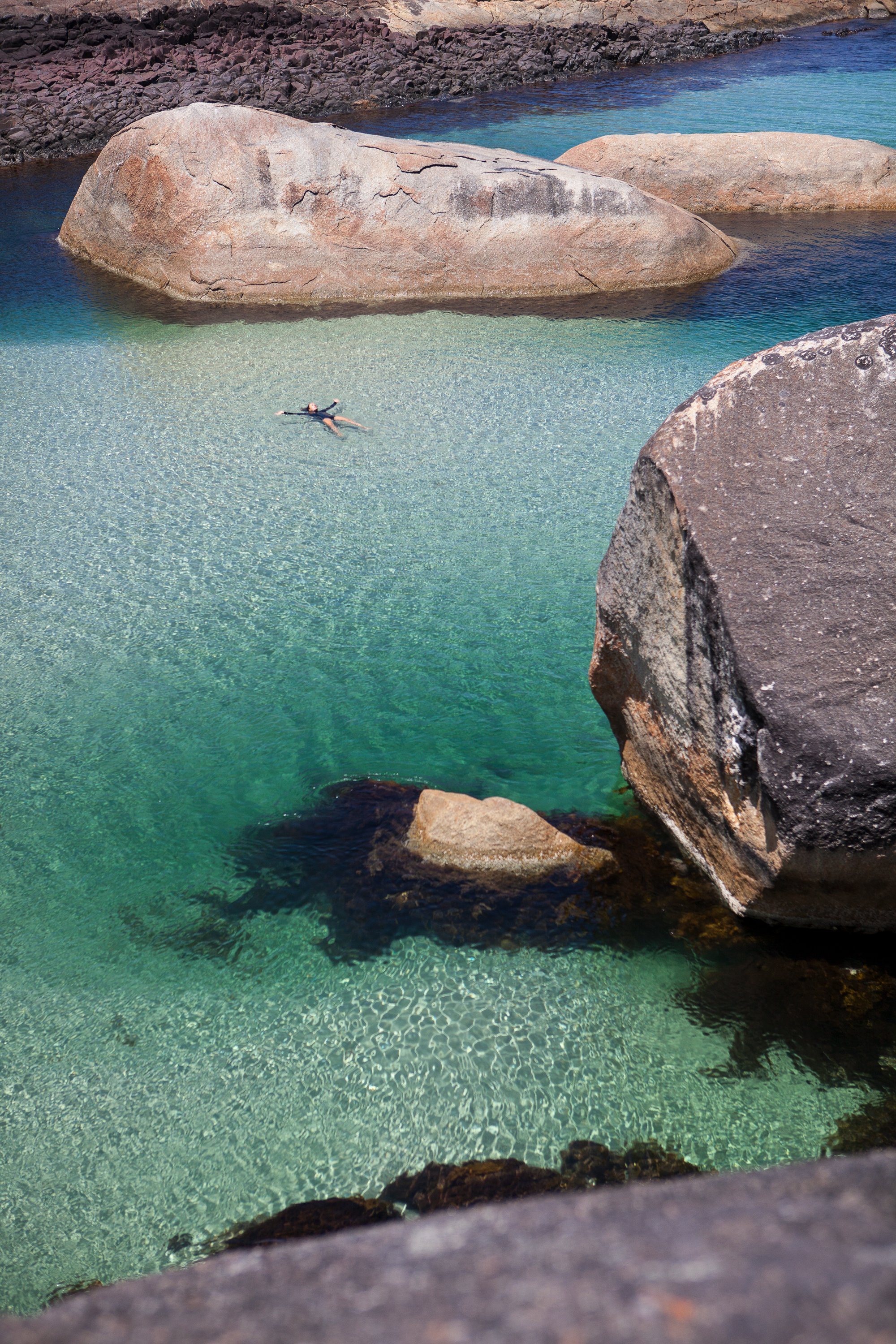 On the Gold Coast the council intervened to make the Super Bank even more super (as Gold Coast'ians tend to do), sculpting the continent's most revered collection of surfing breaks, from Snapper Rocks to Kirra to Burleigh Heads. From the deck at the Rainbow Bay pub on a Saturday afternoon every passing face is splodged with white zinc and every station wagon stuffed with a longboard.
"New South Wales is the goldilocks state," according to Places We Swim. "Where it's not too big, not too small. Not far enough north to worry about crocs and jellyfish. Yet not far enough south to be challenged by cold water." For a thousand kilometres up the coast of New South Wales you'll find the picture postcard version of Australia that people from abroad tend to imagine. Surf clubs and Speedos and red and yellow flags; everyone makes a life on the water. And yet incredibly, a thousand kilometres inland, work-weary Opal Miners clamour around the Artesian Bore Bath at Lightning Ridge, a natural spring above Australia's largest underground water table. Even in the middle of the desert, Australians still find their way to the water, and it's a balmy 40 degrees.
In our north west corner, The Pilbara, water is the reward for young indigenous boys and girls. "The Remote Aboriginal Swimming Pools Project (RASP) encourages kids to learn to swim at their local public pool. They have to attend classes and get a stamp, then they are allowed to go swimming after school," says Caroline.
Published by Hardie Grant Travel, Caroline and Dillon have taken Places We Swim far beyond the empty landscapes that characterise most Australian coffee table books. Capturing the Australian identity through our most common obsession.
It's absolutely wonderful.