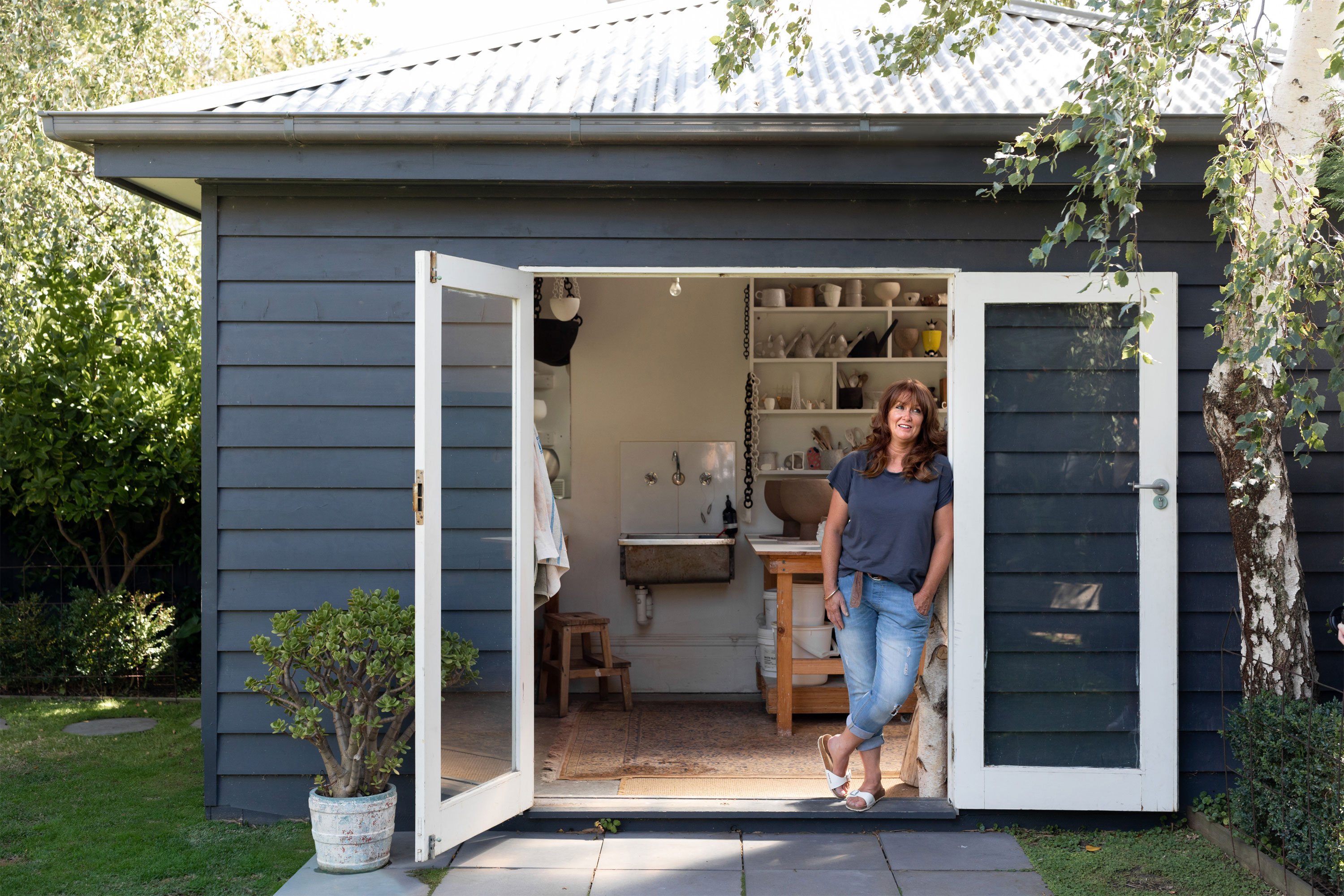 Simone Karras
01.04.20
Friends
Surely it can't be that easy.
Watching Simone Karras add clay to one of her half-finished – if not iconic – idiosyncratic vases, you can quite easily make the mistake that what she does is easy. The simple, beautiful and evocative results don't do much to quash those feelings either, but stepping into her studio, and actually holding clay in your hands will almost instantly put an end to that. And any delusions of grandeur.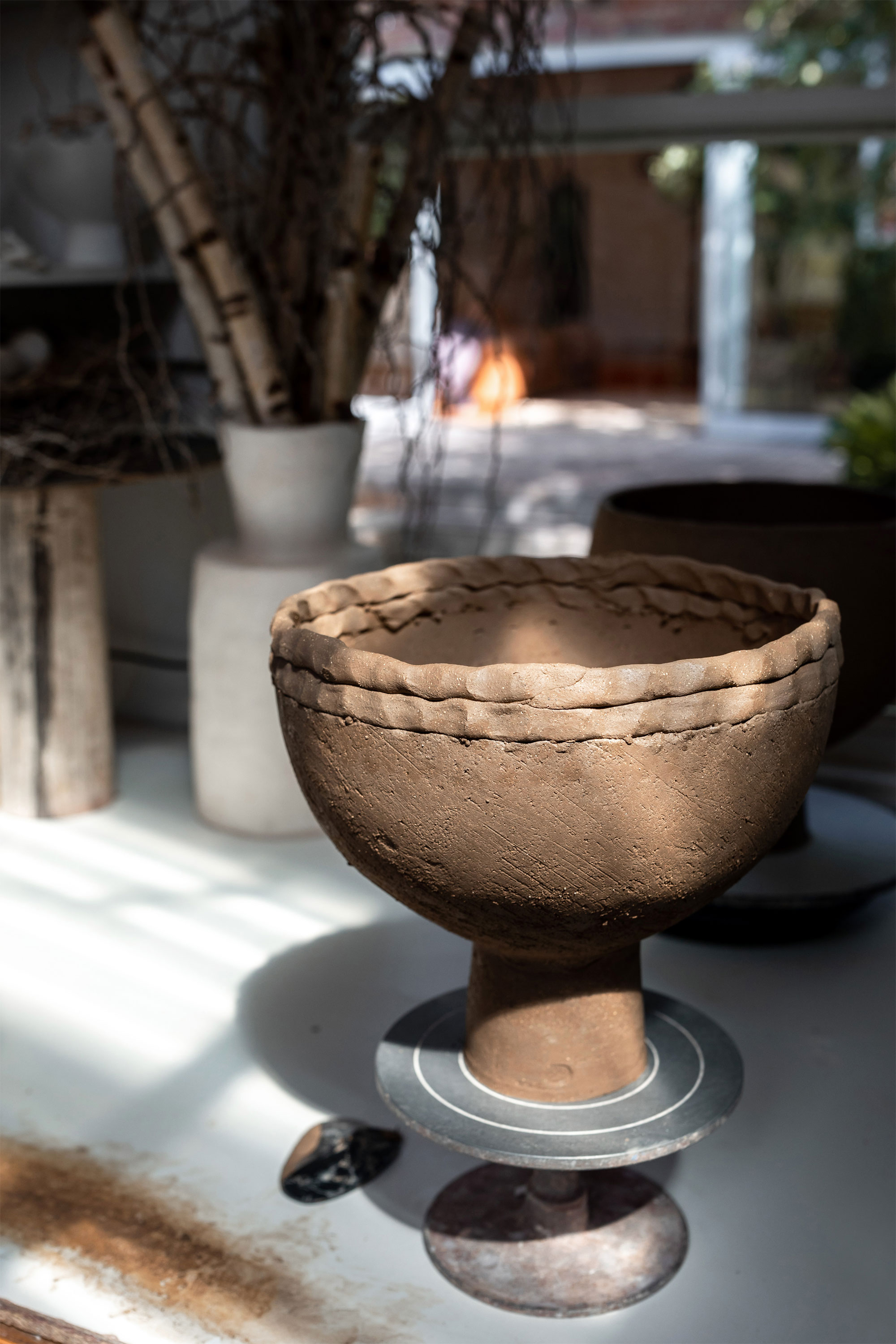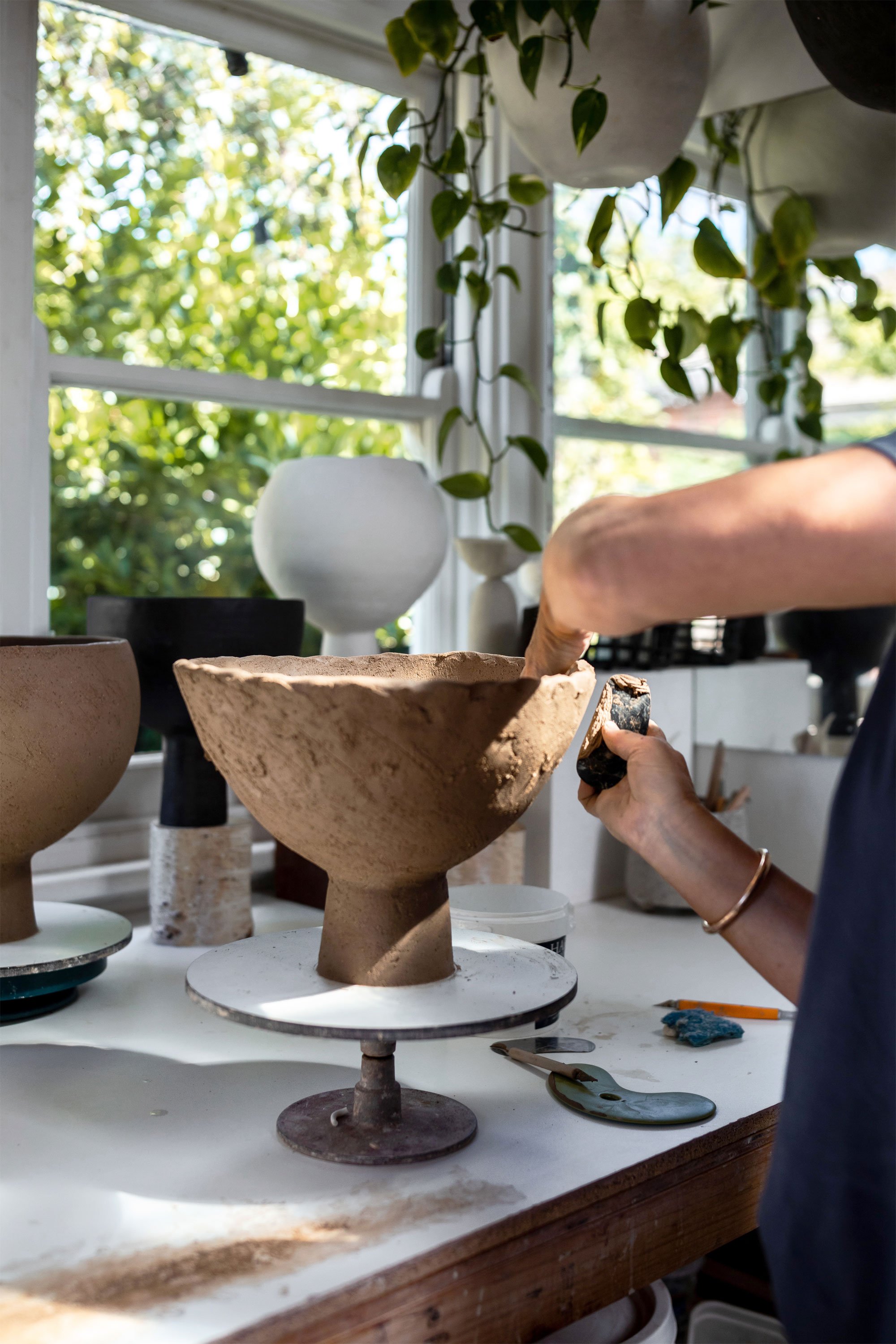 For those aware of the phenomenon A.S.M.R. watching Karras coil clay onto her Raku clay vessel is satisfying in a way that has to be experienced. The tingles rise up and through your head and shoulders. It's mesmerising in a lose your train-of-thought kind of way and as she talks effortlessly while gently spinning the stand at her own pace, the clay, at first, looking like thick tubes of icing or toothpaste spun around and around, laid on top of itself, you forget why you're even here. She rolls another length and adds that too, the vase grows, but is still just a stack of tubes akin to the rolls of the Michelin Man. Then she smooths the inside wall, then the outside, an innocuous scraping tool cleans the clay to the finished result. The perfect thickness throughout. Do that again you want to say. And again.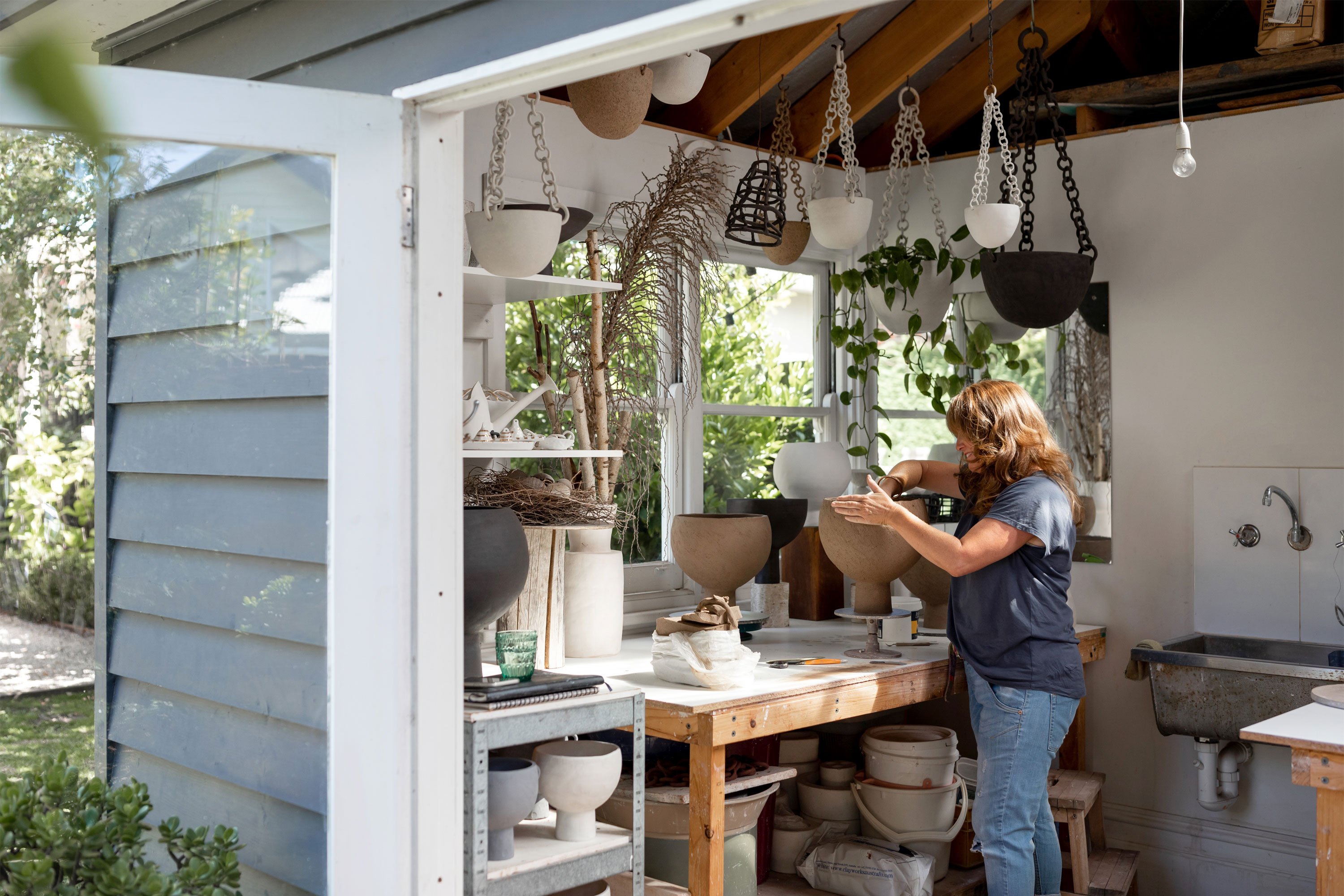 "I like not doing too much to the clay" Karras says, "they're tactile and it's clay, I'm not going to get too stressed about this", completely belying the skill and ease at which she's just demonstrated.
Karras's vases, deliberate or not, are reminiscent of fertility gods; healthy, voluptuous, full. There's inherent goodness in them. In a room they are stable, consistent and strong, never awkward or unwelcome. On their own there's a statuesque presence in them, and when full of flowers with strong stems and branches, particularly when oversized and reaching for the skies, the pinched waistline and smaller base is aptly rooted to the ground suggesting strength and grounded-ness, but never in your face or demanding.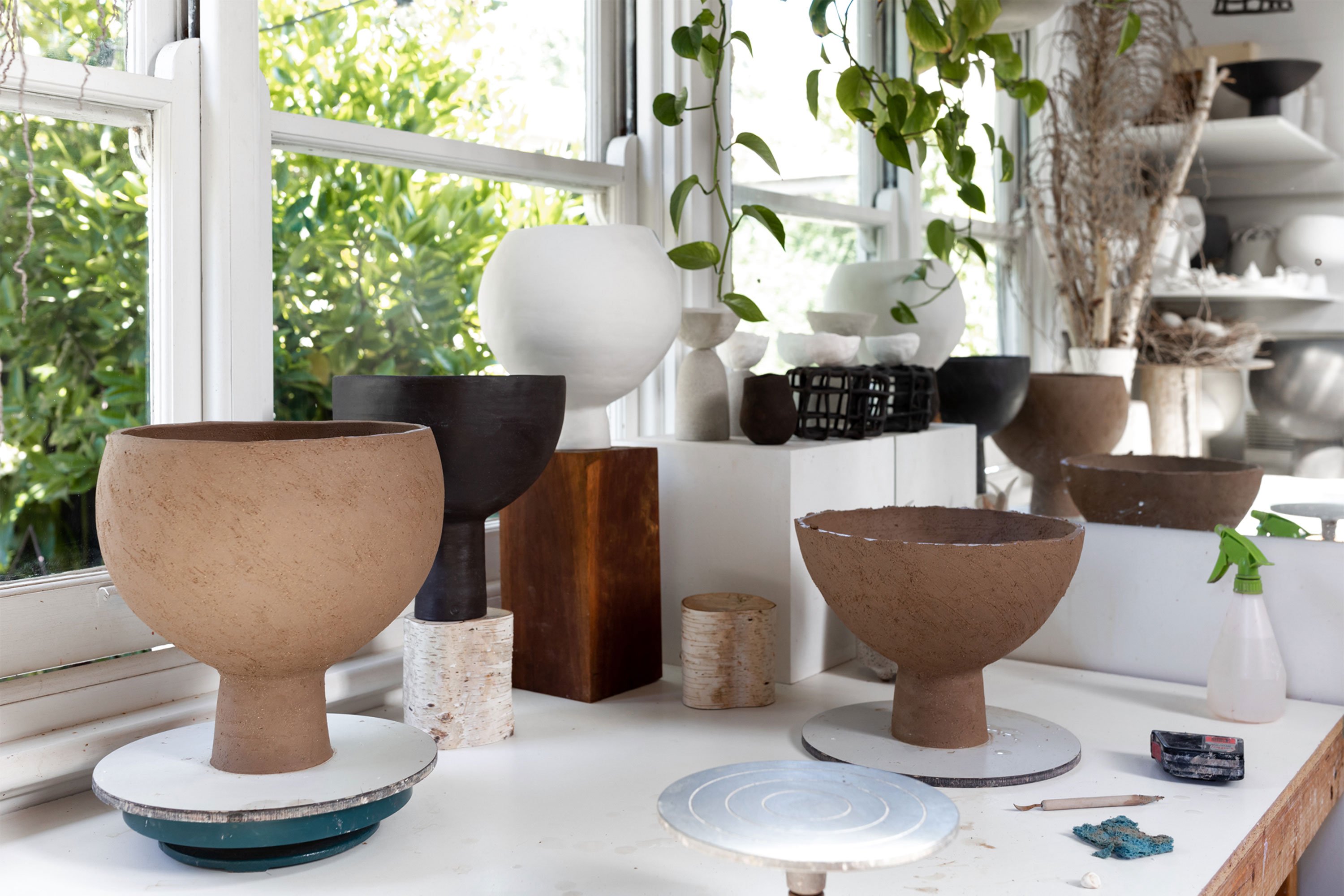 Maybe that's a projection, an apt one though. What you do see in Karras' studio, other than gentle stacks of vases in various sizes ready for the kiln, something she's had since she was 21, are the different versions of her vases in various sizes and stages of production; drying, first fire, glazed, and when all stacked up and in line there's an uncanny resemblance to the holy grail, to chalices and goblets. Your instinct is to 'choose wisely', to live forever; maybe they are little idols; an army of small deities eliciting cool vibes, ready to be sent to their homes to calm and soothe, be filled and be loved.
There is something so very pleasing about this kind of work. Clearly handmade, yet so close to perfect. The weight and the thickness of the pieces are balanced, there's a peacefulness and something that's just 'right' about the proportions. The textures that come with working with this medium shine through at the very end, once the colours and materials reveal themselves as products from the earth, just at the hands of a master craftswoman.
"I've always been drawn to round forms" explains Karras as a shiny, canary yellow urn-like piece sitting alongside a Raku vase pops next to the neutrals and earth tones of the contents of the studio.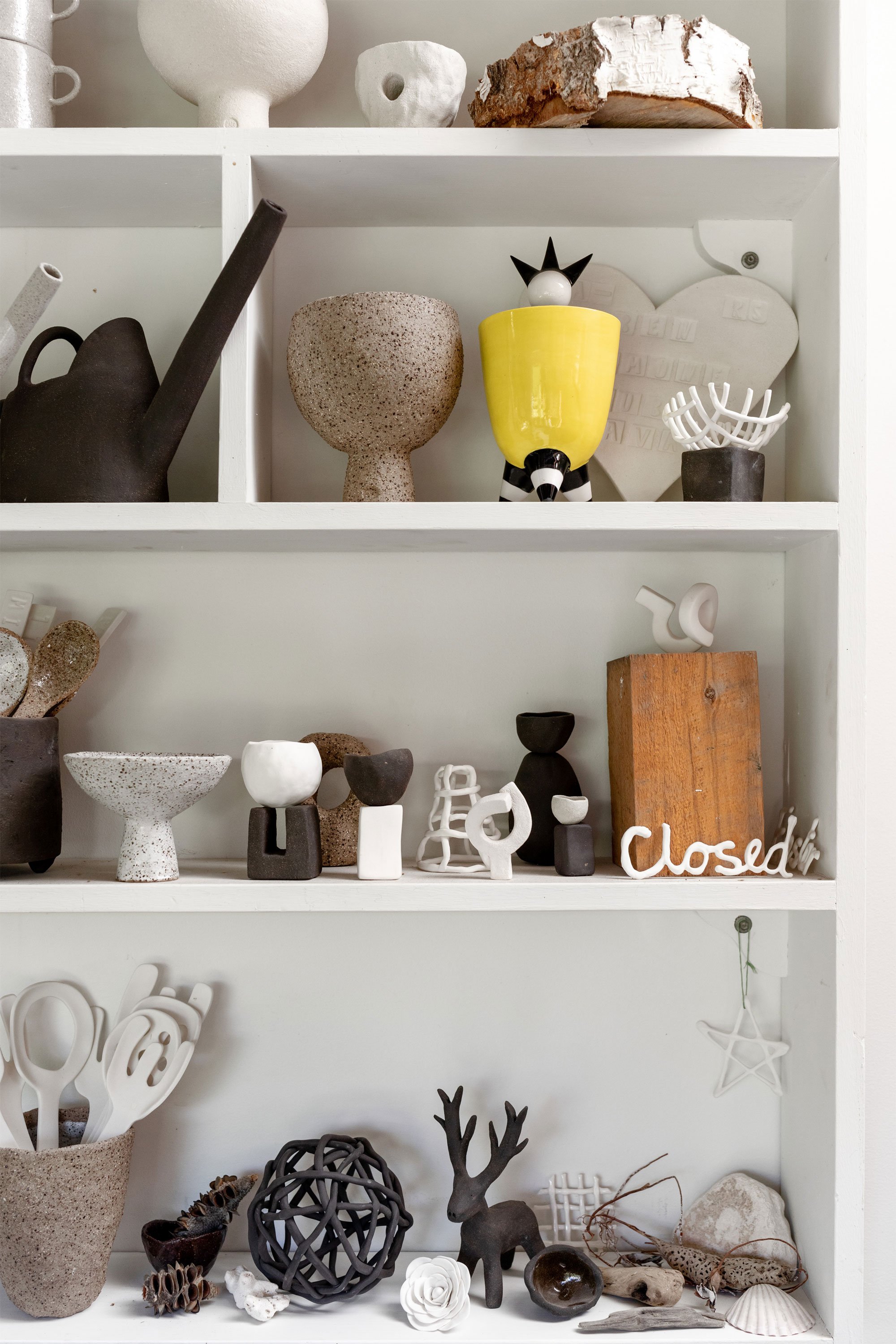 It's a piece from the early nineties, the familiar roundedness, albeit with a kind of nod to the prevailing Memphis movement of the time. Three legs in black and white stripe with a lid that has a white head and black mohawk. Imagine Beetle Juice as an urn. The point being; the cup like shape, the gentle working, though more decorative, Karras' inherent style was there.
"I've replaced the elements to keep them going" Karras says of the similarities between her old work and new.
The little cabin studio is full of experiments with colour, additions and protrusions. There are gold glazed handles and ceramic chains hanging from the ceiling, small bowls and trays, ideas and tests just for her. A feature might find its way through into a later collection, but her relaxed demeanour shines through despite the success and the now full-time work.
"Don't make life too hectic" reiterating her earlier sentiments, "I'm relaxed about it… and they go with everything."