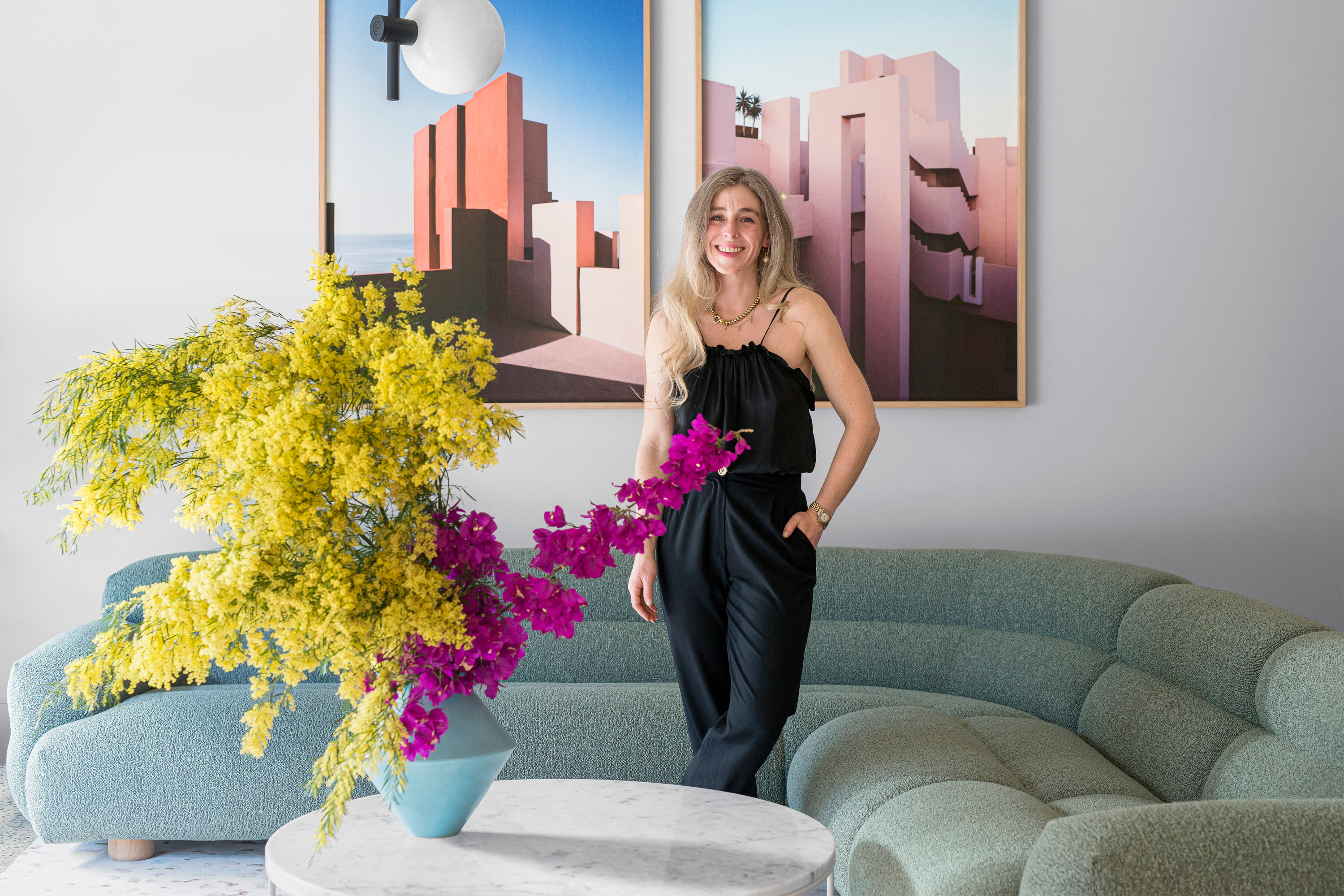 Hours in a day — Ani Wilson of The Stone Willow Studio.
08.09.20
Friends
Ani Wilson is up early this morning, but the only point she's proving is that in Brisbane 19 degrees is cold enough for a puffer jacket, and that when you're doing what you love there aren't enough hours in the day. Something that until recently was a different story and an entire world away.
Wilson's Stone Willow Studio arranges flowers in a minimalist, approaching Ikebana-like way. As a result, her arrangements have a peacefulness and quietness about them not regularly seen at your local florist. Her work takes on a sculptural look and a serenity that is both harmonious and subtly striking. Installations rather than posies you might say.
Looking at a photo of one of Ani's arrangements, New Order's infamous Power, Corruption and Lies album cover comes to mind. The softness of Wilson's photo helps give the image a painterly quality similar to Fantin-Latour's oil painting original, but there's an edginess here that feels more apt in comparison to Peter Saville's album cover.
"I've got shivers" says Ani, "I'm a huge Peter Saville fan," in a moment of fortuitous recognition.
It's not uncommon to read about high-flying corporate employees one day throwing it all in to follow their real love or passion, their renewed vigour and enthusiasm a catalyst to success and more importantly, happiness. If being a part of large team to achieve targets for shareholders gets you up in the morning then that's great, but for those that feel like a cog in the machine, the search for meaning becomes an undeniable pull toward personal wellbeing and fulfillment. Without having to run the hamster wheel, motivation comes via a sense of purpose, freedom and the quiet acknowledgement of independence.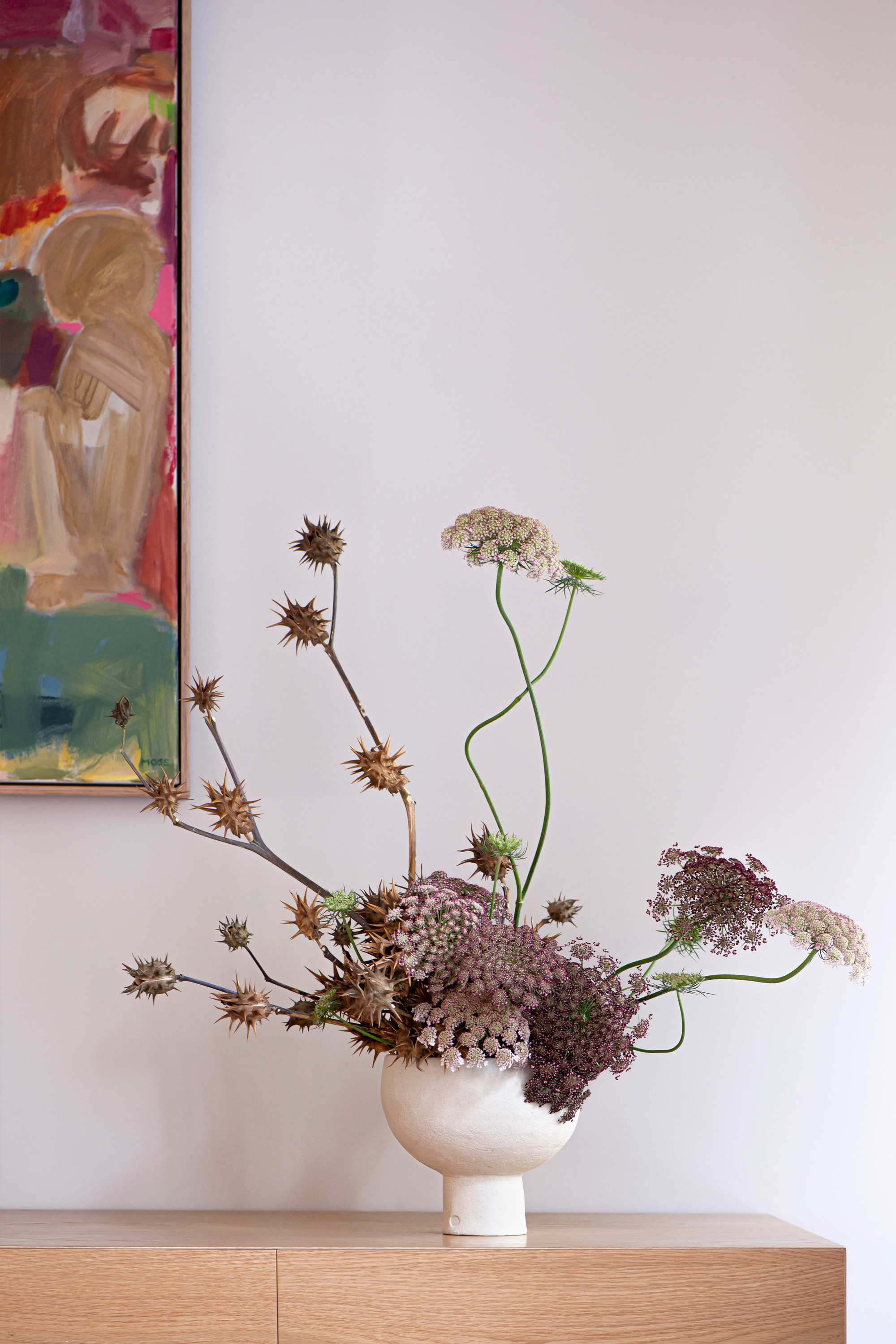 Raku Vessel Small in White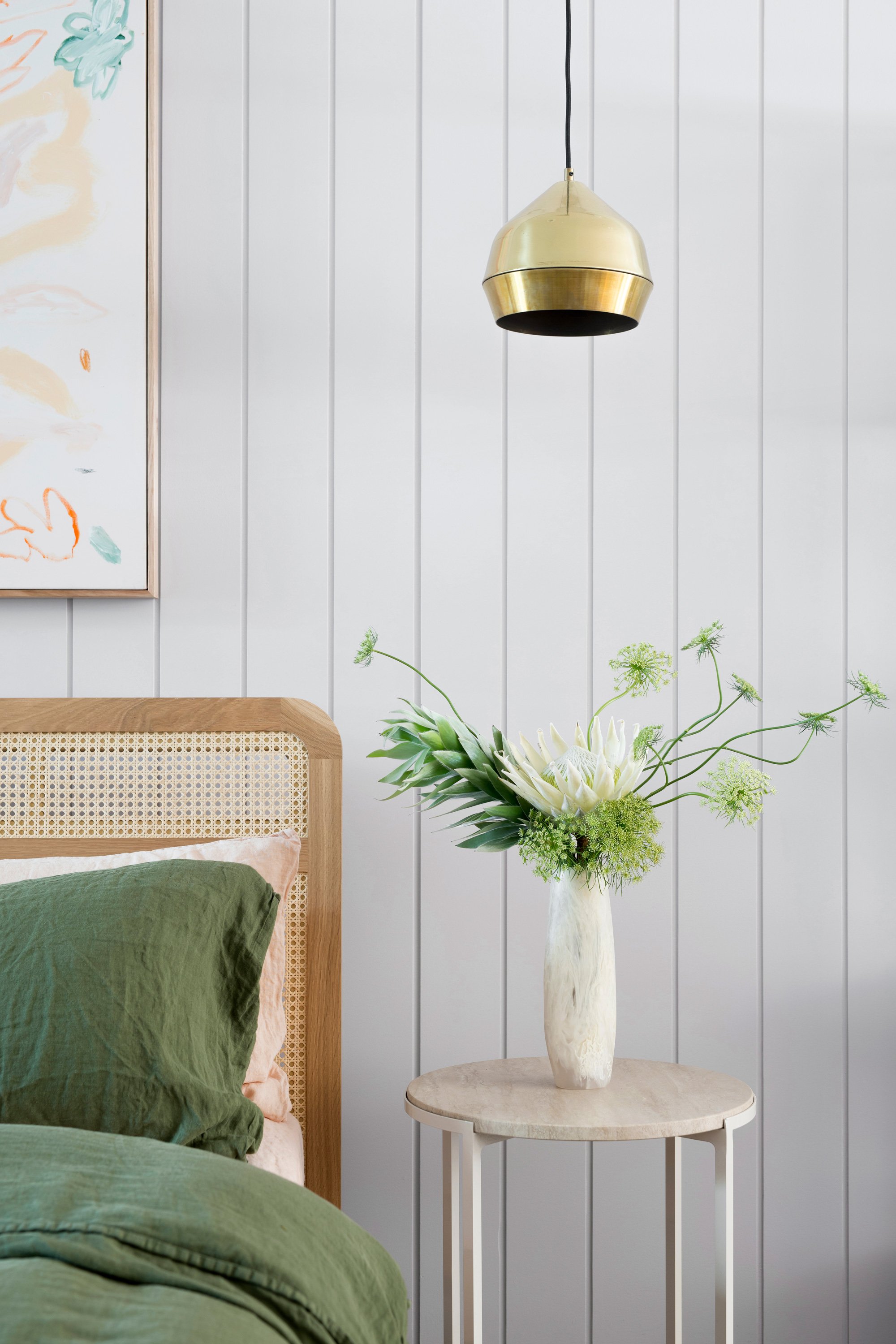 Alice Side Table, Airo Khaki Bed Linen + Willow Bed
Make no mistake, Ani is a high achiever. Born in Melbourne and schooled in Canberra, she left Australia to work as a foreign exchange trader in London, Monaco and New York - big deal cities - and while this may sound like what dreams are made of, Wilson sees it a little differently.
"I was completely burnt out, and then I made a really bad life decision and bought a house Upstate and I'd commute to Manhattan," explaining that in an effort for a calmer life she actually did the opposite. The long hours and long drives became too much and the first stones were laid on her path back to Australia and the beginnings of her studio.
"On the weekends I would visit the CSA, that was one advantage," says Ani of living Upstate.
Community Supported Agriculture farms or CSA's work as a way for farmers to connect directly with consumers and locals, and in turn a way for people to connect to their food and how it gets to their plate. "There were fields of flowers, planted to pollinate the crops, so I'd get my vegetables and food and then pick my flowers."
"When you're younger you can bounce back," she adds referring to the unwanted extra hours she found in her day by living out of town "but something had clicked."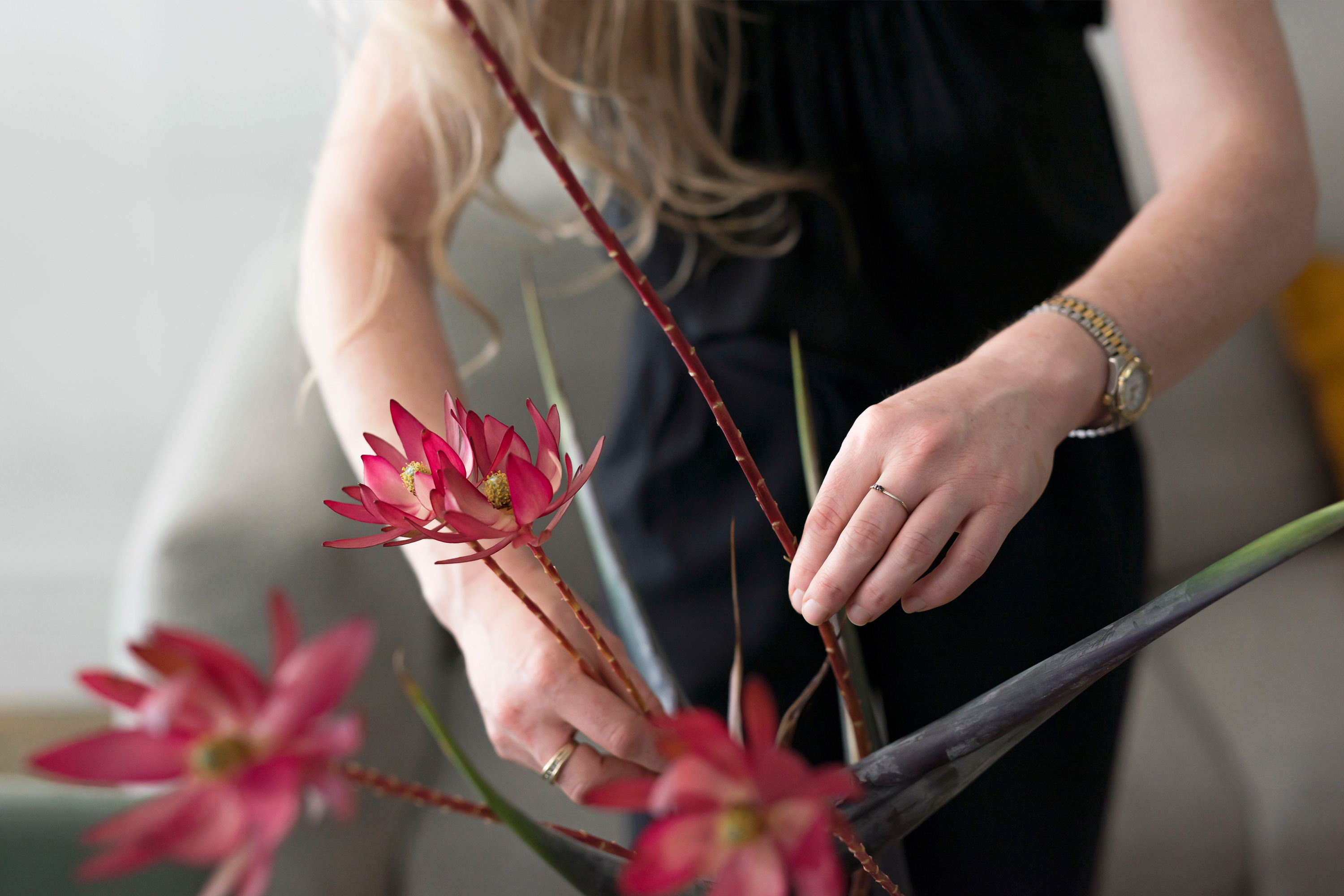 Ani enrolled in the London Flower School and jumped The Pond
Ani's arrangements perhaps reflect her new peace of mind, but what they really show is a deft ability to convey calm and serenity.
"My inspiration is more eastern, minimalist as opposed to the maximalist western style."
Using many of the tenets of Ikebana, her arrangements take on the same explorations and qualities as the artform with an ease and calm of someone not bound by it.
Ikebana is 'fundamentally about the frictions between the visible and the invisible, life and death, permanence, luxury and simplicity'* and largely different to western floristry with its focus on the flower itself. With Ikebana the flower often takes a back seat to the arrangement as a whole - as it may be found in nature - and Ani's arrangements have the same recessive qualities placing the emphasis and importance on flow, harmony and seasonality.
"It's an art form in the eastern world, seeing beauty in the things we overlook," Ani adds.
And while Ani's work isn't strictly ikebana, it has poise and awareness of its place in time; the permanence - and impermanence of – life and nature. Her arrangements are ethereal, designed to emulate fleeting moments of humanity and nature. They are harmonious and symbolic, from the draping stems and contrast colours to exposed branches and natural arrangements. The real skill is that even without the weight of centuries of Japanese philosophy, they just look great. Effortlessness is the quiet triumph of her work.
"Everything I do is to order. I'm really concerned about the amount of waste that comes from a flower shop; it's astronomical, so that way I reduce the amount of waste and I compost accordingly."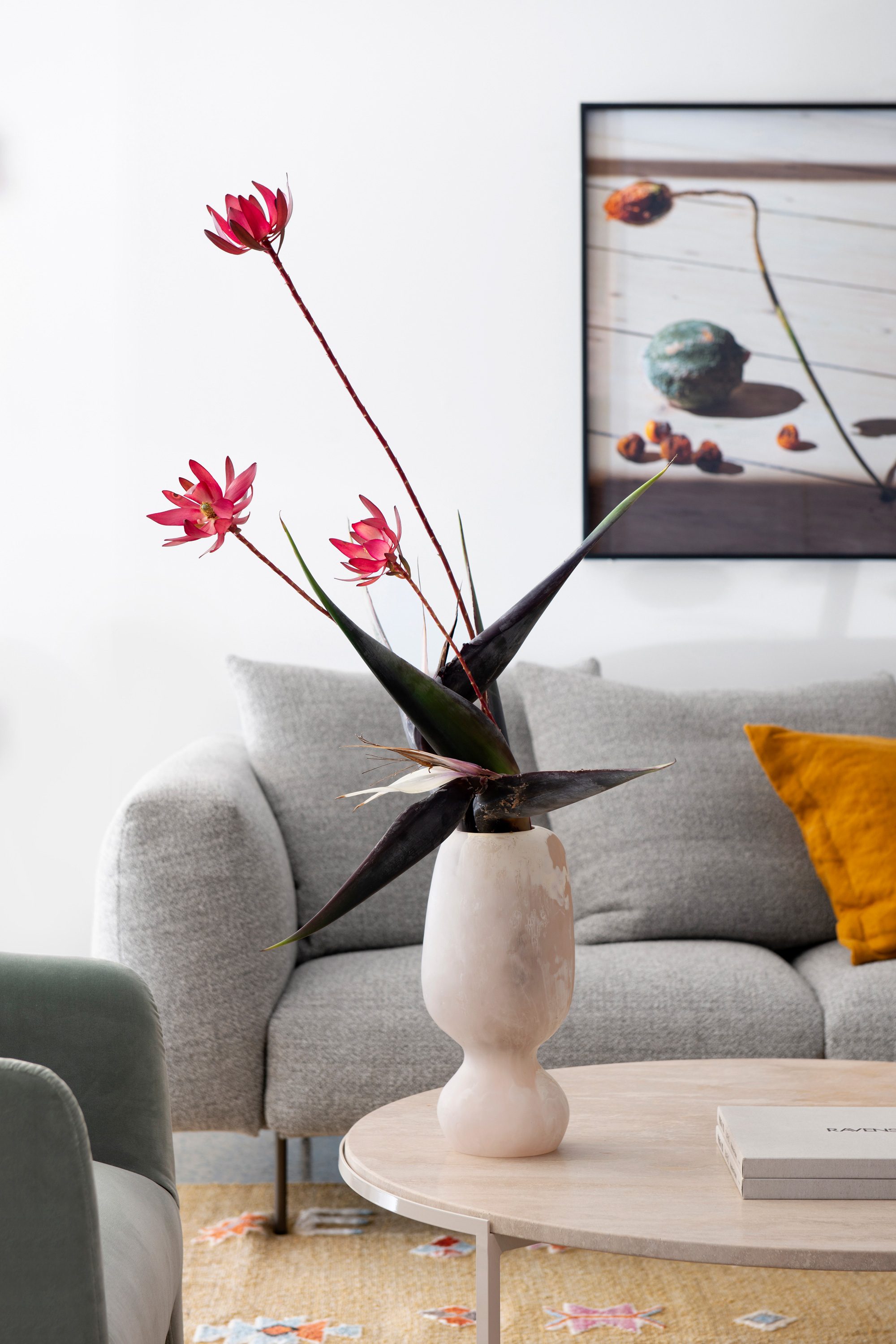 Miller Modular, Alice Coffee Table + Tall Rockpool Vase in Ivory Swirl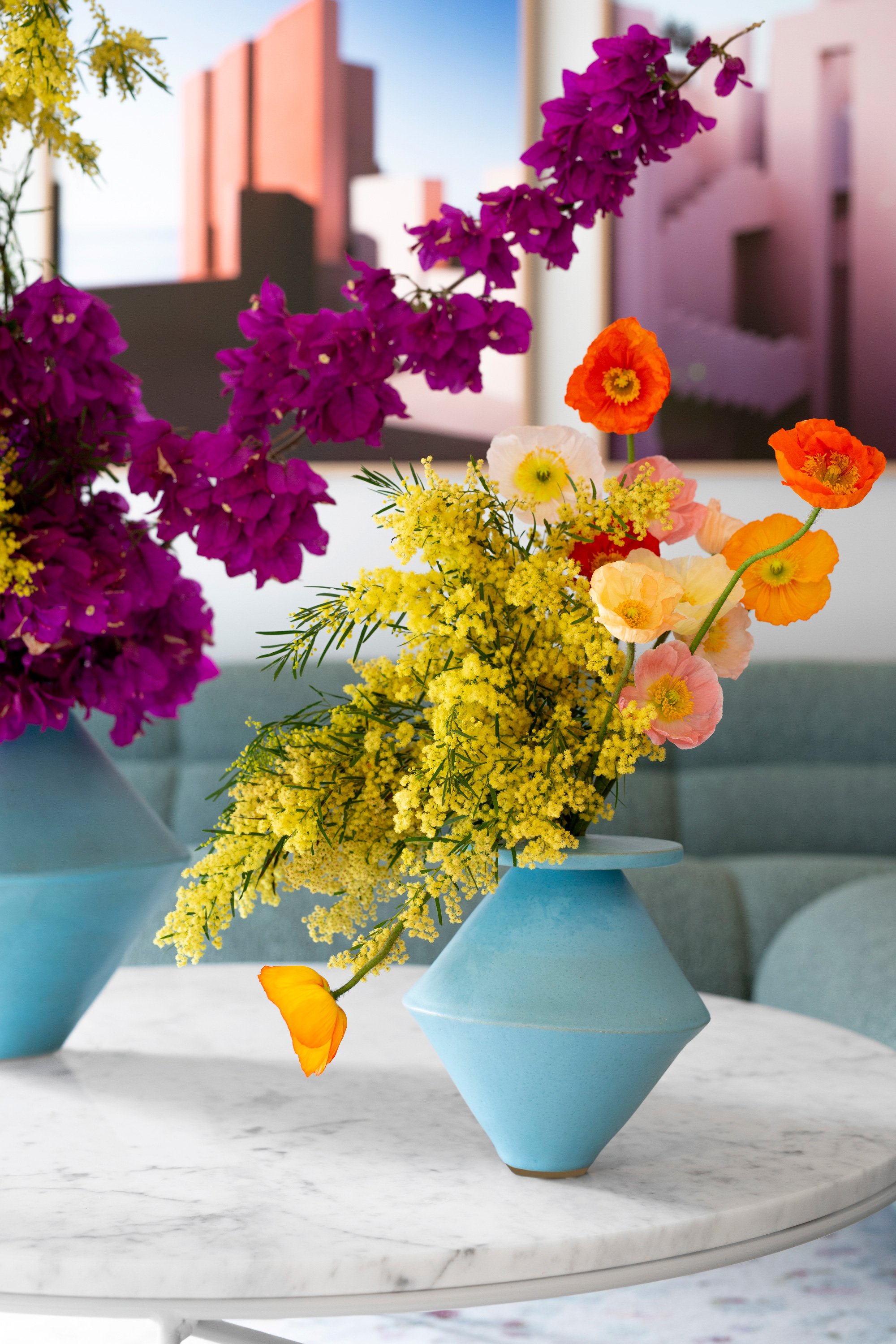 Large Diamond Vase + Jumbo Diamond Vase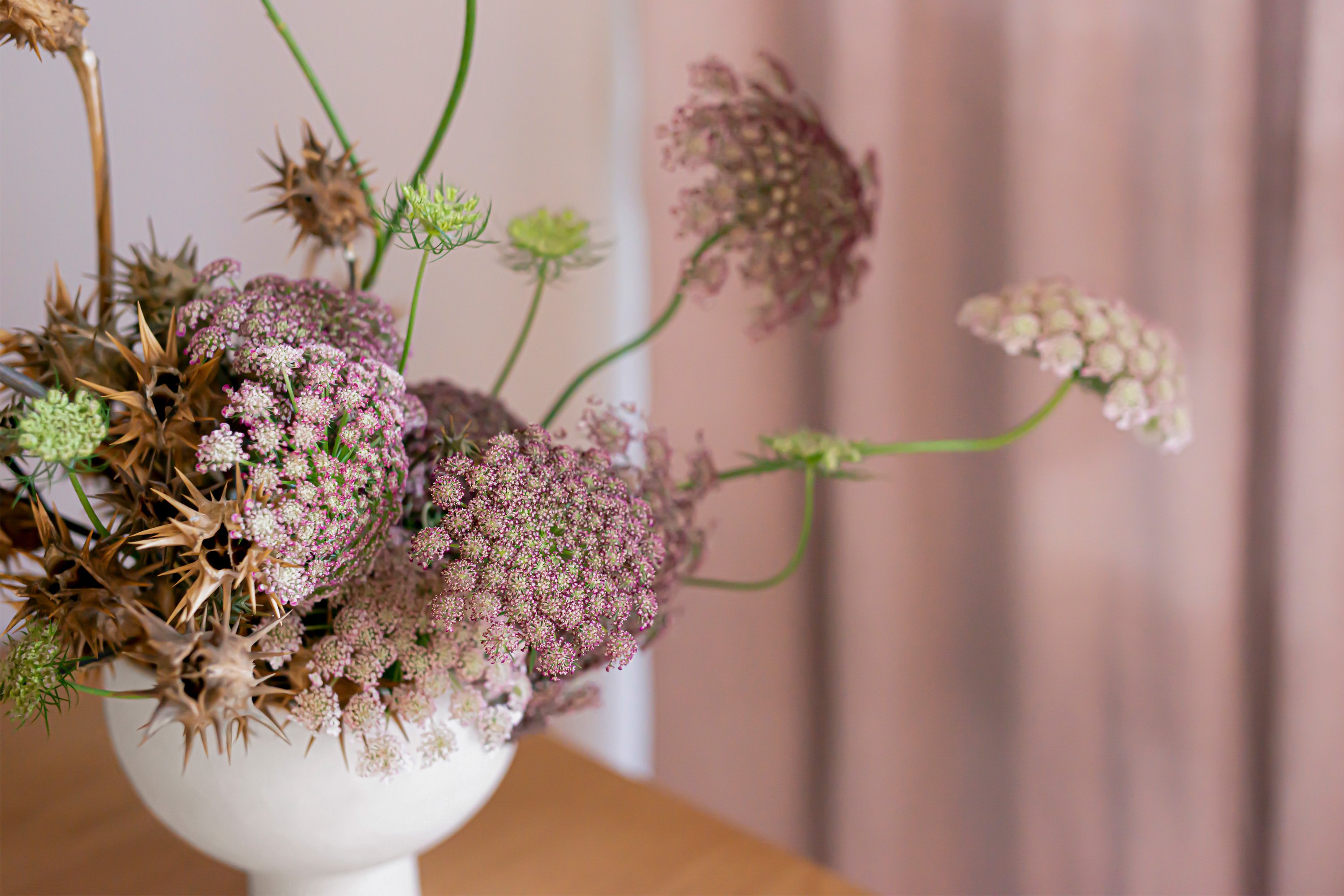 Small Raku Vessel in White
Of course, being able to follow your heart is a luxury, but it also makes for the best outcomes. The result, of course, is living; how to do it and how to be good at it. In a kind of Coelho-esque, Alchemist way, Ani went all the way around the world to find it in herself and at home, but like any great story, you have to have the adventure in the first place. If you're going to accumulate one thing, make it a good story.
"I usually wake up at 3:30 and I'm at the market by 5, so I'm busy, but no-one's ever unhappy when the florist arrives," she says at odds with her story of international achievement, but an obvious smile in her voice.
When you do what you love there are no hours in the day.
Ani Wilson's work can be seen at Jardan Brisbane and by appointment at The Stone Willow Studio.
*Needleman, D. (2017) The Rise of Modern Ikebana, New York Time Style Magazine.