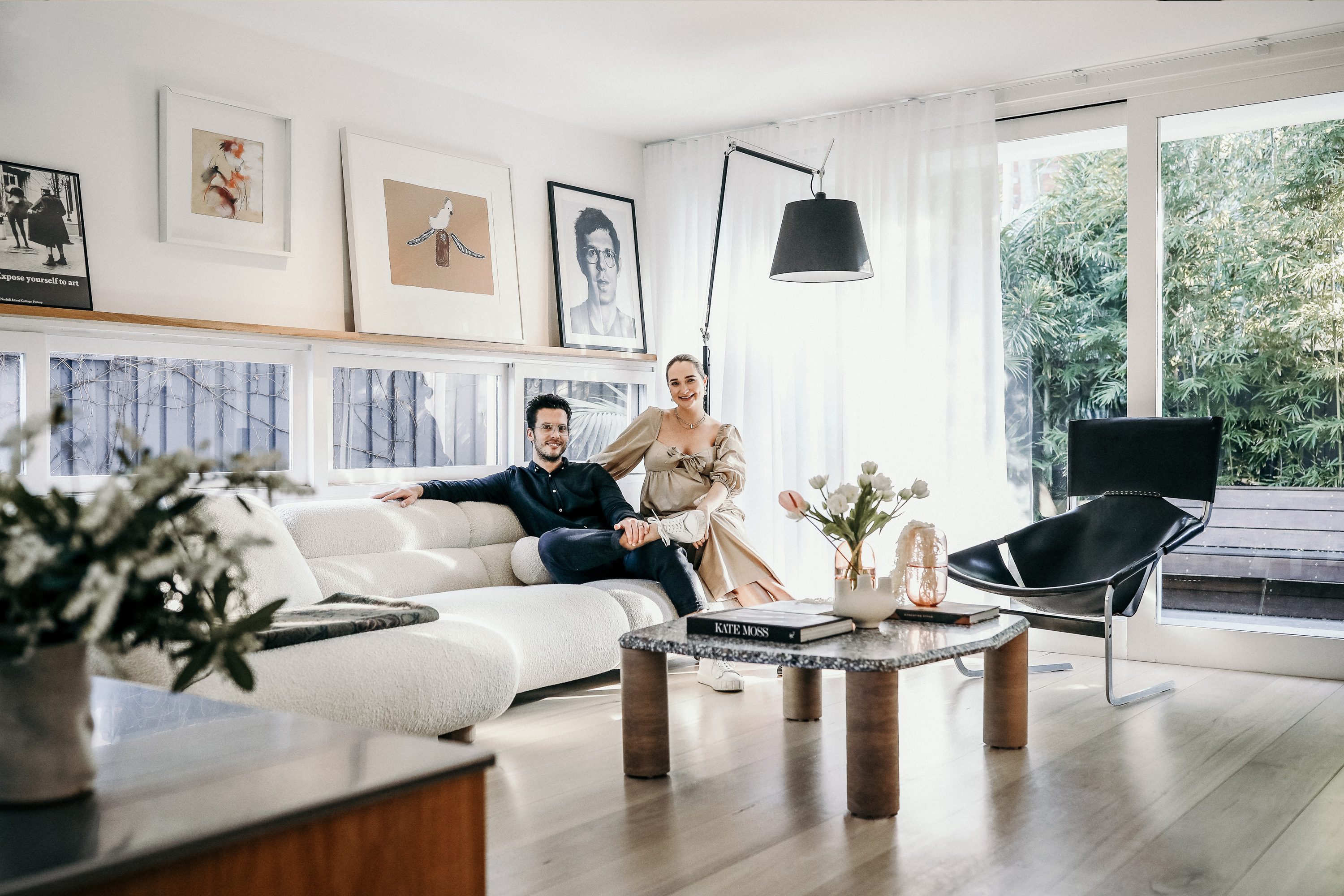 Made for Life — Mate for Life | Ainsley Hansen & Adam Demidjuk
20.09.20
Friends
Tell us a little bit about yourselves and what you do for a living.
Adam and I both have our own businesses which keep us very busy and are expecting our first child any day now! (So about to get even busier!)
I'm the owner/creative director of Australian fashion label, Hansen & Gretel. Adam is a Golf Professional and recently took on the contract as the Head Professional at Forbes Golf Club. Forbes is a country town 5rhs from Sydney, so we newly set up our second home out that way and now spend our time in-between Sydney and the country.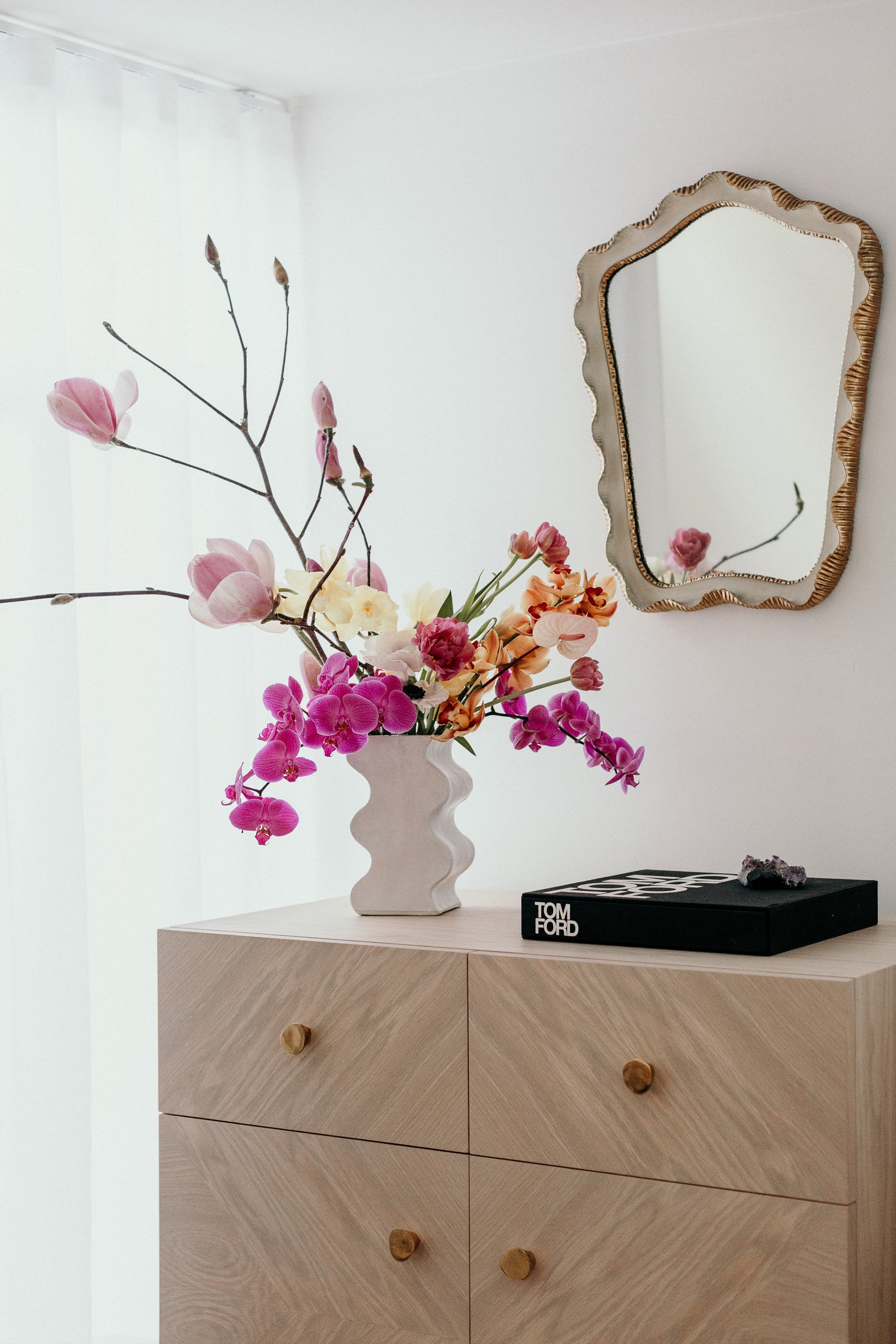 Noah Sideboard + Wave Vase in Oyster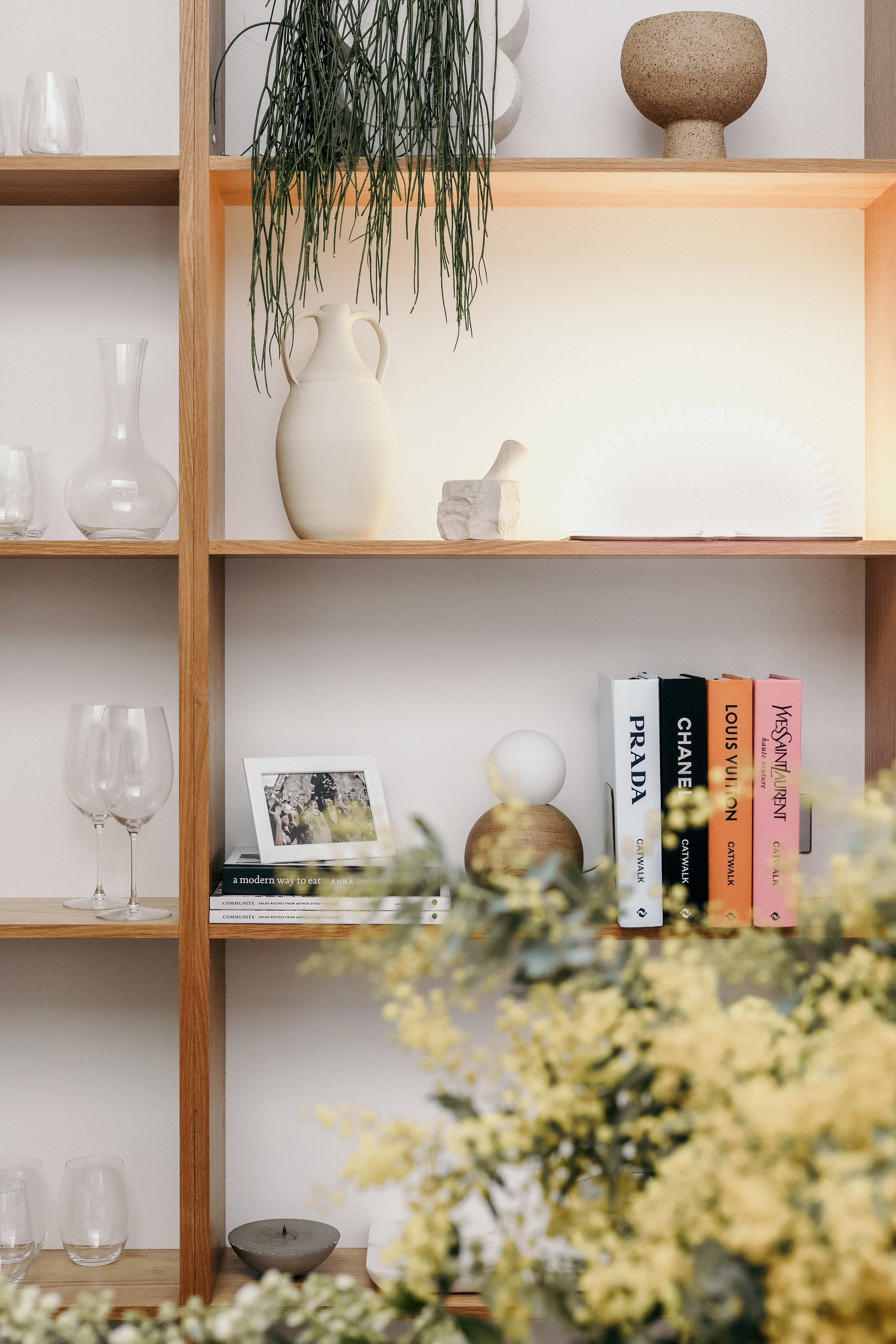 Raku Vessel Small in Natural
Can you tell us the back story of your house, how you ended up there and how you turned it into a home?
We bought our Waverly home in April just as COVID-19 had rocked everyone's world, we were lucky enough to have to go to auction and the market was a lot quieter with all the uncertainty around. It was the first home Adam had found and I remember him sending me the link with one word "DREAM." We had just returned from New Zealand and finished our 14 days of isolation the day it was listed we viewed the property and within 10minutes of walking in we both looked at each other and said "this is it." We put in an offer that day and signed the contract the following. It all happened very fast. We had been looking for a home for the past year, we had been to a few auctions but were always outbid, I remember always telling myself "it wasn't meant to be."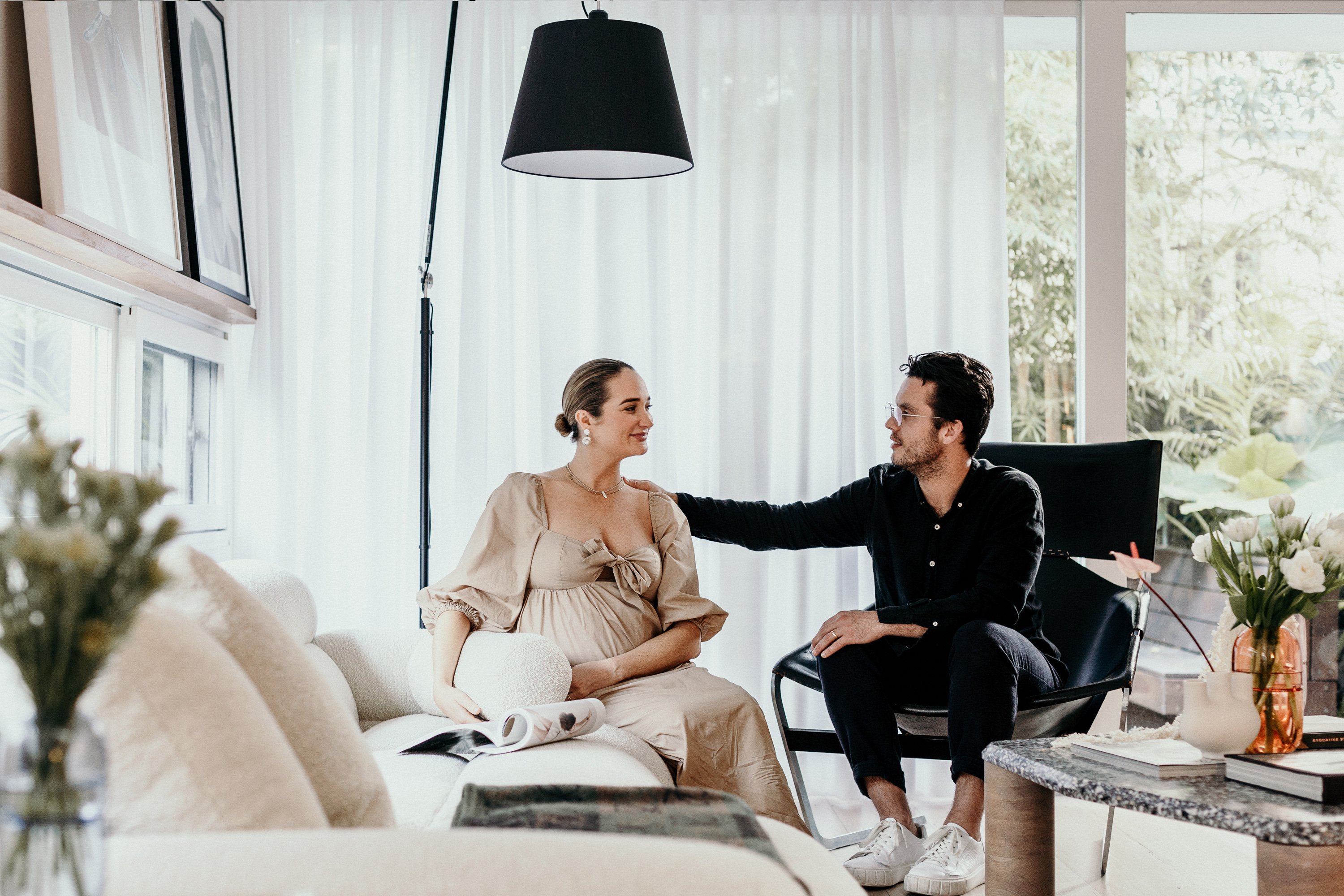 How would you describe your interior aesthetic?
I am attracted to a clean aesthetic but have always respected timeless classic details.
When it comes to decor, I always desire a mix of vintage and new-aged objects. To be honest our home is made up of furniture that we have collected over the past five years. Each piece reflects a particular moment in our life. I have never been one to just redecorate, I feel like a home is about collecting items that you love and see lasting a lifetime.
We have mix of vintage finds and I love that I'm continuing their journey… giving them new life and a new home.
Like your home; your sense of fashion is personal. It is all about your expression, your style, and your point of view.
What informs the Hansen and Gretel aesthetic?

Hansen & Gretel has always been a homage to the many women we are; striking a balance between the fun and sophisticated through a series of prints and textures.
The brands design ethos encompasses a certain 'femininity with bite'. Sharp, uncomplicated, and cut to compliment the female form, but often underscored with a boyish accent.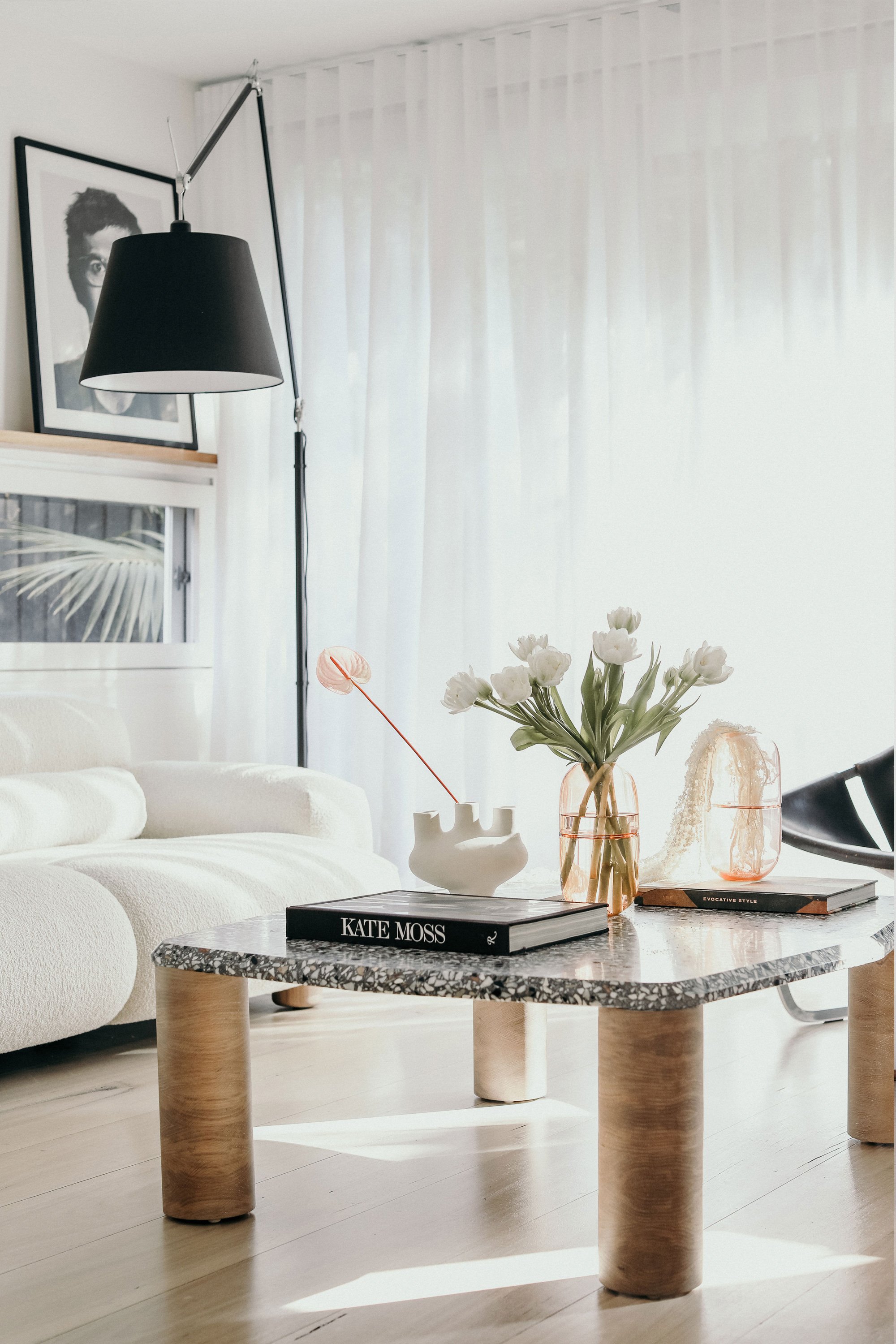 Valley Sofa + Sugarpill in Aurora Pale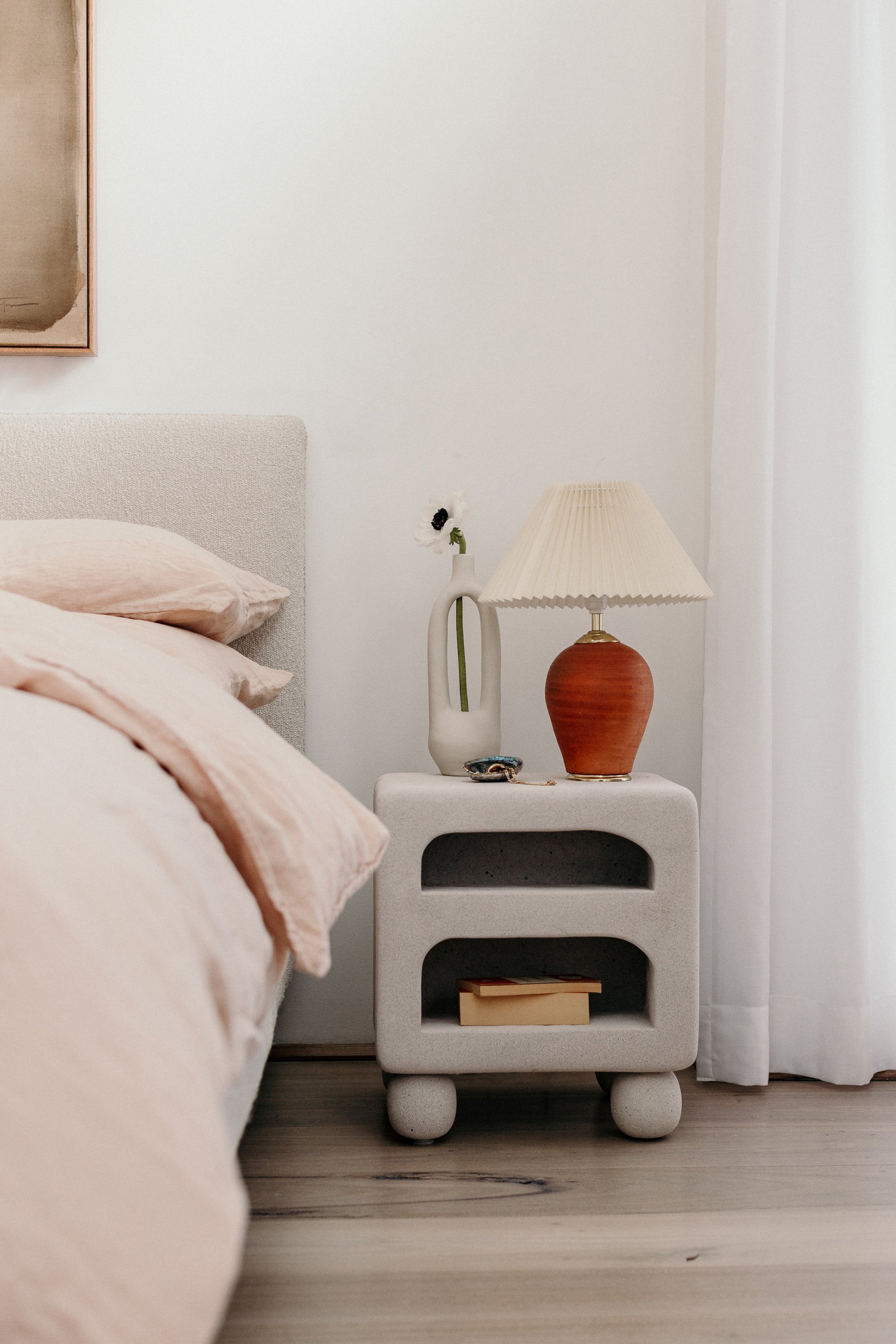 Nook High Back Bed + Airo Nude Bed Linen
What are some of your key/favourite pieces in the house?
Hard question as I love different things for different reasons. One of our first loves would have been our two vintage Pierre Paulin 'F444' Butterfly Sling Chair's, it's been approximately 40 years since they manufactured them and both have remnants of the makers mark so they are so special and a lot of love goes into them.
I also recently brought a Mabel Juli piece of art, second hand. I have always adored her work so it was a special find.
Thirdly… it also goes without saying our newest addition to our home, the Valley Sofa in Luna, eggshell.
And lastly my 1940's Gilded Mirror by Giovanni Gariboldi, it was the perfect piece to sit above our Noah side board.
What attracted you to the Valley sofa?
The Art House collection that Jardan launched in 2018 was so special, all the pieces released had their own uniqueness. I remember when the Valley arrived it was this huge rounded modular and I often fantasied about having the space to house something of its size and beauty. It was always my dream sofa and it took me a couple of years and our first house to commit to it. The Luna fabrication, low back and the rounded edges of the sofa were all things that made me attracted to it. It was also Adam's favourite Jardan piece, as a Pisces he would always dream of the "cloud" and every time we would visit the showroom I would find him happily content sitting on the Valley, I could leave him there all day to dream. When we purchased our home, we knew the Valley modular with chaise was the perfect shape for the space, and one day Adam said "I will cook every night if we get the Valley Sofa". What could a girl say, it was a done deal, his dreams (and mine) had finally came true.

What was the first piece of furniture that really mattered to you?
My Grant Featherston dining chairs. The set of six were the first pieces of furniture I ever restored, I purchased them from a dealer in Melbourne the original upholstery was very shabby and in very poor condition, they needed a new life. I have had them for over 4 years now and I still look at them with love every day.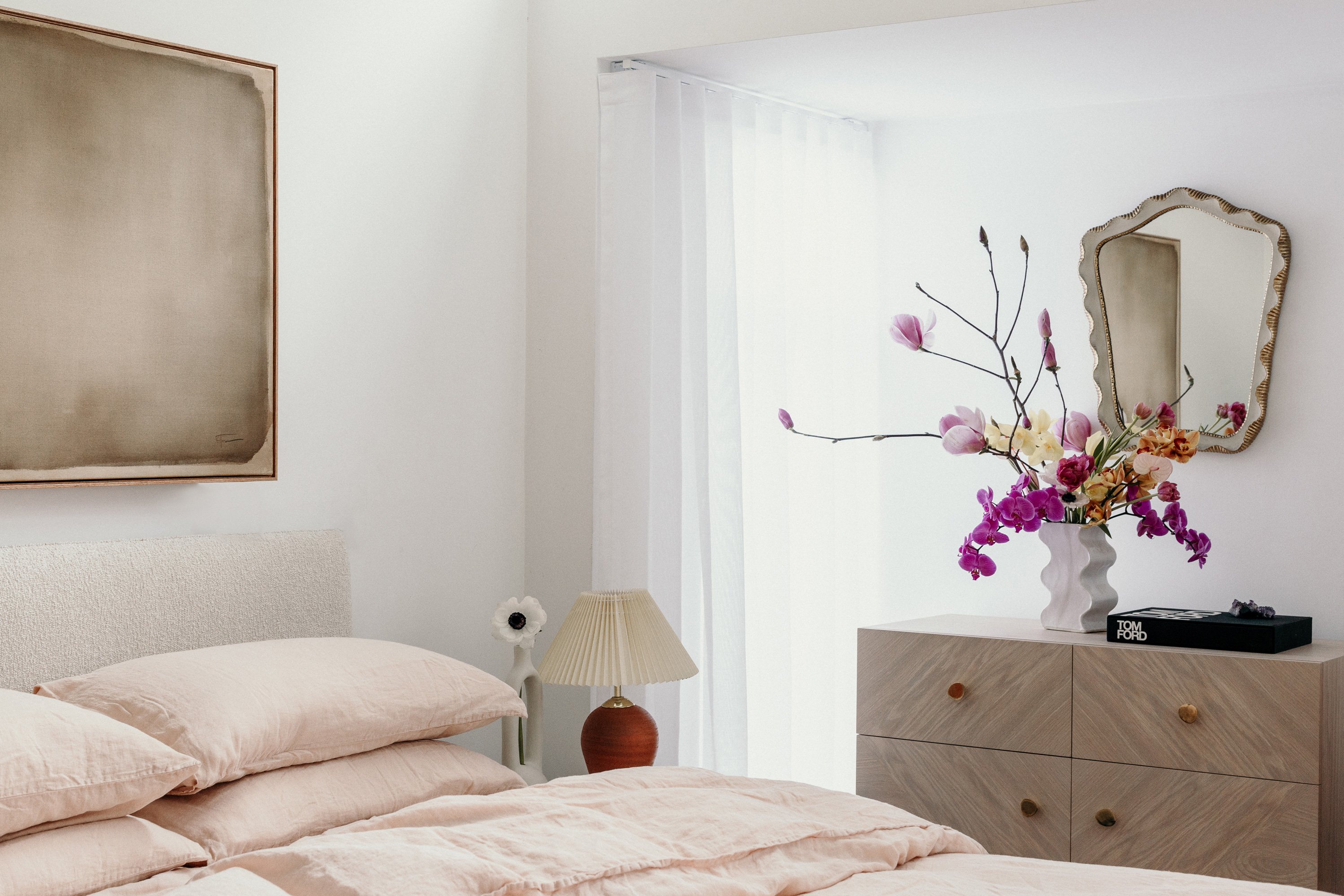 Nook High Back Bed, Airo Nude Bed Linen, Noah Sideboard + Wave Vase in Oyster
Are there any objects that have specific sentimental value or stories behind them?
Yes, I have a couple of treasured pieces, one would be the framed "Bob" poster by Chuck Close, this was the first exhibition Adam and I ever went to together. We had the most remarkable day together and I wanted something to remember it so purchased this poster, I had it framed a year later and gave it to him on our anniversary, the poster had crack marks through it as it was stored rolled but I always felt that it gave it more character, I recall the framer telling me that they wouldn't be able to fix its imperfections but it didn't bother me at all.
What everyday rituals make your day?
My morning mediation, my day doesn't feel the same without it.
What are you listening to at the moment?
I listen to a mixture of different music, at moment I just discovered Mt. Wolf which I love to listen to in the mornings. On my way to work I have a play list called A-Loves which consists of random songs I have added over the past couple of years, the last song I added was On My Mind, Diplo, but there is some Beyoncé and Harry Styles in the mix too. My weekend vibes are always met with Ludovico Einaudi, he is the one artist my Husband and I enjoy together.