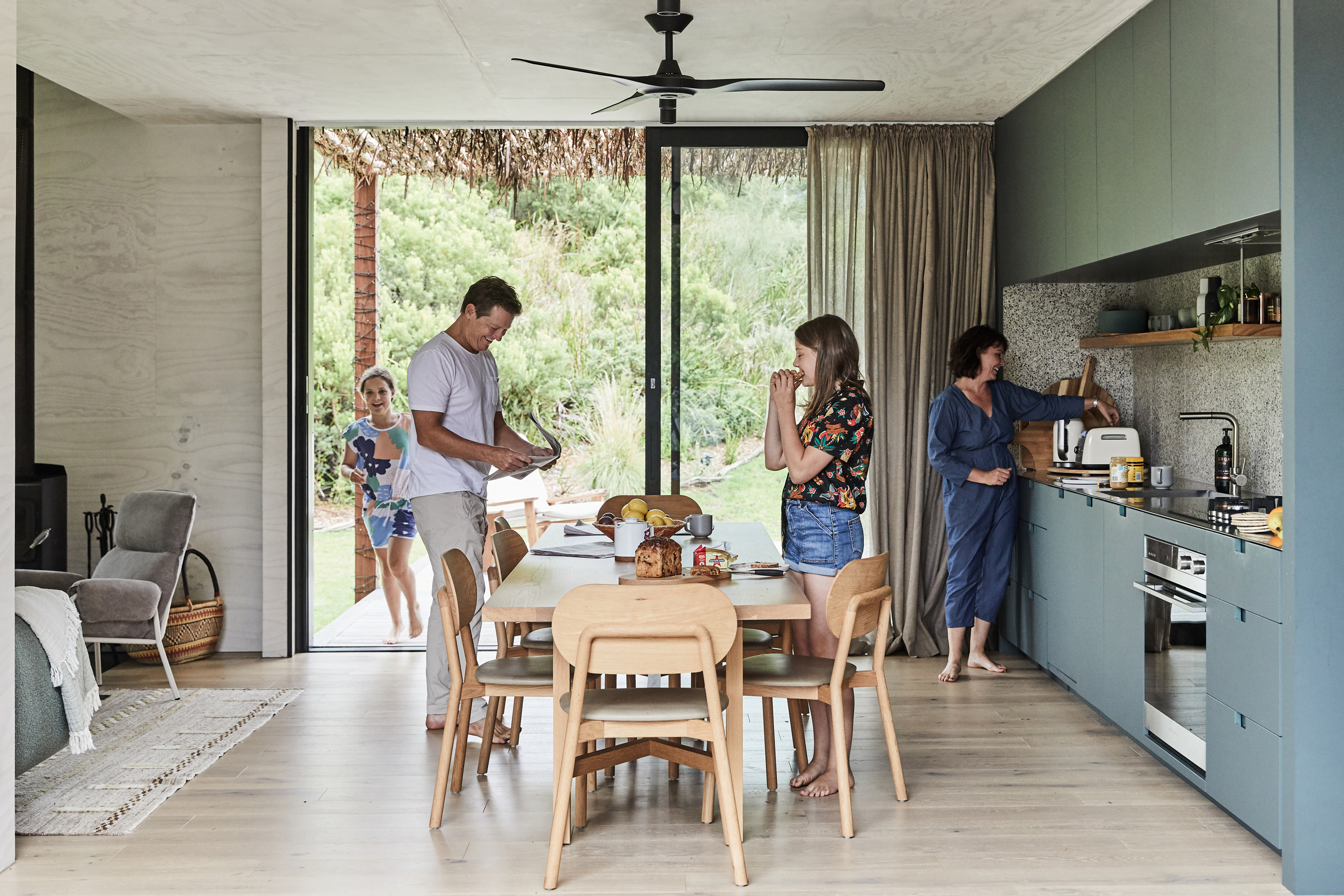 Made for Life — Mate for Life with the Ablethorpe Family
06.05.21
Friends
Tell us a little bit about yourselves and your kids.
We met as housemates over 20 years ago so I guess we are 'mates' for life as well.
Rachelle is a freelance Art Director and super mum to our two girls, Isabella 12, and Frankie 10. Rach also works with me in our Legal recruitment business, Ablethorpe recruitment, designing our online content and anything marketing related.
Together we like to visualise and dream up possibilities and make them happen and love to have a project of some sort on the go. Our life is a balance of children, work, play and rest. We finished building this house 18 months ago just before COVID hit and its pretty much designed as the antidote to a pretty hectic city life.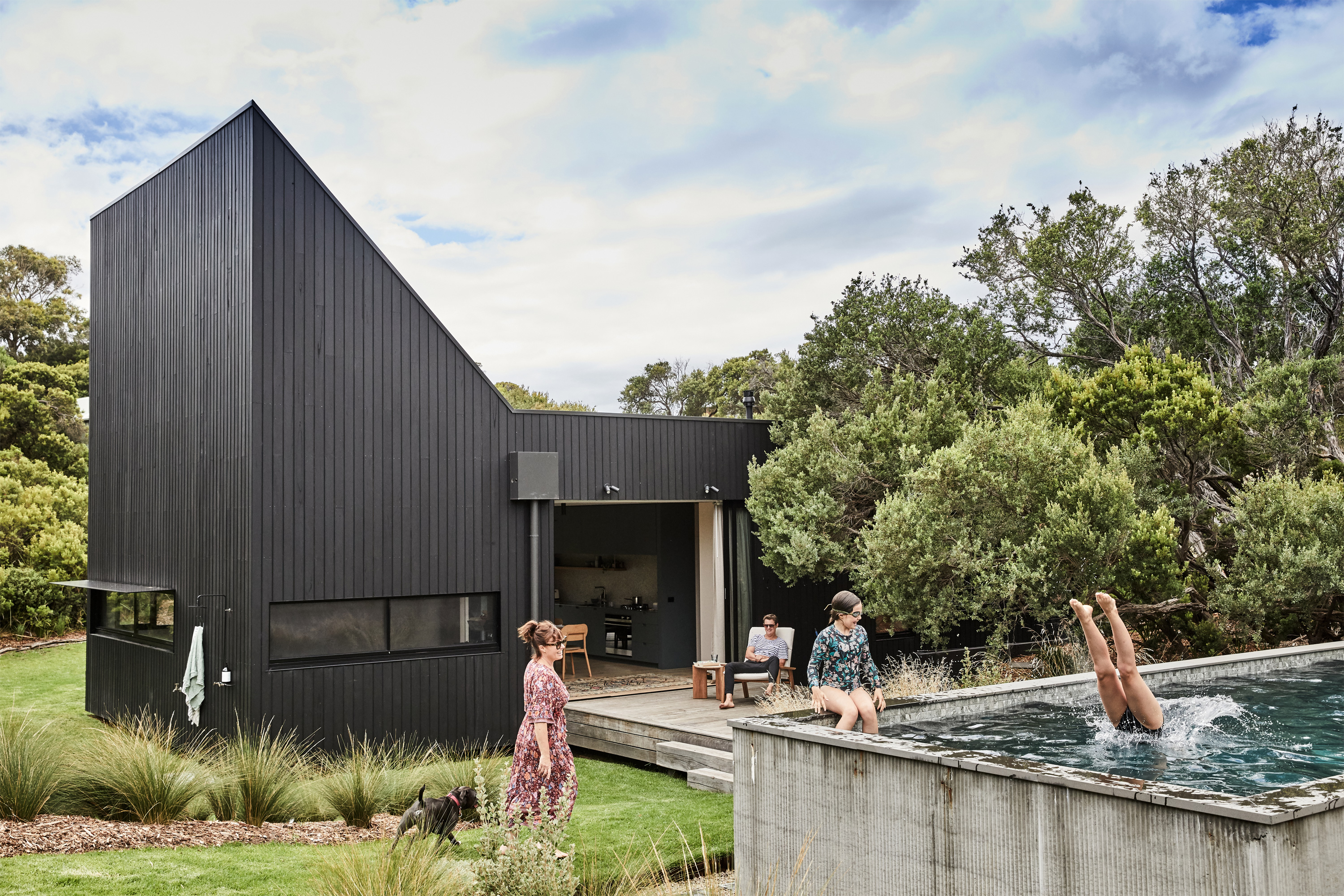 Can you tell us the back story of your house, how you ended up there and how you turned it into a home away from home…
I've holidayed down the Mornington Peninsula since I was a kid and pretty much moved there when I was at Uni. Bumming around working in the vineyards and farms and surfing, I always loved the ocean beaches in the area for their rawness and surf. Rach and I spent a lot of time down there when we first met and a few years ago we spotted this block and the rest is history. After camping on the block in our yurt, for about four years, we engaged Wolveridge architects to design this house. The brief was to keep it small and simple, as we liked being forced together with a focus on the outdoors. We wanted to have a modern twist on an old school 'beach shack' without making too much of a fuss. It sits in a beautiful natural amphitheatre of bushland heath and we can't see any of our neighbours. When you relax on the couch or at our dining table all you see is green and all you can hear is the roar of the ocean and the birds. The stars at night with the outdoor fire are magic too.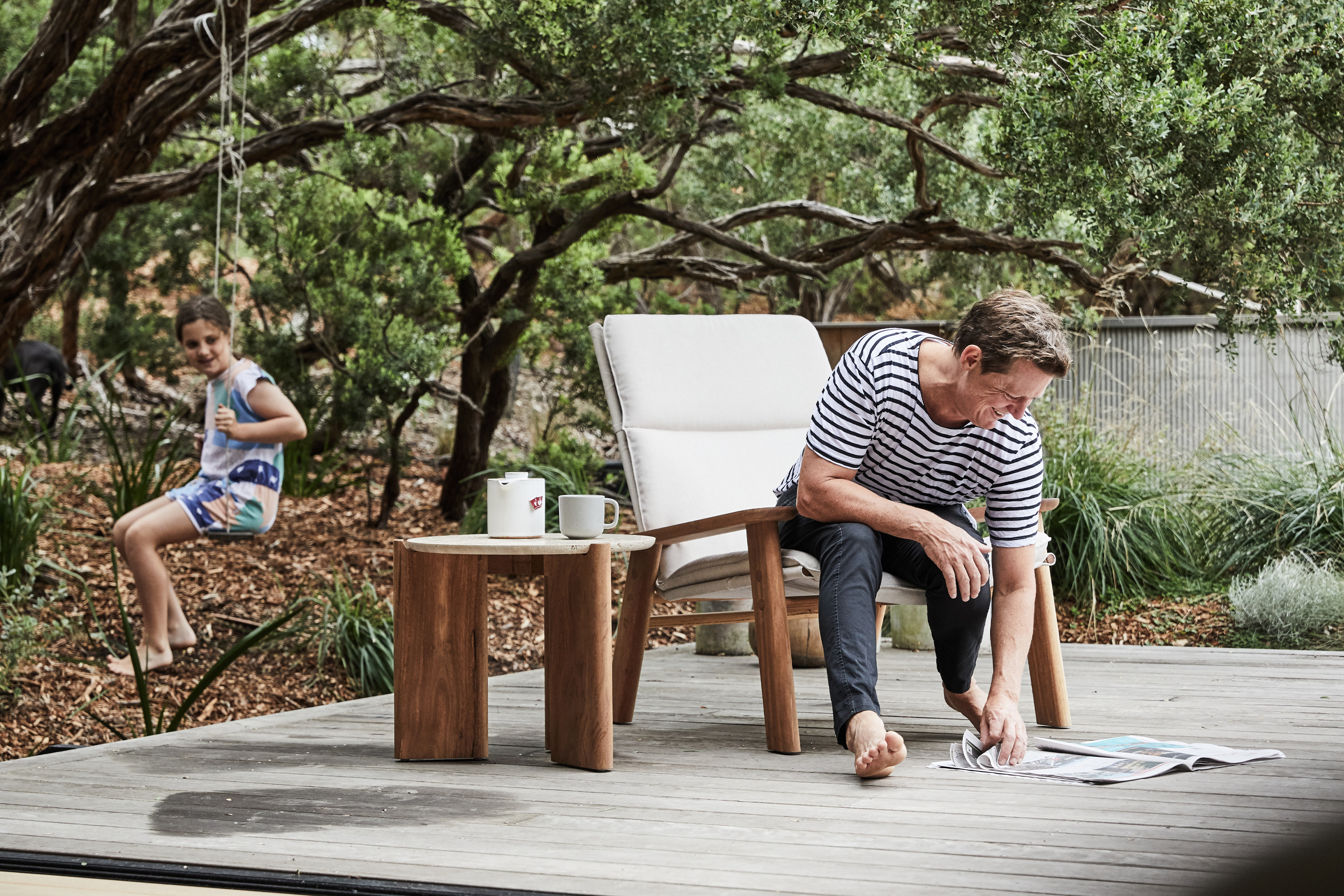 Otis Outdoor Side Table, Cisco & the Sun Pasca Teapot + Henry Armchair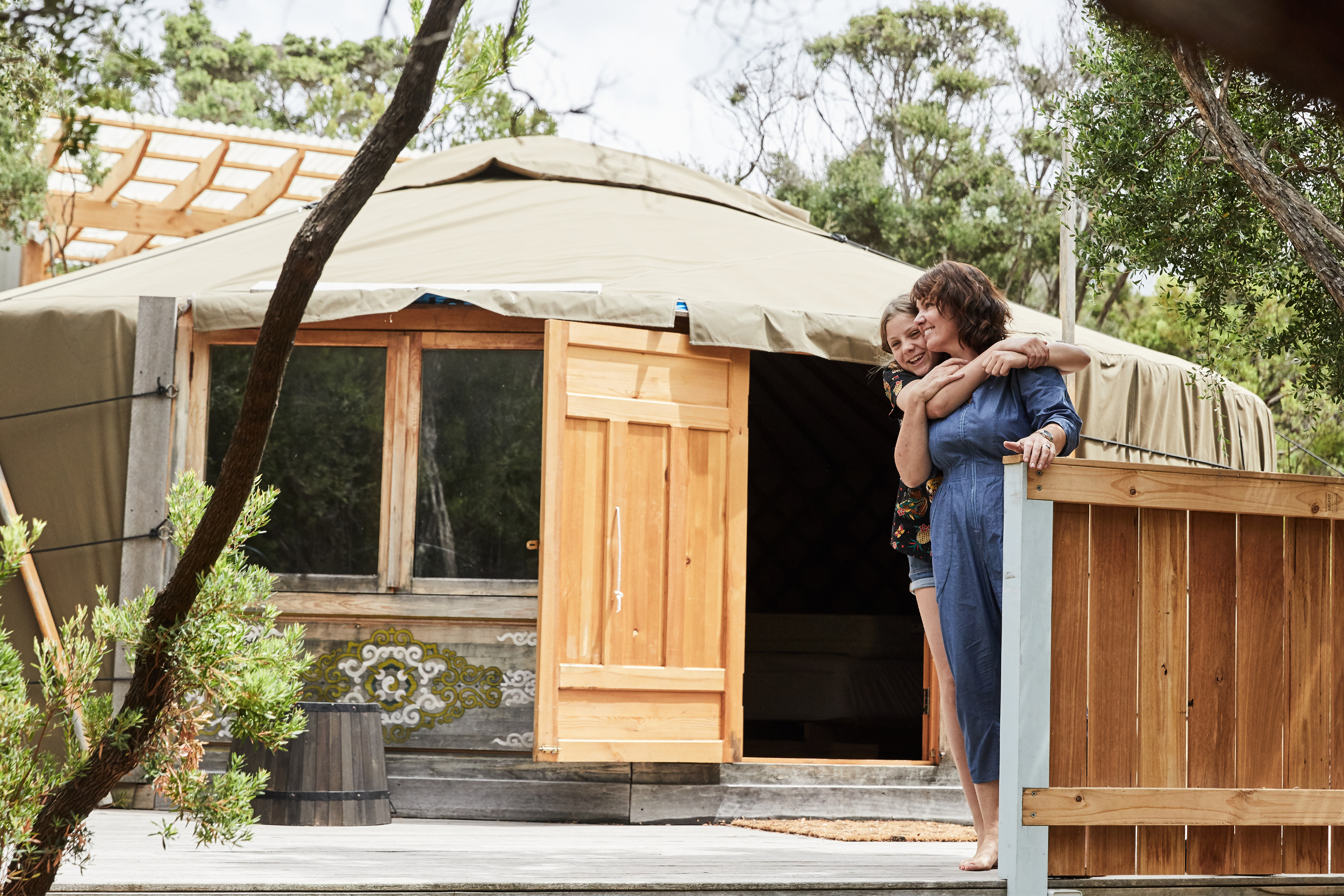 How long did you stay in the yurt for and what was your favourite thing about it?
We didn't have the cash to build a house straight away and we investigated tepees which were bloody cold and then stumbled onto yurts. We imported a Yurt from Mongolia and used that as standalone accommodation for 3-4 years. Easter glamping, fireside with friend and their own tents, was super fun. Yurts take a bit of work, and they smell a bit fruity but they're really well insulated with 5-10cm of horse felt and canvass. They have stood the test of time in really cold conditions in the Mongolian desert, so we figured they would survive the Victorian coast. It was awesome getting the pot belly on in winter and spending time in the circular, one living sleeping area with small kids. Board games, no TV, made for a great break. We've recently put it up again so friends can camp in style when they come down, however the kids have pretty much claimed it and there can be as many as 10 or 12 bodies on camp mats sleeping over like a kid soup.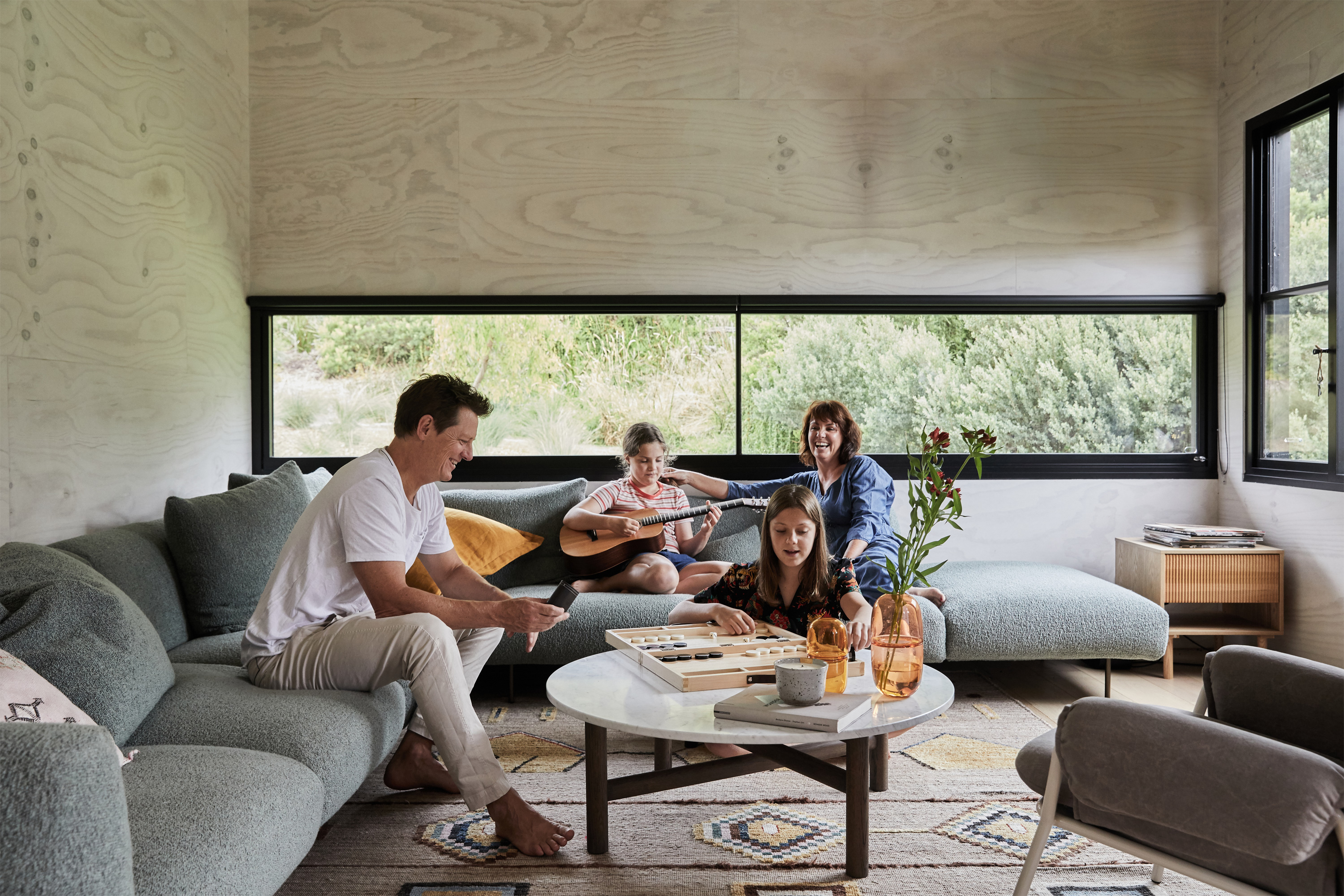 Miller Sofa, Dari Rug, Sidney Raw Coffee Table, Yeend Studio Vase + Jean Armchair
What are some of your key/favourite pieces in the house?
I love our Miller sofa (the big green couch) and have fallen asleep on it with a book and a record more times than I can count, day or night - it seems to fit everyone + hangers on and is next level comfortable. We all love the pool as well and the way it is raised out of the ground with formwork so that you can be completely immersed in water but on eye level with anyone in the kitchen. The kids live in it in summer and its super deep.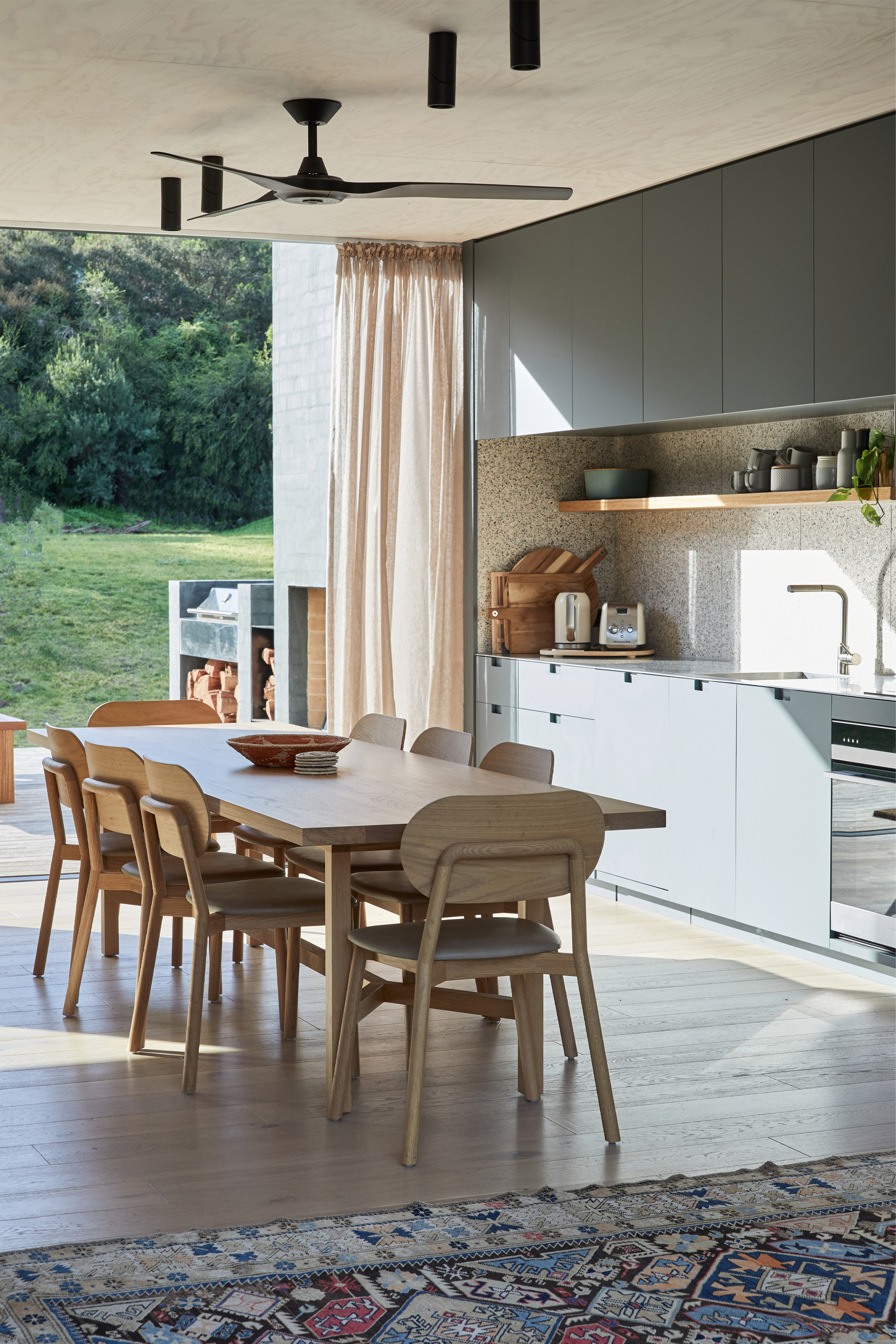 Cooper Table + Mckenzie Chairs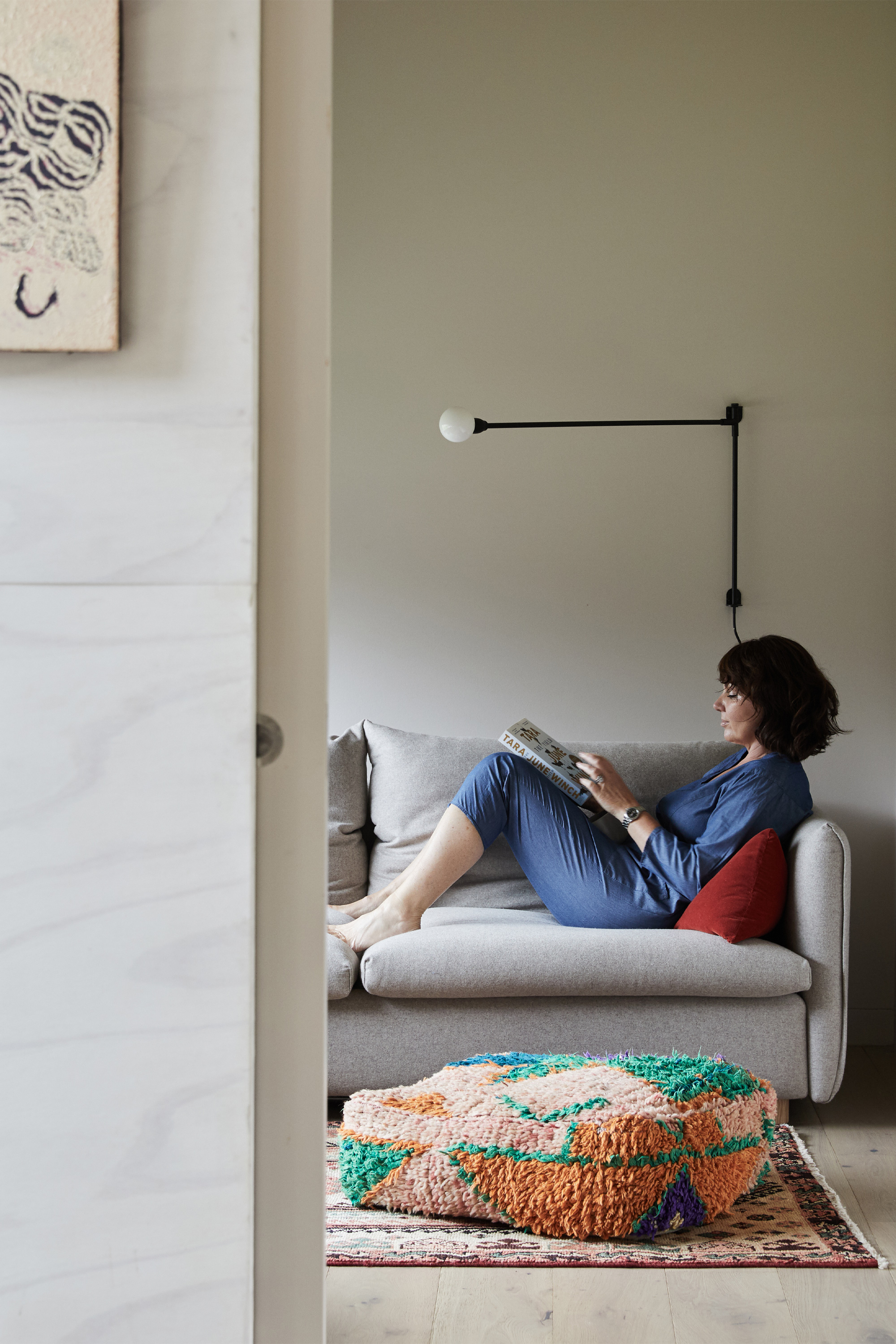 Hugo Sofa Bed
What do you love most about the area?
We are in striking distance from the hot springs, world class wineries, amazing beaches, surf and beautiful unspoiled coastal bush areas and we've got heaps of mates down this way as well. What's not to love?
What is your favourite memory that has been shared around your Cooper table?
Definitely this summer, one of many paella cook-ups with our reprobate friends - it's a great feasting size and a large-scale communal cook-up with Sangria normally makes everyone pretty jovial pretty quick.
What is your favourite Sunday morning breakfast to make with the kids?
I love a bit of scrambled egg personally, ideally after a morning surf. If we have extra kids stay then it's always pancakes. Or a spaghetti and cheese toasted jaffle...after one too many Sangrias!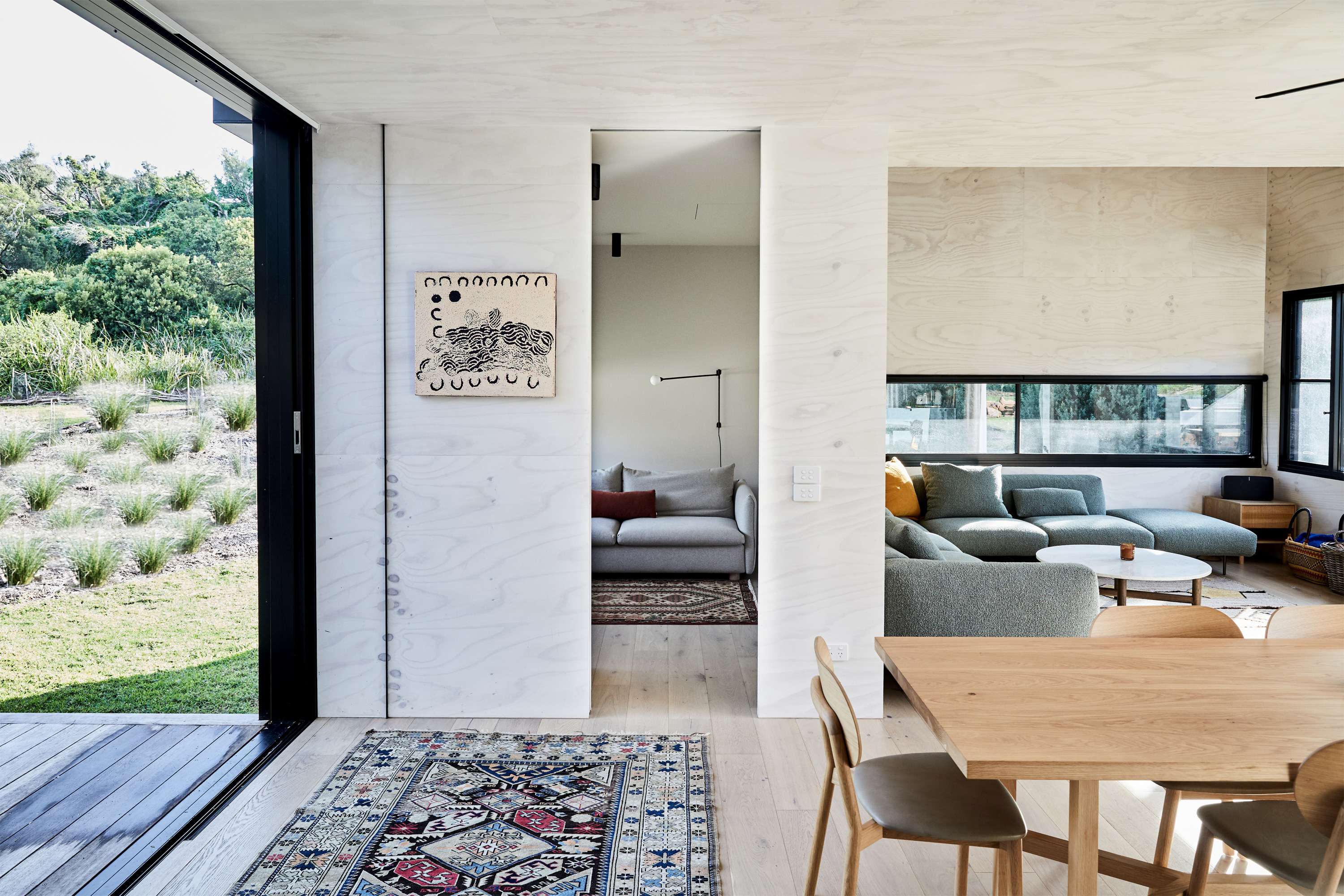 Hugo Sofa Bed, Cooper Table, McKenzie Chair, Miller Sofa + Sidney Raw Coffee Table
Are there any objects that have specific sentimental value or stories behind them?
It's all pretty new at the moment and we've deliberately tried not to fill it with too much stuff, I've got some indigenous art in the bedroom that I've had for a while that we love. The couch is creating its own memories pretty quick. We love cuddling on it, everyone can stretch out and watch a movie together. Many games of backgammon or connect four are played at the table too - the 10-year-old is a tinny dice whisperer that has everyone's measure at the moment...and like a bunch of dorks a bit of charades can go down as well in that space
What attracted you to the Miller sofa?
It's like a green cloud - super comfortable without having to plump up the base cushions. It fits our space perfectly like it was made for it.
You can also take off the cover easily in sections if there are any spills - too easy.