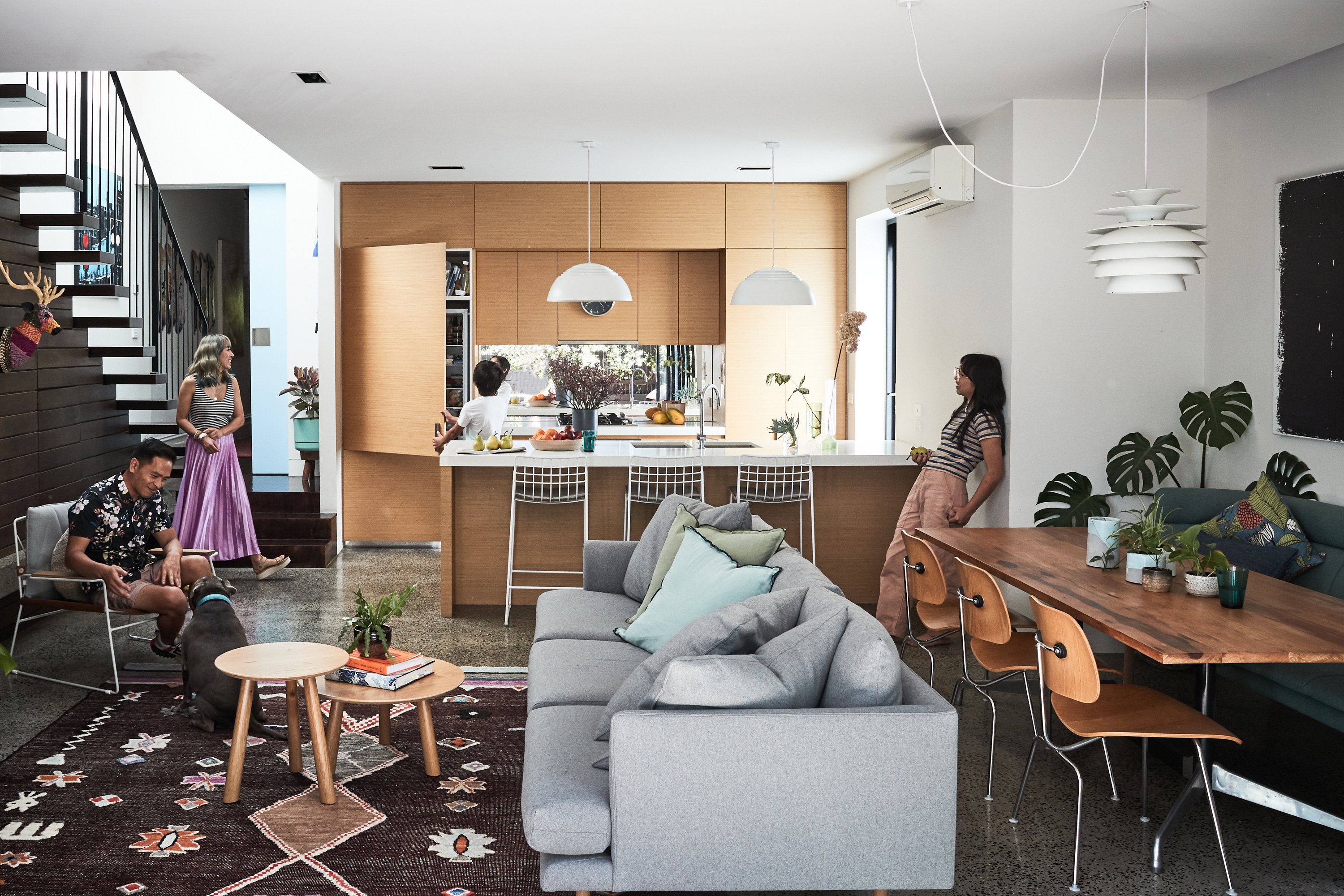 Made for Life — Mate for Life with the Vo family
14.01.21
Friends
Tell us a little bit about yourselves and what you do for a living.

We are Juanita Nguyen and Tri Vo. Juanita is a Jardan showroom consultant, and Tri is a freelance graphic designer. We have two kids - Jules and Ollie – who are both teenage students and our old blue staffy dog is named Bob Marley.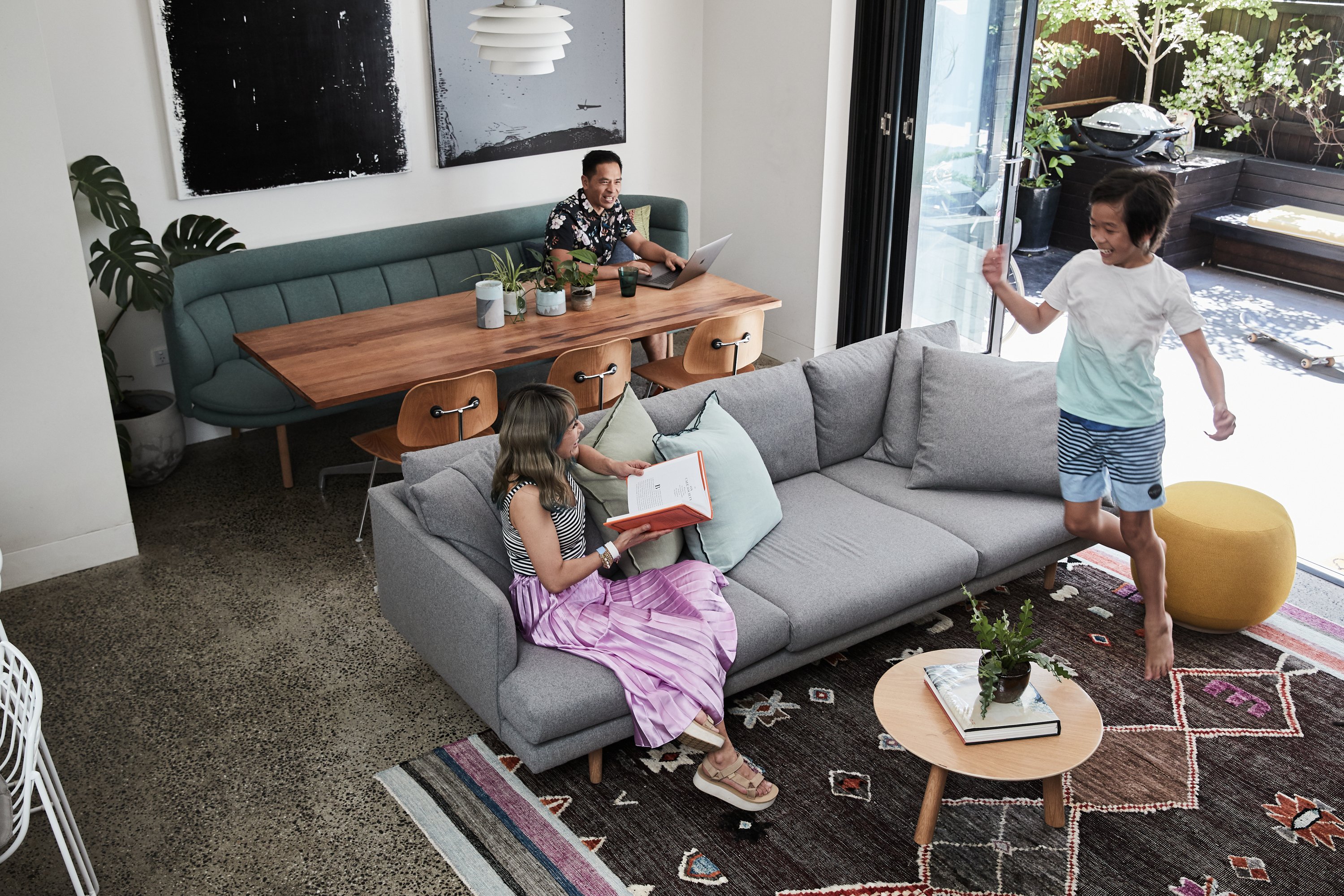 Franklin sofa (custom) + Nook sofa + Dari rug + Olba coffee table + Joy ottoman + Luca cushions
Can you tell us the back story of your house, how you ended up there and how you turned it into a home.
Pre-kids we ran a fashion streetwear label and lived in a converted warehouse. We bought the South Melbourne house 14 years ago as an investment. The house was completely run-down, it was the most unkept house on the street, but we saw potential in its location. We rented it to our friends for several years, they enjoyed the short trip into the city for work. After 2 kids and a dog, the warehouse living wasn't ideal. We realised that we needed a house that catered for a young family. So, we decided to renovate South Melbourne. Tri sketched up some initial concepts in illustrator and gave it to a draftsman. Our friend Dana Hutchins (ex Techne, recently completed the Espy, St Kilda) designed our interior. The original layout of the house was really dark and dreary, our plans opened up the living space and a large glass skylight was added to highlight the stairs and allow more light to pour in.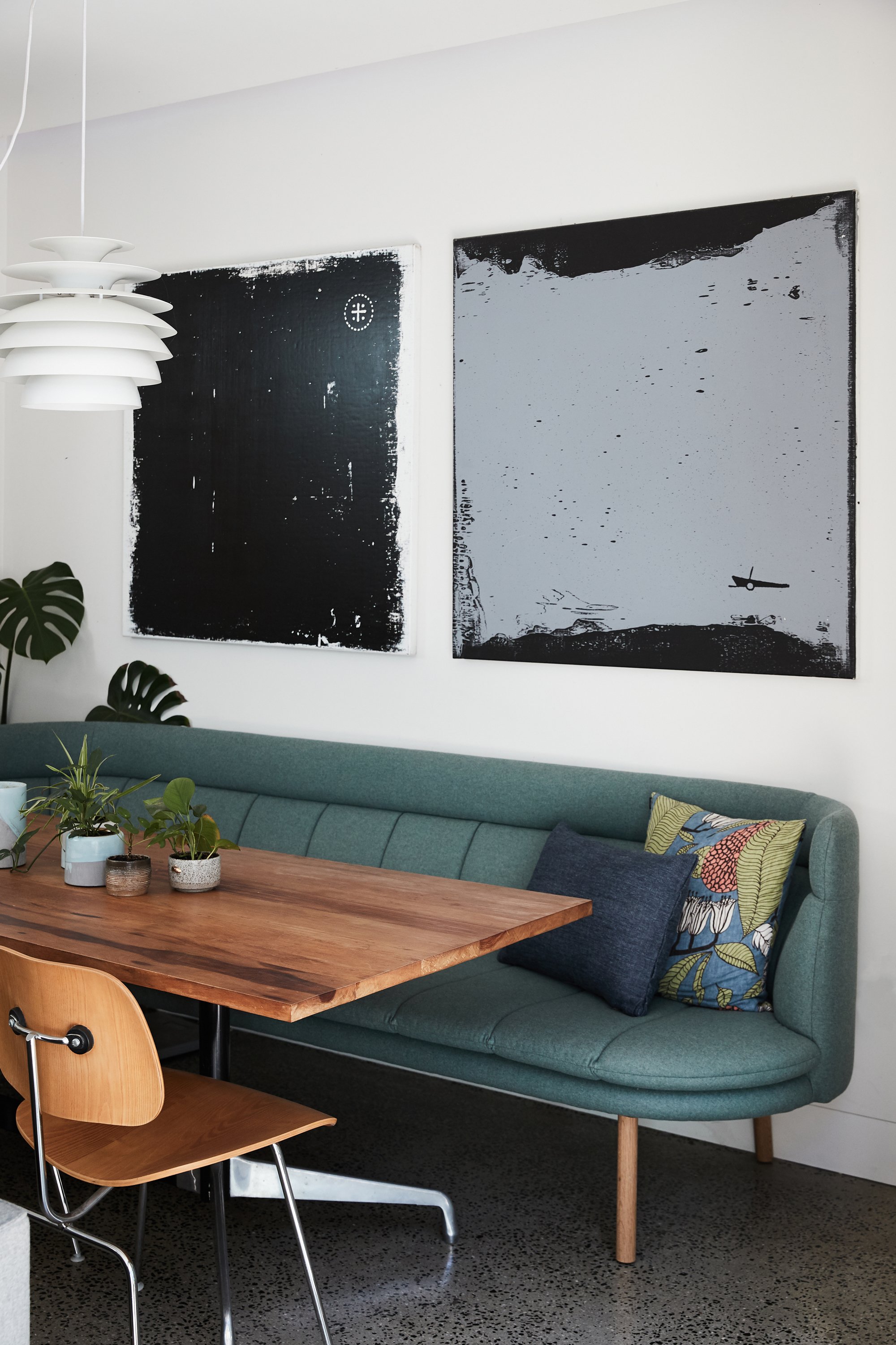 Franklin sofa (custom) + Matilda cushion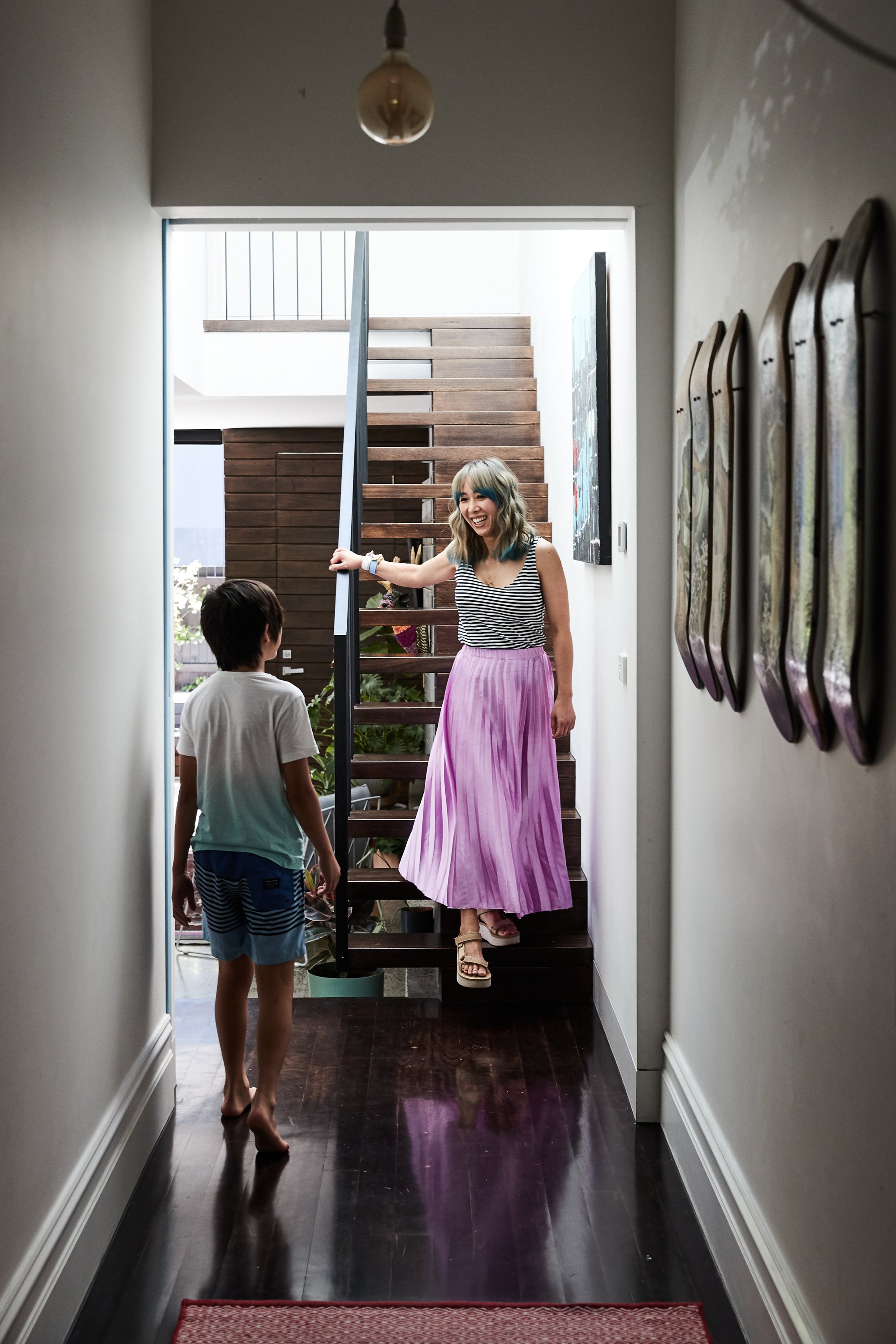 What do you love most about the area?
Everything is at our doorstep from the South Melb market to supermarkets and I walk everywhere. I'm always going to the shops, every day. We are spoilt for choice with 40+cafes to choose from within walking distance. It's a great base for young teenagers who like to be independent and socialise with their friends. Jules and Ollie like to pier jump around Port Melbourne and Albert park, so if it's a nice day, they will be out all day. They can choose to walk, hop on a tram, or ride to school. The showroom is a stones throw away and I've been loving scooting into work with my vespa lately.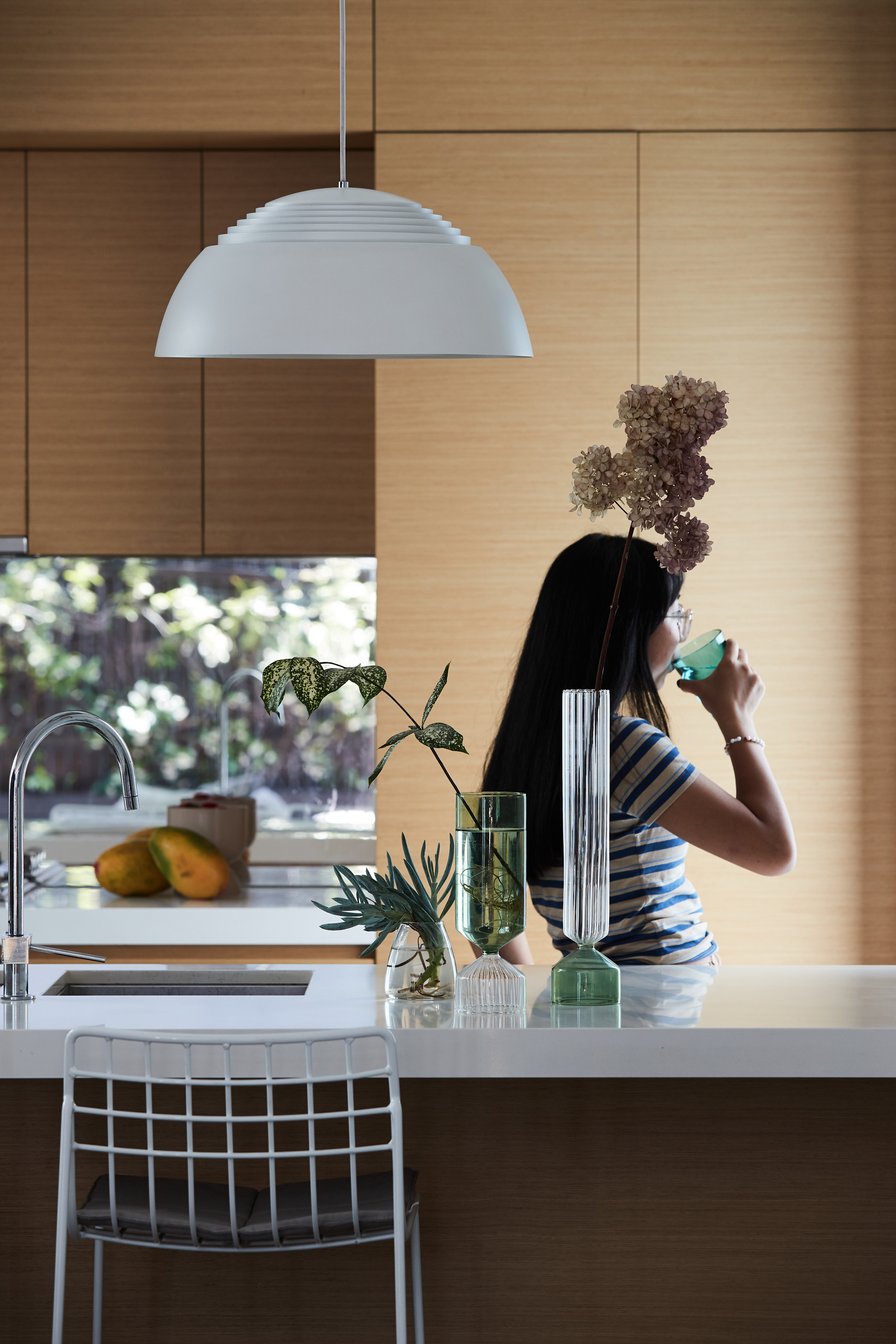 Lionel stool + Kartio High Ball glass
How would you describe your interior aesthetic?

Contemporary and functional.

There's hidden storage everywhere, we were trying to be more organised. Most of our appliances are integrated. We have overhead storage in the kitchen and the attic, as well as storage under the stairs and built into the walls. We packed in a lot of features to suit our active lifestyle.

We love to travel and be outdoors so there's a ton of equipment (surfboards, snowboards, camping gear, bikes) all stored away. We use South Melbourne as a home base. The house is small so everything needs to have a place - We have lots of bicycle storage, on pulleys mounted to the ceiling and hooked up on the front verandah.

The benefit of having a small footprint is It's easy to maintain and keep clean.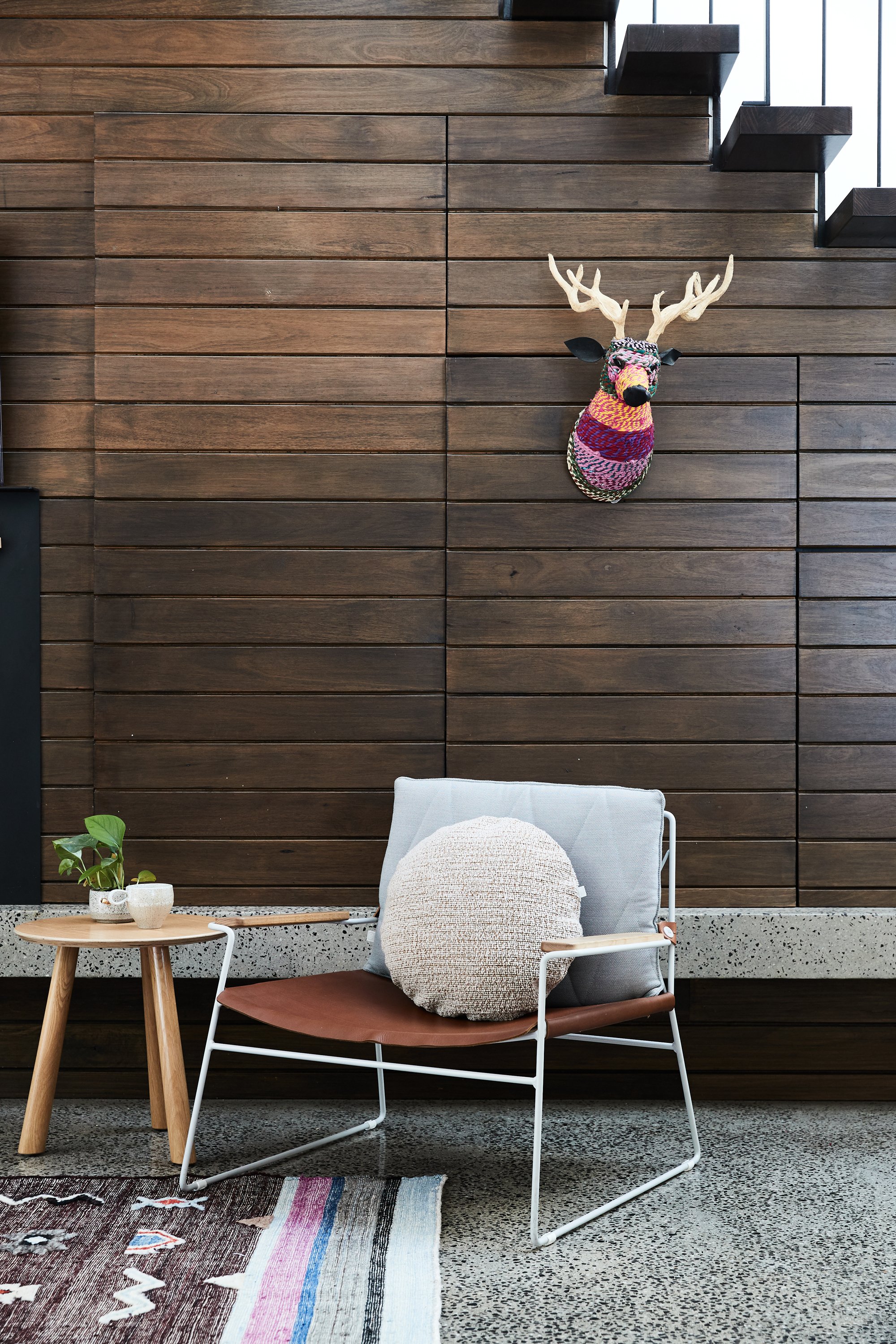 Olba side table + Dari rug + Seb armchair + Bowie Round cushion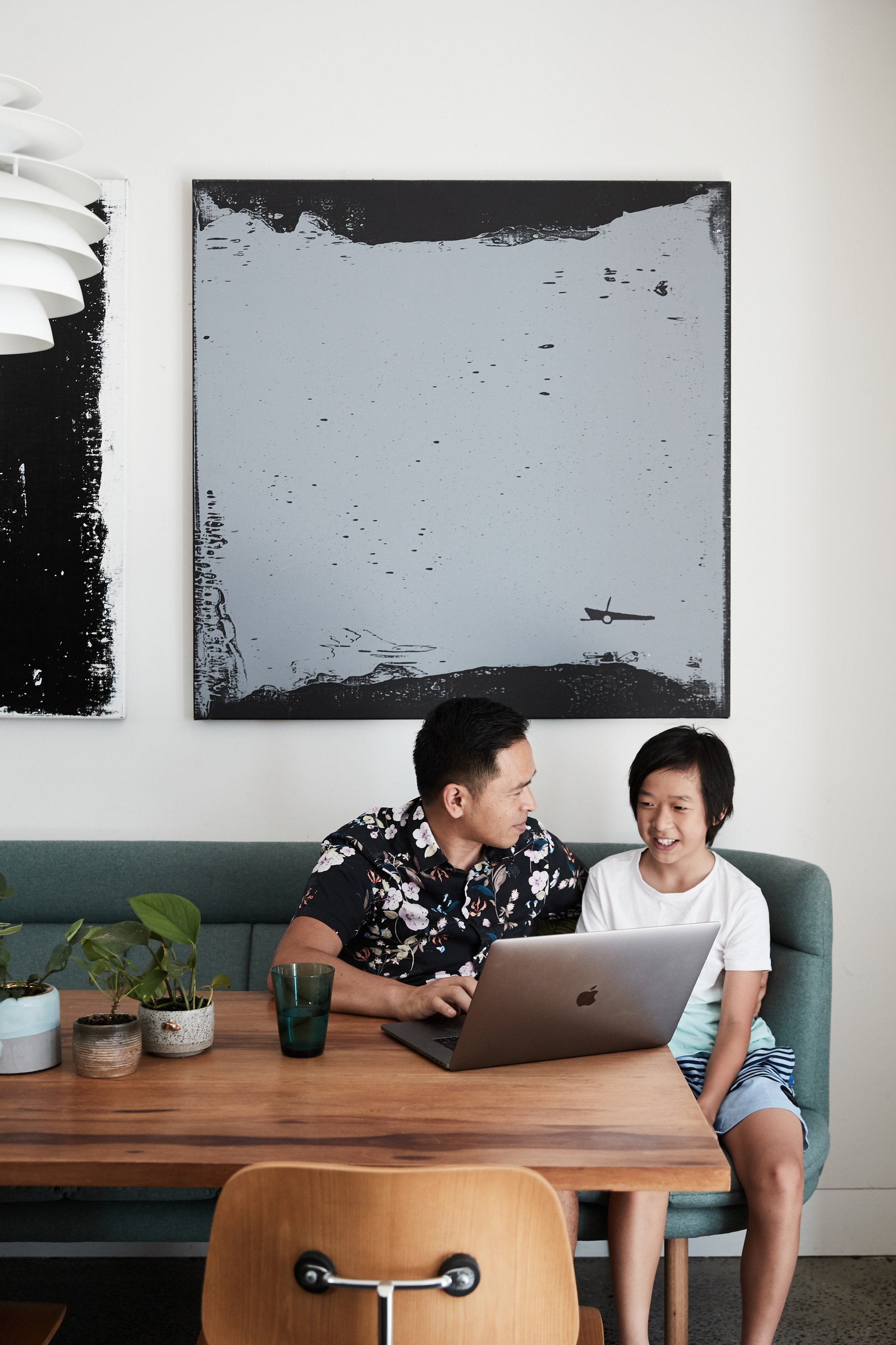 Franklin sofa (custom)
How has working at Jardan influenced your interior style?
Colour was the biggest influence for me. I learned that you can express yourself through colour, have fun and not be so conservative. I also learned that if something doesn't work or doesn't suit the space, let it go and don't hang onto it. It's important to get it right. I'm more confident with picking textures and homeware objects, and believe they tell a story.
What are some of your key/favourite pieces in the house?

Our existing oversized furniture didn't fit into the downsized living space. We had to reconsider all new furniture. The Nook sofa offered generous seating depth and a slim frame, which worked well in the space. A key piece would have to be the Franklin sofa that serves as banquette seating along the dining table. It's comfortable and encourages longer time spent at the dining the table. Banquette seating also allows for the table to be pushed up against the wall freeing up more space.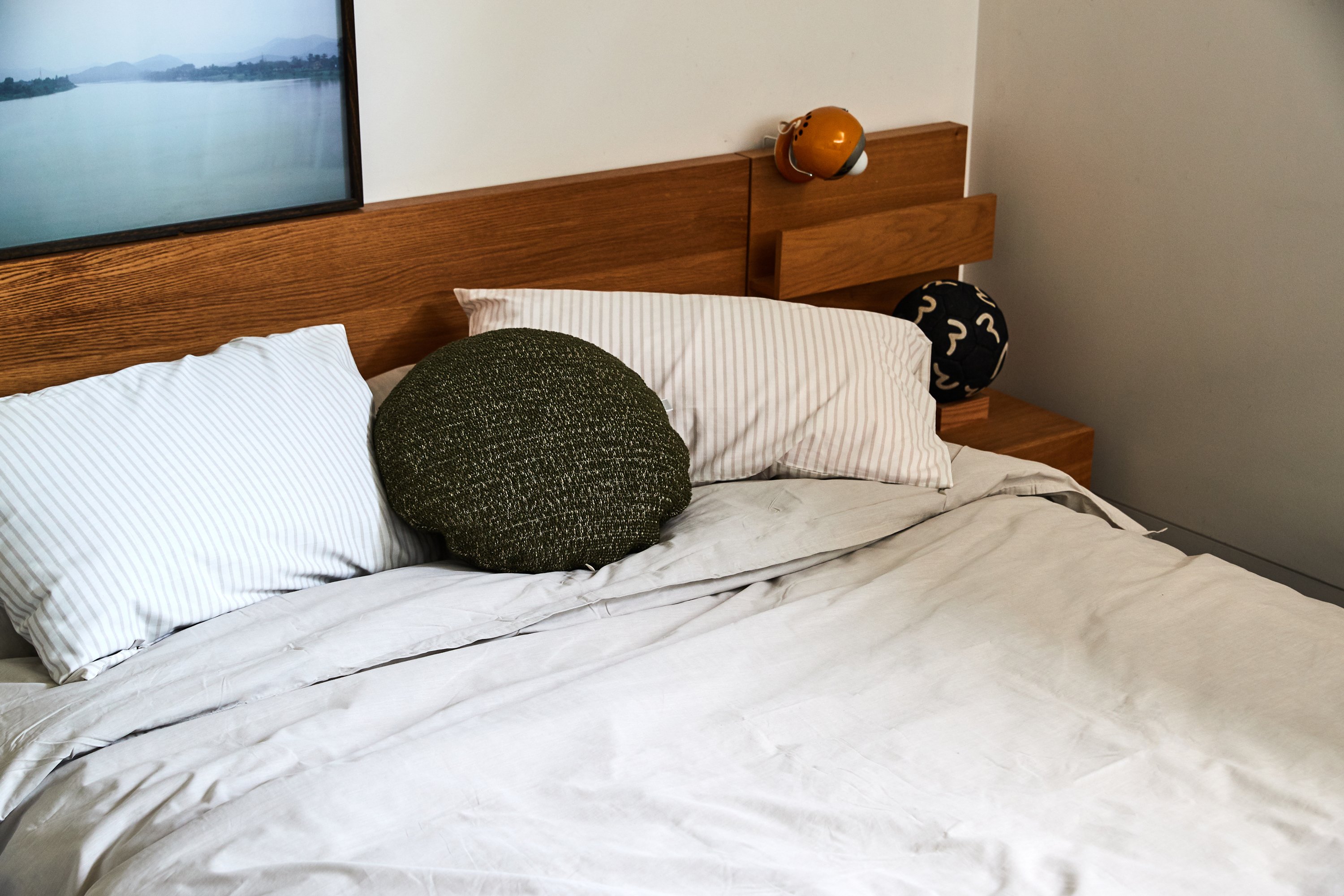 Organic Sand + Organic Sand Stripe bed linen + Bowie Round cushion
What was the first piece of furniture that really mattered to you?

I think it's really important to get the right sofa that works for your space. It has to serve the family's needs and is the main item that gets used daily. Our sofa has a commercial fill so it requires less maintenance, it also is upholstered in a heavy-duty wool material that withstands active teens. I hear many people say they have an uncomfortable or ugly sofa that they put up with, for me it's such a significant piece and should be the first thing you get right.
Are there any objects that have specific sentimental value or stories behind them?

Our art canvases are by contemporary Australian artist James Smeaton. The abstract series is based on his exploration in Sailing light signals, Morse code, semaphores and charting symbols. I liked this series and found it was quite emotionally calming. They are my serious art appreciation pieces.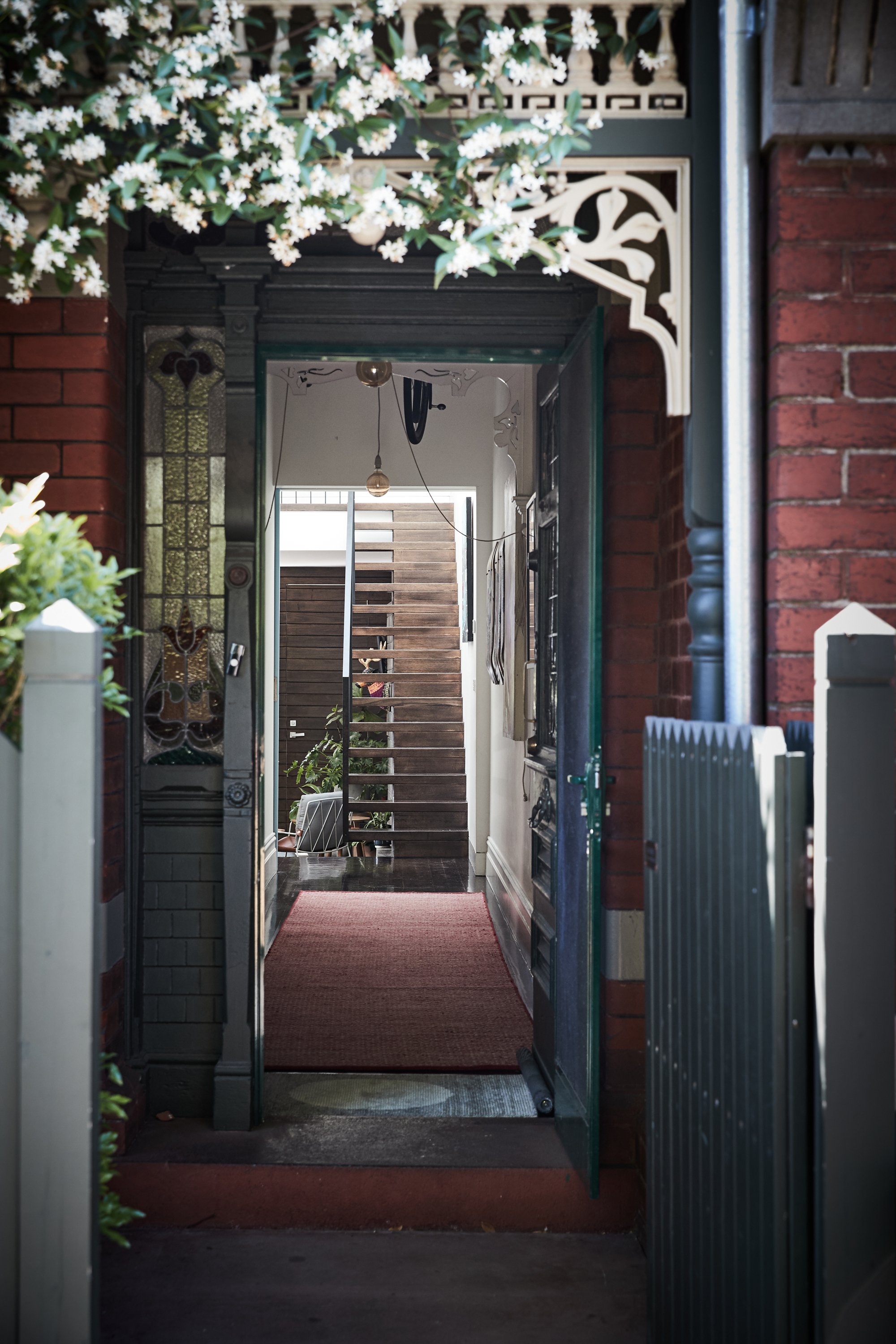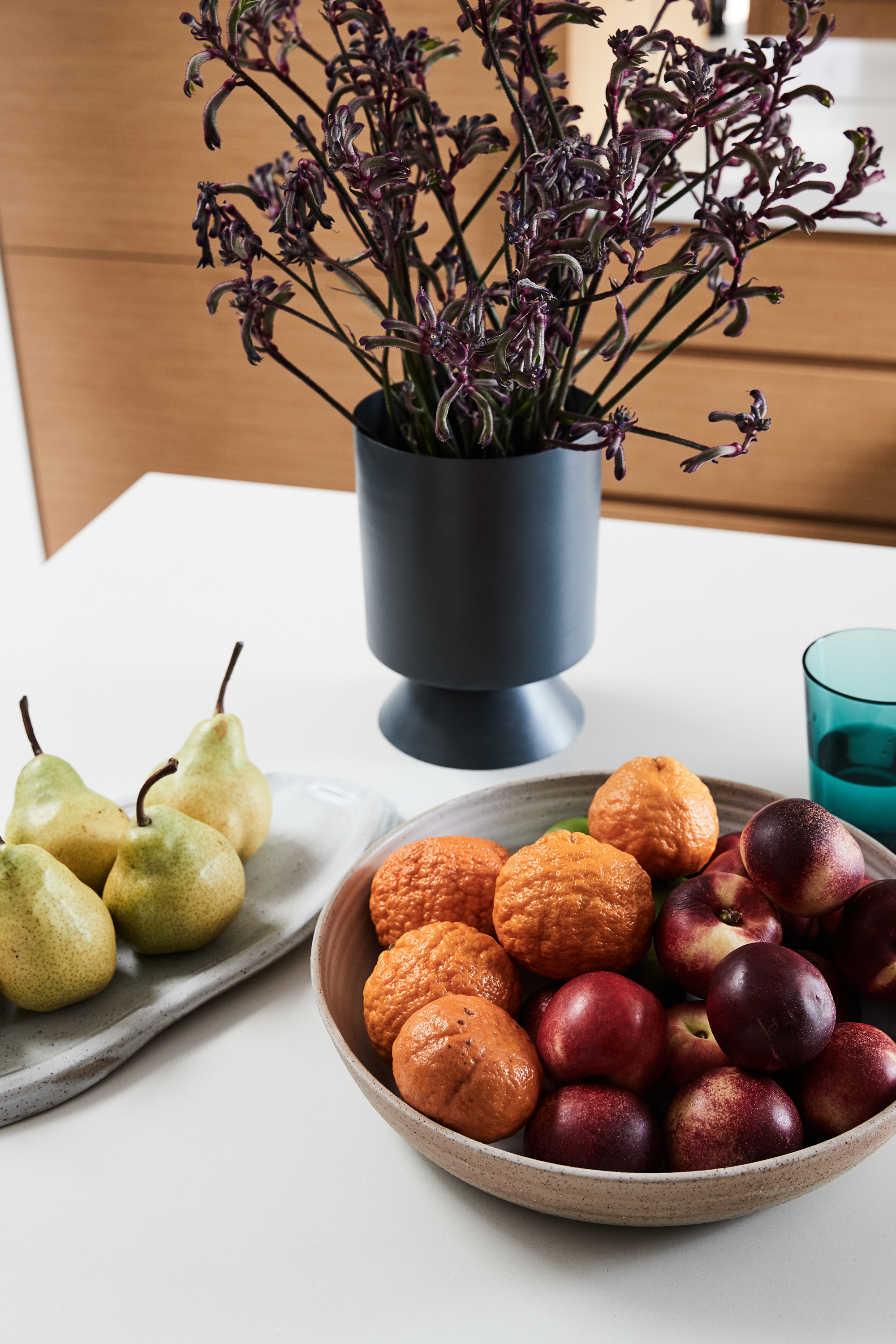 What would your ideal night in be?

Sipping bubbles, grazing and Netflix on the Nook.
What everyday rituals make your day?

When I'm not working, I always make time to go out for a coffee with friends. There's so many cafes to choose from. I'm a foodie so as soon as I crave something, I'm off to the shops!
Jules and Ollie love how close we are to the bay, they spend hot days meeting up with their mates at Kerferd pier or Princess pier and jump into the sea.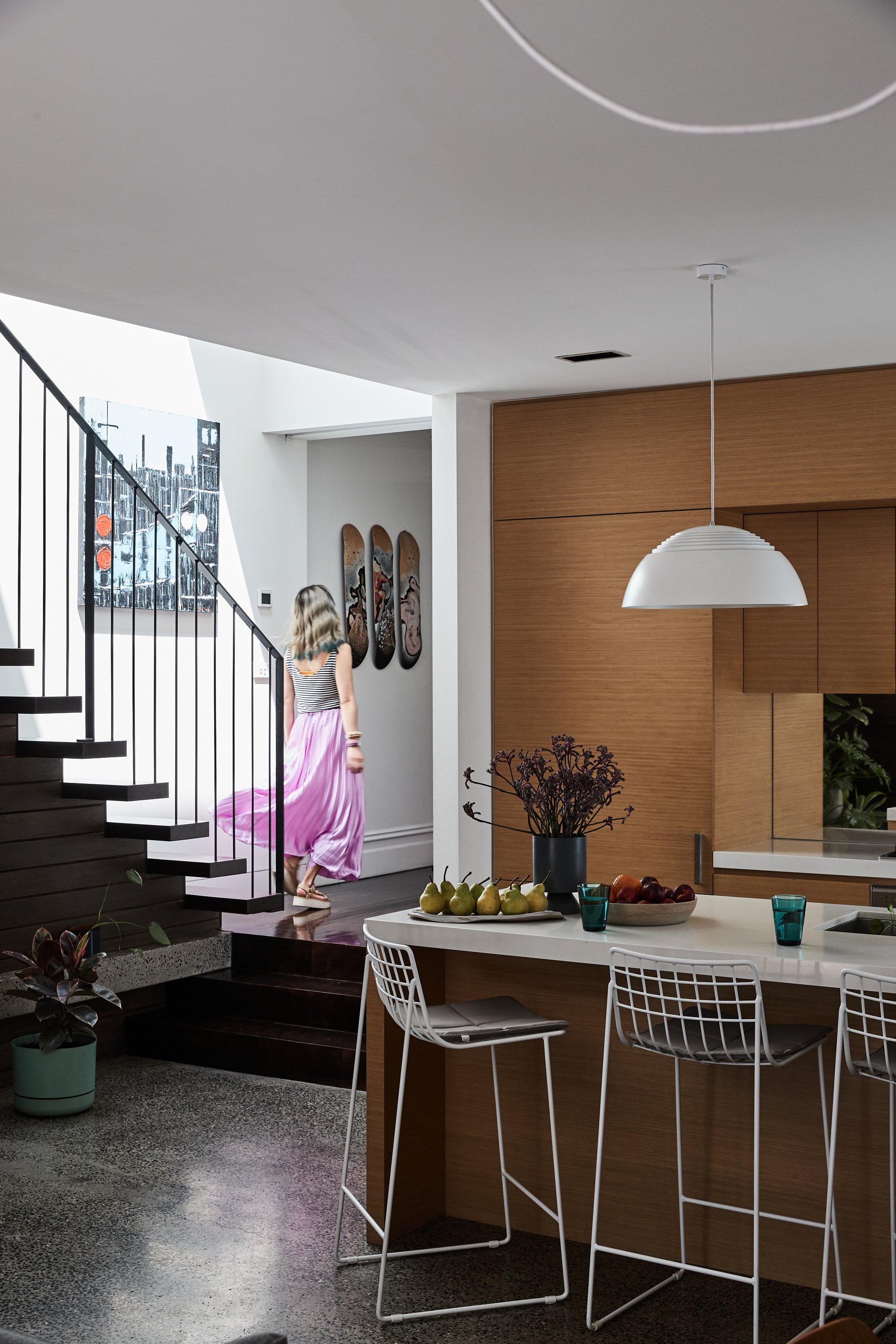 Lionel stool + Violet Oval Platter + Violet Low Large Bowl + Kartio High Ball Set Seablue