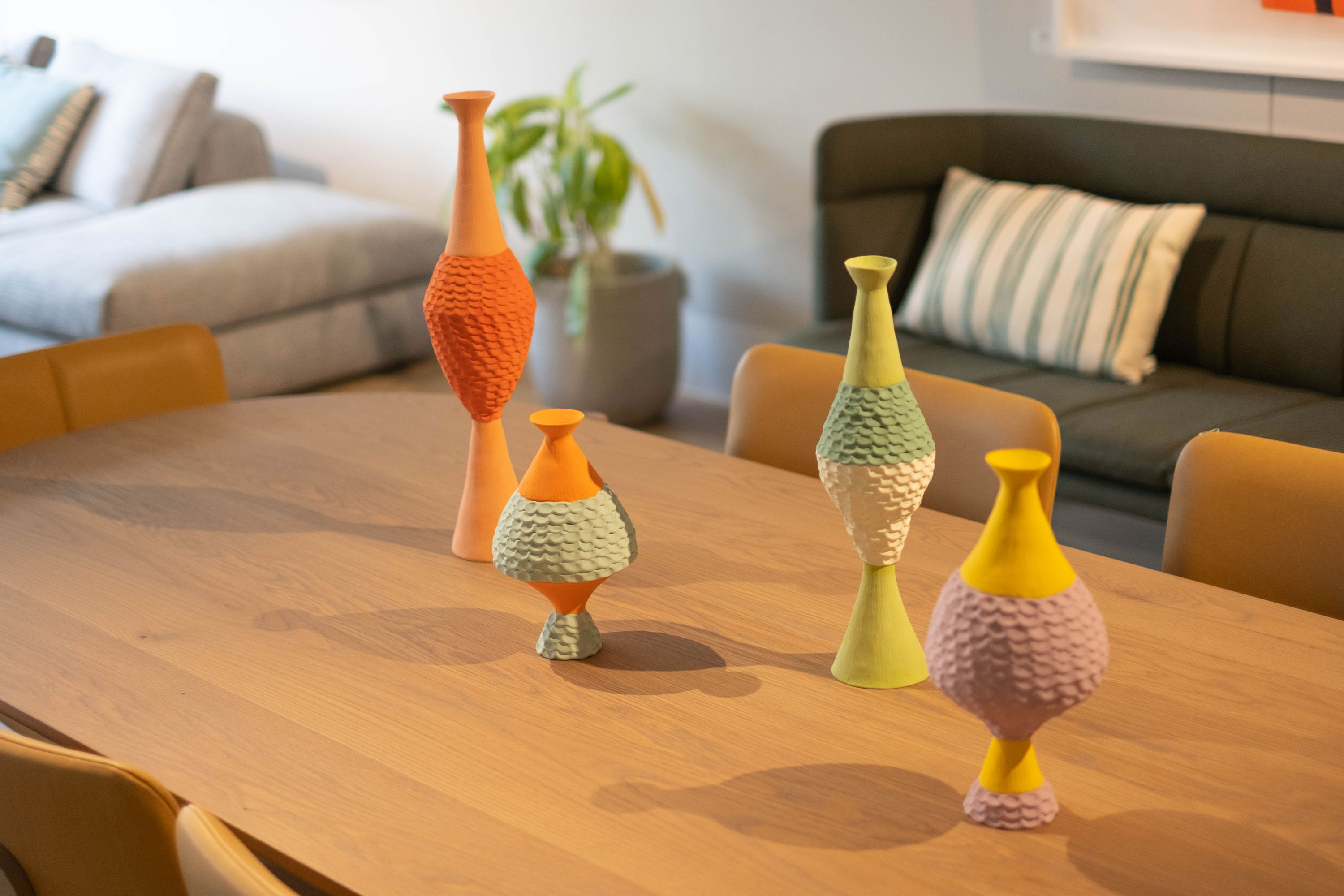 Meet the Maker – Steph Woods
16.12.22
Artists


We caught up with Brisbane based ceramicist Steph Woods. Her distinctive pieces are handmade in her studio where she uses her fingertips to sculpt and create repetitive patterns. We talked to her about her process, inspirations and her latest Stark collection, created exclusively for Jardan.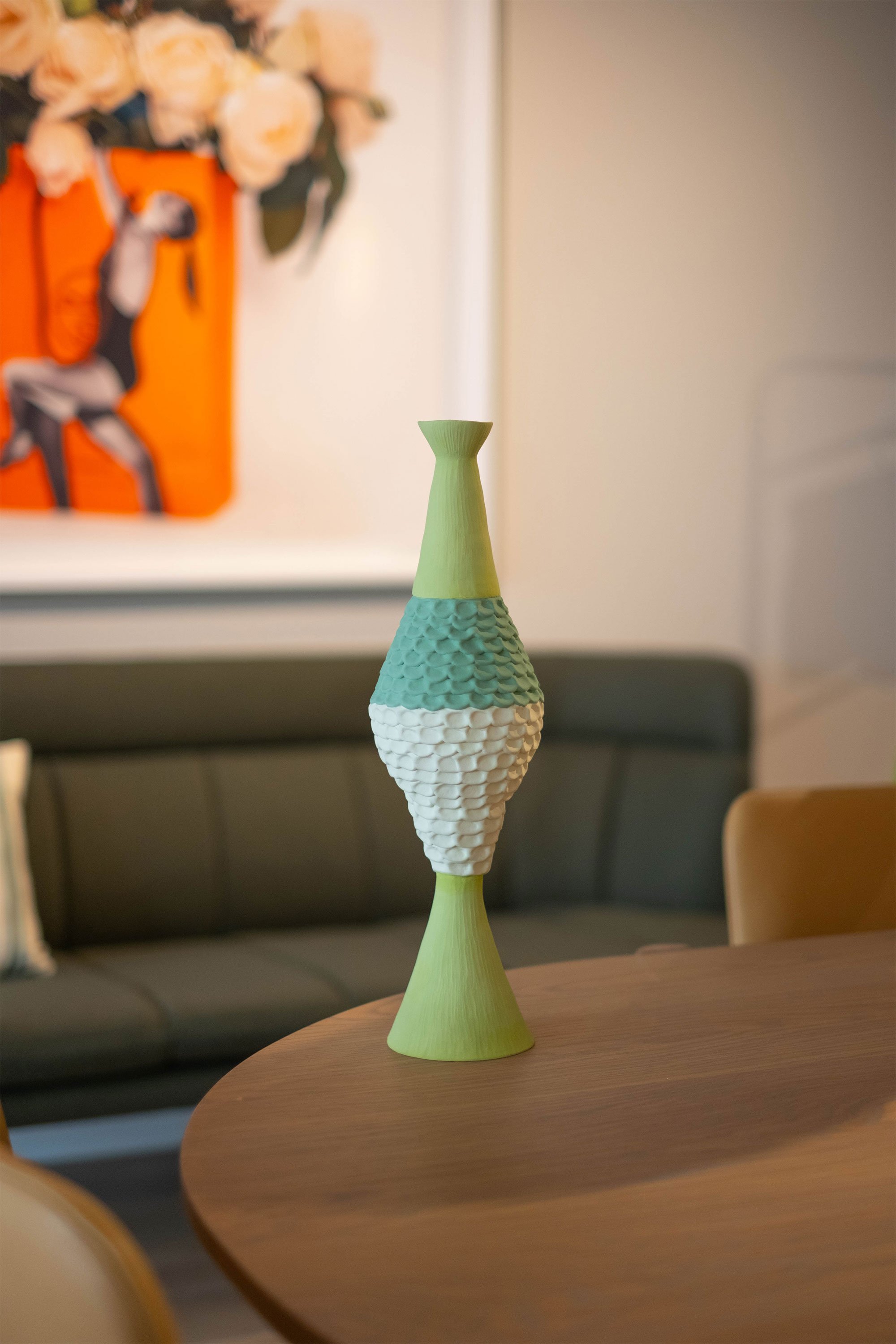 Stark Vessel Kiwi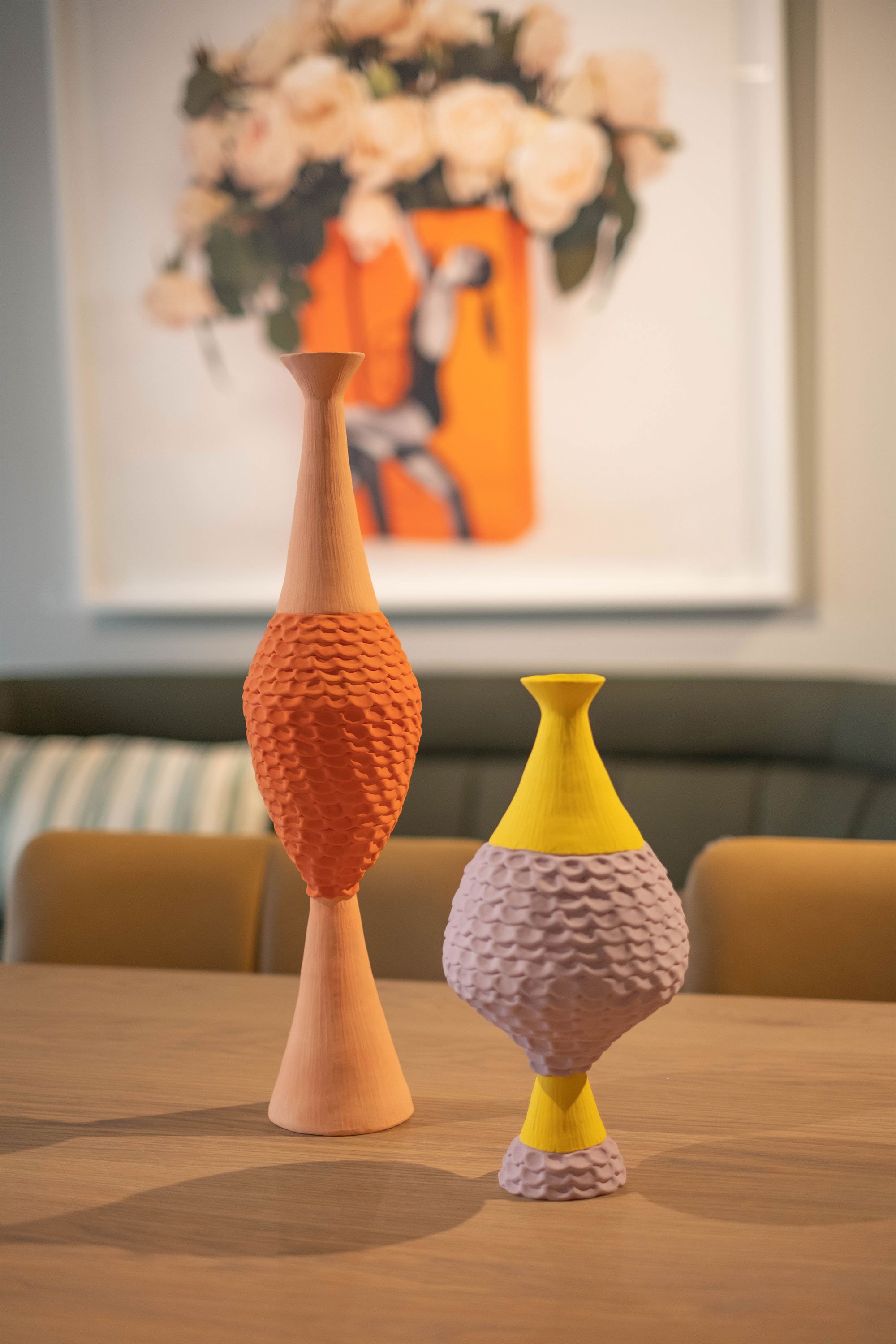 Stark Vessel Passionfruit and Peach
Tell us about what you do.
I'm a contemporary ceramic artist that loves to create ambiguous forms using outrageous colour and extreme texture. My work aims to push the boundaries of clay as a medium and our perceptions of ceramics in the artworld.
Where are you based? Where is your studio based?
I'm based in Brisbane where I work from my home studio in the quiet suburb of Camp Hill. It's a small, makeshift setup but it does the job!
Why did you start creating ceramics?
I fell in love with clay in my high school art class and continued to dabble with it when studying my Bachelors degree in Fine Art. After completing university, I never stopped creating ceramics - it was something that I felt I was naturally really good at. I love the limitless creative possibilities, the endless skills to learn and just how forgiving it is as a material. It's truly an addictive form of art as there's so much to learn when it comes to types of clays, glazes, firings, techniques… you well and truly can't get tired of it!
What drew you to hand made over wheel thrown?
I was never formally taught how to create ceramics, so when I started hand building, I never branched off into wheel throwing. The two techniques are completely different and I feel that I'd take quite some time for me to get to a point where I could sell thrown work. It's something that I would be interested in in the future, however for now I'd like to stick to hand building as I believe it's more suitable for the creation of my pieces.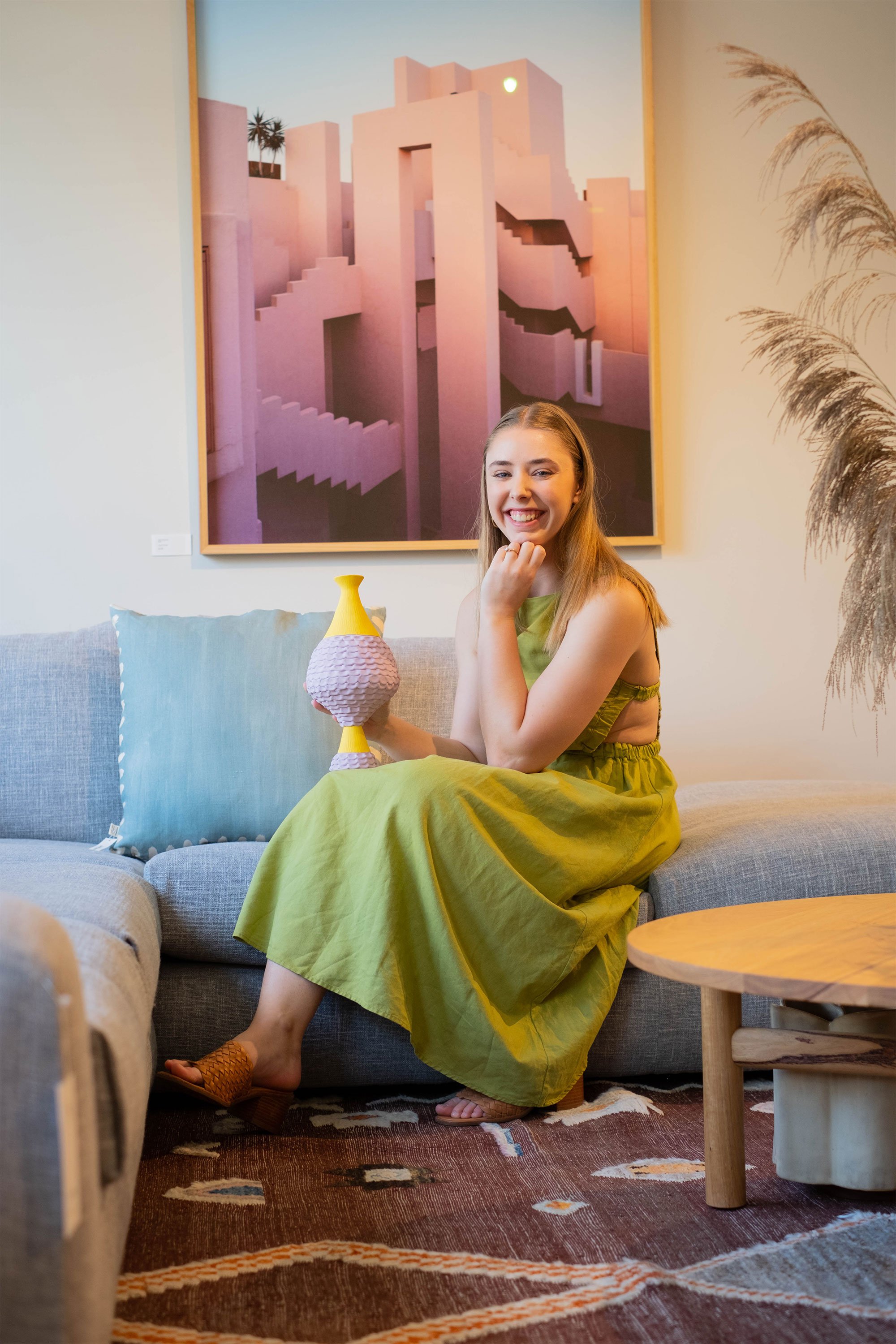 Ceramicist Steph Woods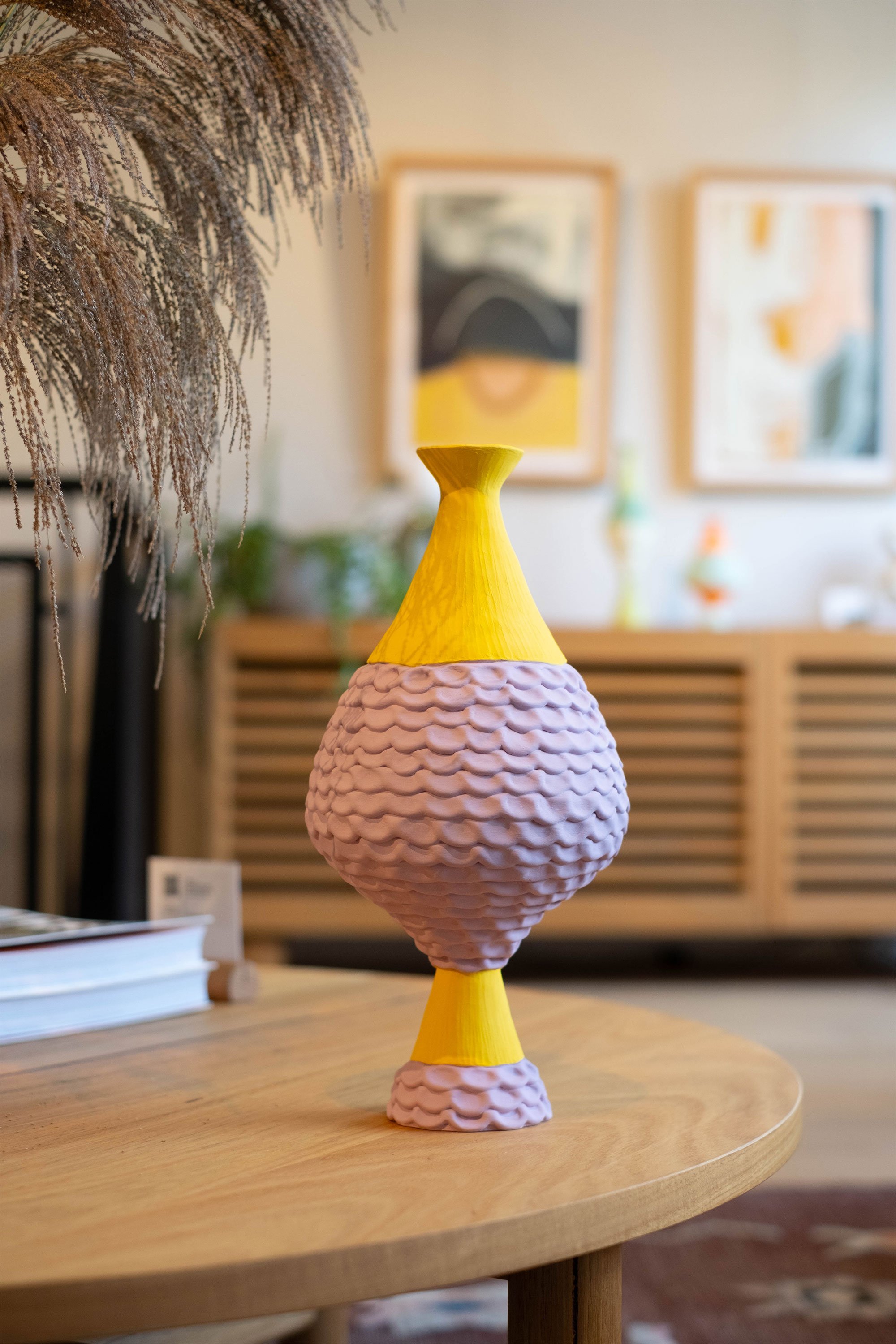 Stark Vessel Passionfruit
Can you talk us through the process of how you create your pieces?
First, I draw a basic sketch of the design so I know generally what I'd like the artwork to look like. I then use a roller to form the flat base of the piece and then roll out coils with my hands and layer them on one another around the base to slowly build up the design. To decorate the outer layer of the vessel, in some sections I smoothen the surface of the clay and in others I press down the coils with my fingertips to fold them over one another to create texture. I usually choose my glaze colours once the piece is bone dry and then glaze and fire my sculptures in the kiln.
Where do you draw your inspiration from?
I draw my inspiration from unusual things such as food, fashion, glass art, interior design, and the material itself. I try to get my concepts from outside the realm of ceramics as this helps me think of unique ideas that I haven't seen before. I also enjoy envisioning a space that I'd like to work with as I love when my pieces enhance a room's atmosphere. I think this mindset helps with my drafting process.
What has been the biggest challenge in creating your work?
My biggest challenge is pinning down a concept that's reasonable to create with clay. Sometimes I have unrealistic expectations, ideas that ultimately defy gravity and aren't possible to construct using my techniques. Swallowing that pill can be difficult sometimes.
How long have you been creating these pieces?
I've been creating contemporary ceramics for about five years now. Although I've made many works over the years it still feels like I've only scratched the surface!
Tell us about your exclusive "Stark" collection that you created for Jardan/us?
The Stark collection consists of four ceramic sculptures in a variety of sizes reminiscent of decadent desserts and colourful hues that are reflective of playful nostalgia. Each piece is made by hand using the coiling technique and can take up to 10 hours per artwork to complete.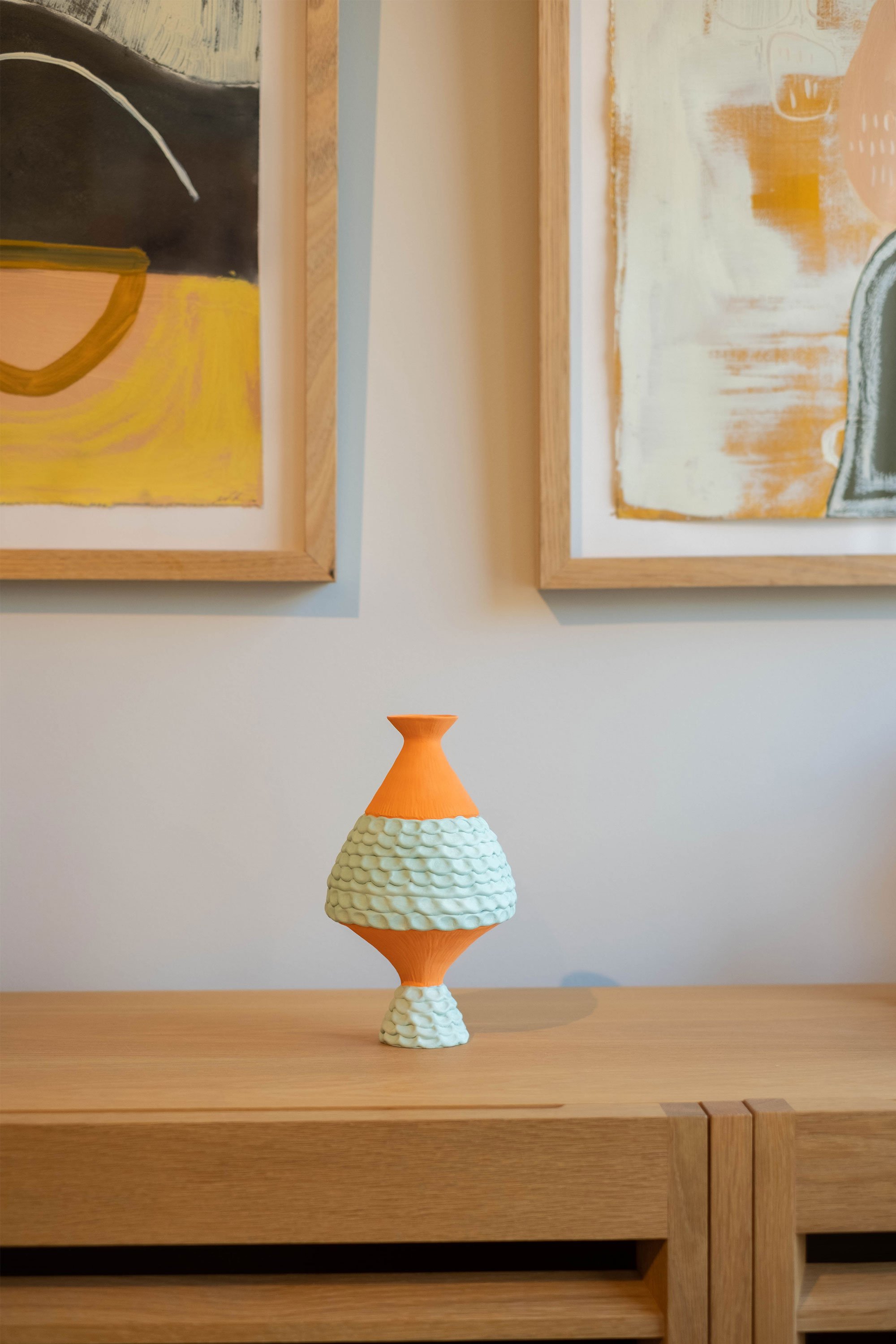 Stark Vessel Honeydew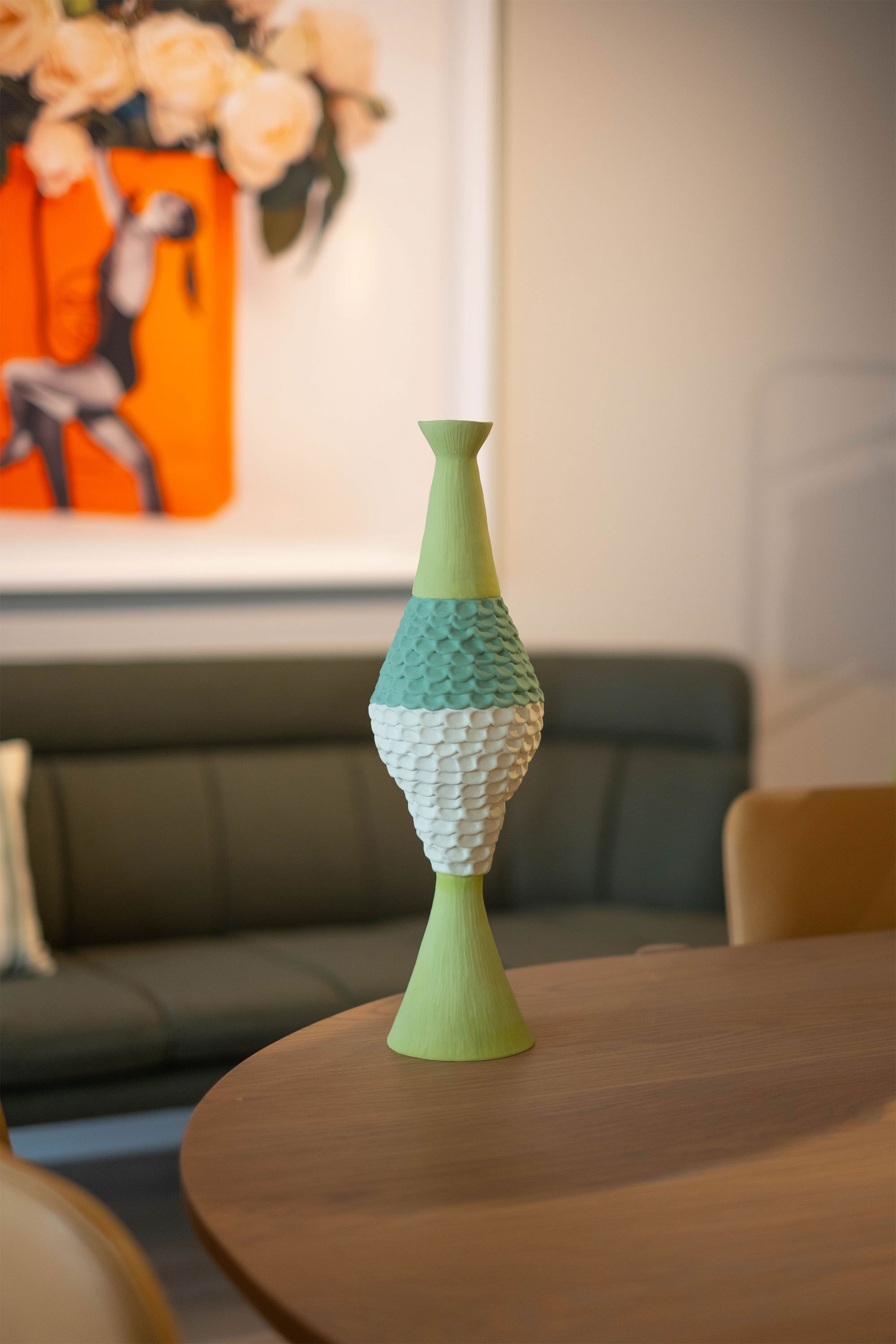 Stark Vessel Kiwi
What was the inspiration for this collection?
I was inspired by the idea of 'controlled spontaneity' when creating the Stark collection for Jardan. I aimed to create pieces that are equally balanced with both straight, sharp shapes and outbursts of texture. I also wanted to see how far I could push the limits of a typical vase appearance as I elongated the form to obscure it.
Can you tell us about why you wanted to work with Jardan?
Jardan has this playful style that I really admire. I love how you work with Australian artists, embrace contemporary ideas and are constantly bringing new innovative designs to the table. I think our brands align as we both aren't afraid of things that are out of the ordinary.
What has been your favourite moment in your career so far?
Moving to working with clay full-time this year has been life-changing. You'd think I'd be sick of getting my hands dirty each day but everyday I get into the studio full of ideas and excited to work. It's been a big change having to pay the bills with my art but very rewarding at the same time because I'm able to pick up more projects than ever before.
What are you looking forward to?
I'm very excited for next year as for the last six months working on my practice full-time, I feel I've got a good understanding of my arts direction. Next year I'm aiming to work hard to further my career and see how far I can take it!
What is next for Steph Woods?
I have some very exciting collaborations and projects coming up early next year, working with interior designers and design stores across Australia. Recently, a collection of mine was acquired by a prestigious museum and will be exhibited mid-next year which I'm very much looking forward to.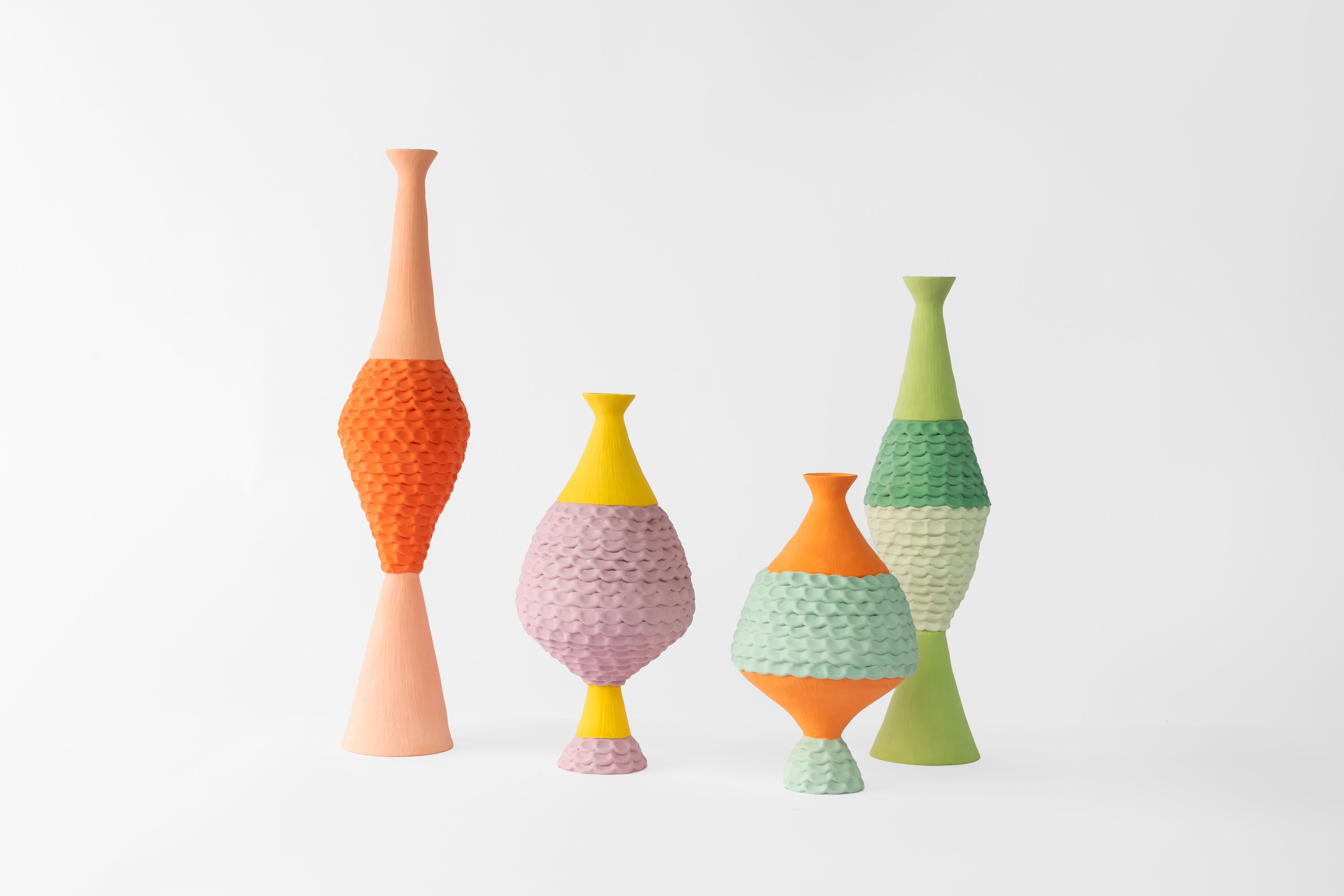 Stark Vessel Range by Steph Woods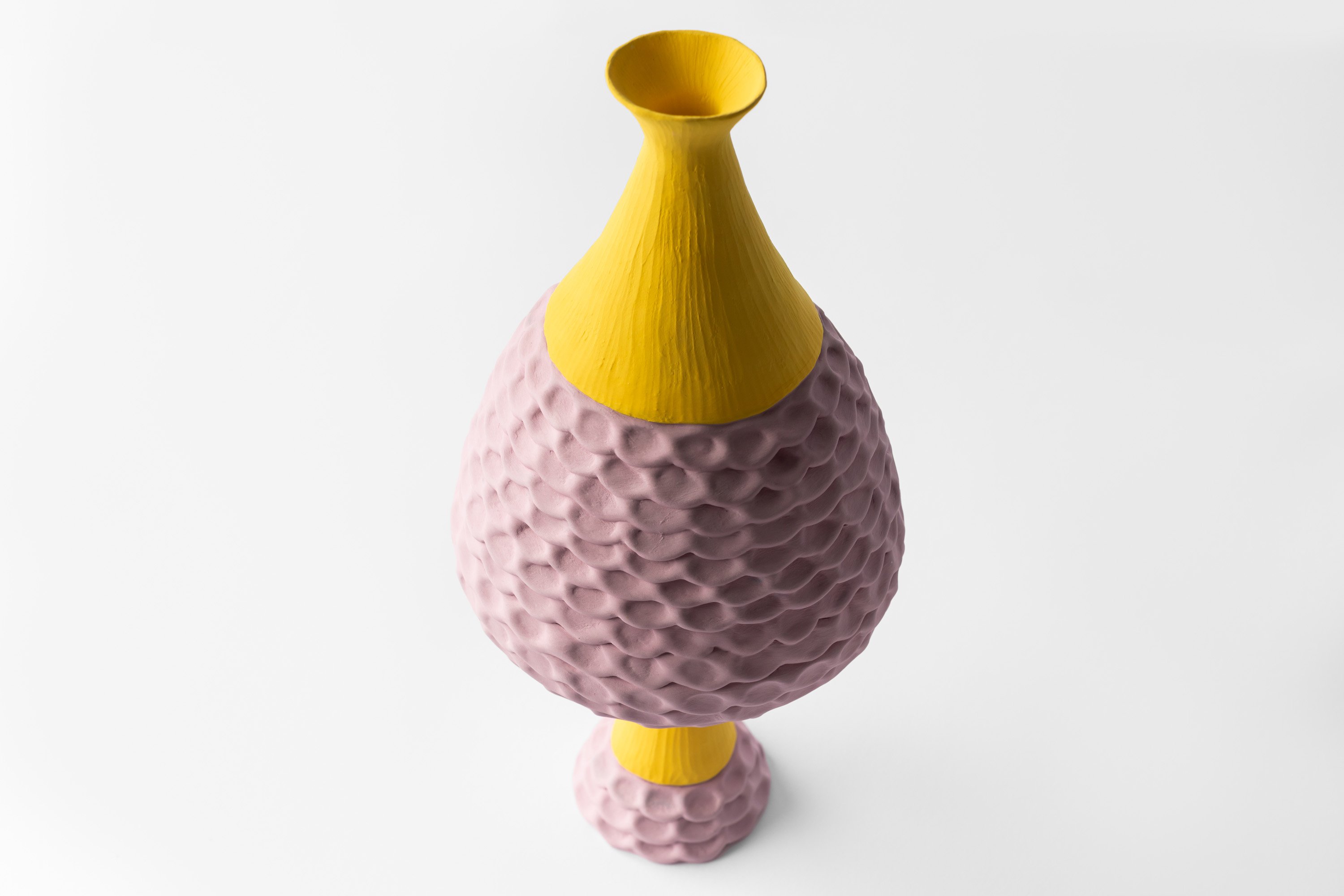 Stark Vessel Passionfruit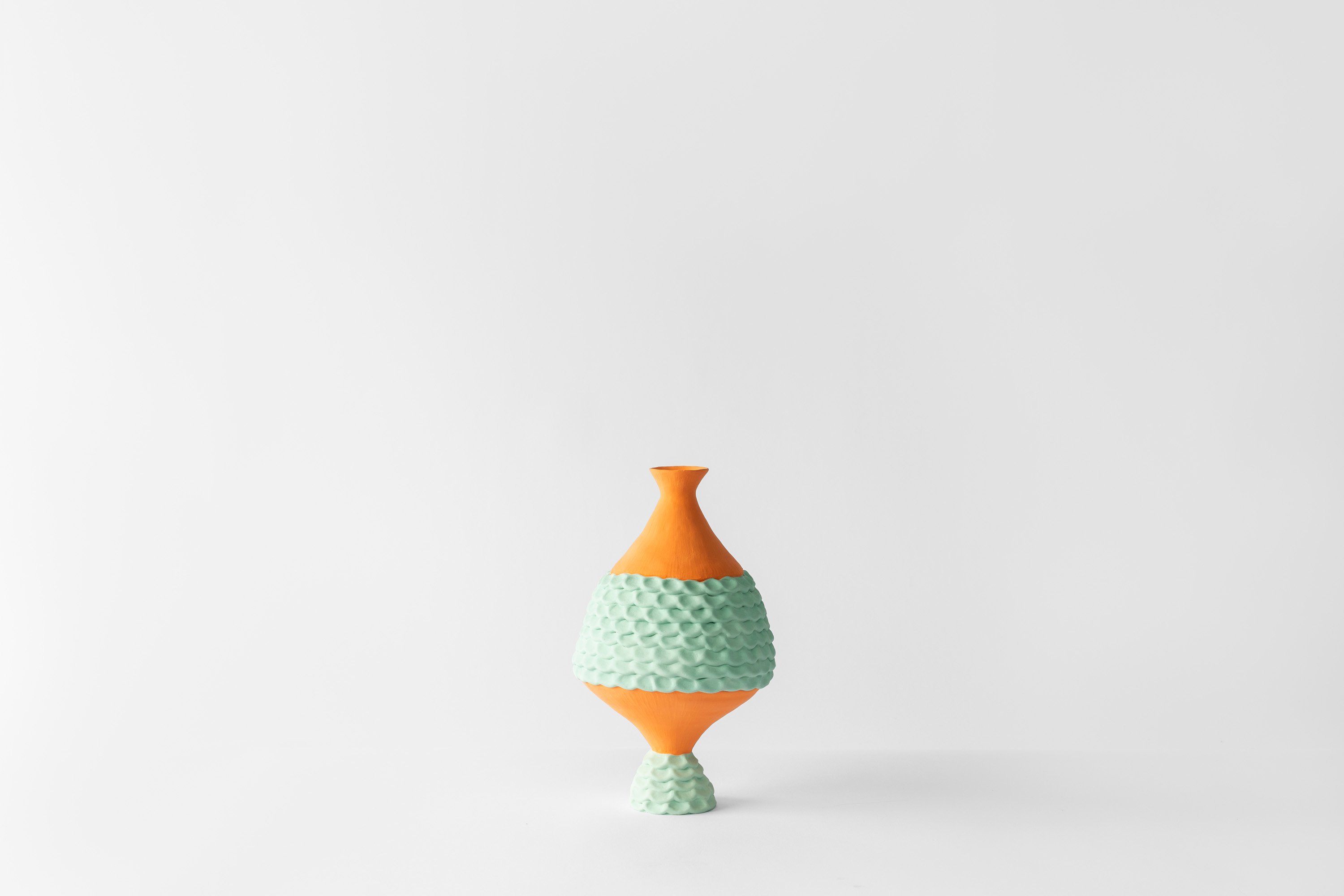 Stark Vessel Honeydew
Stark Vessel Passionfruit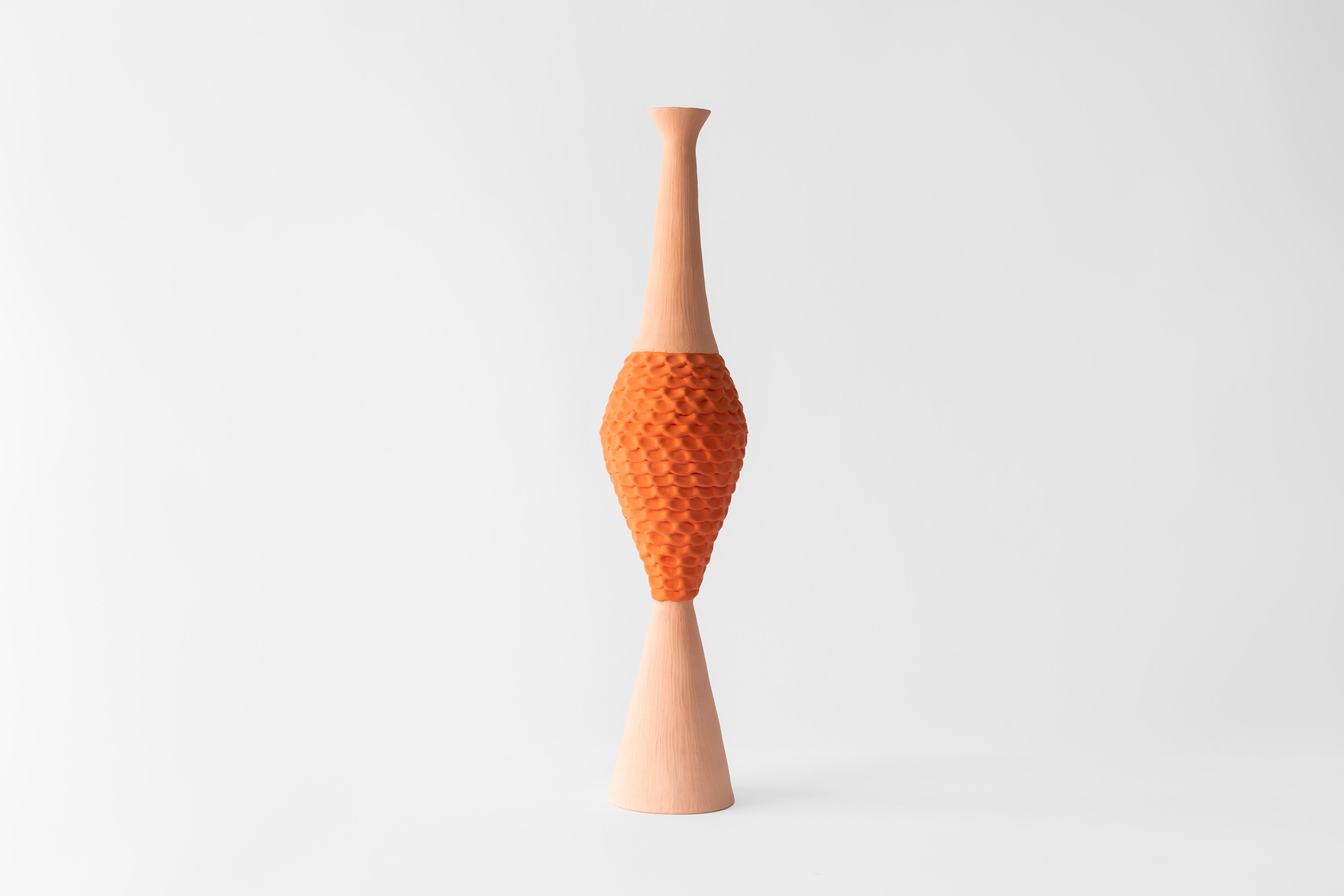 Stark Vessel Peach