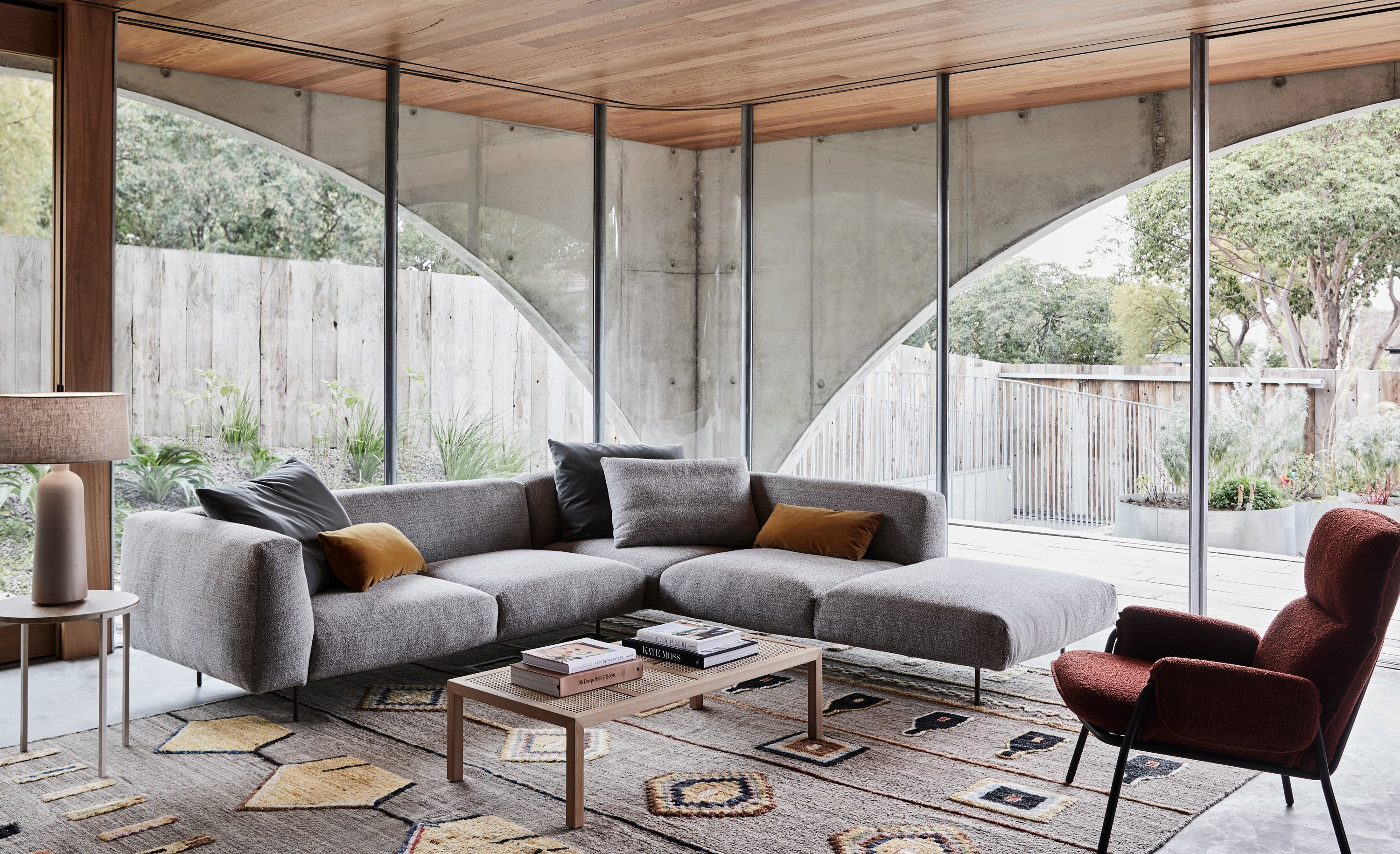 Weekend by Jardan
05.09.19
Design
Rather than looking for inspiration in the usual way, Weekend started with a reflection of our own 30 year history of design and manufacturing in Melbourne. We looked at our favourite Jardan sofas. We flicked through photographs and design archives. We spoke to the people who've worked with us in design and manufacturing for generations, in search of a constant set of ideas and principles: a common thread.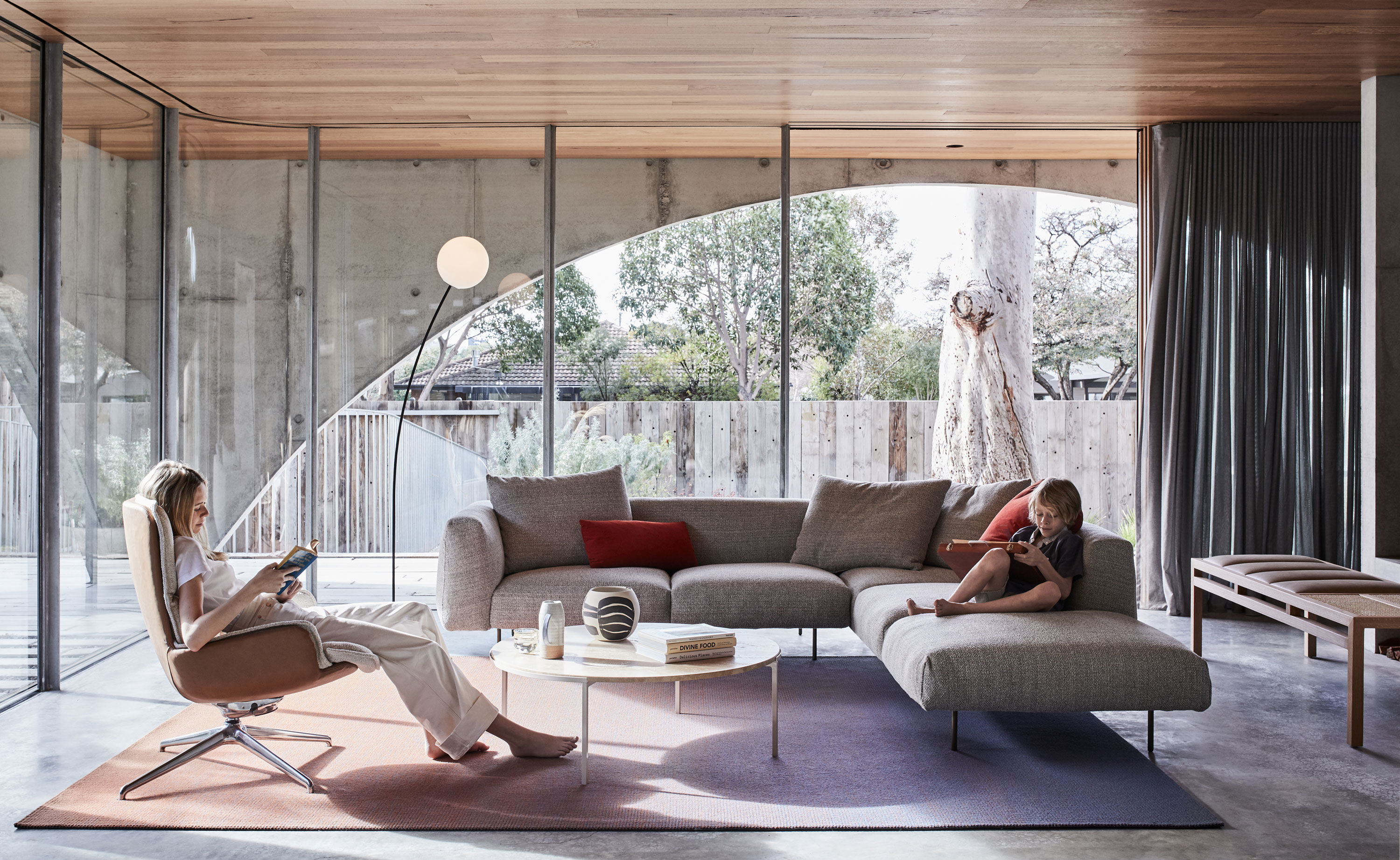 Banjo Amrchair, Boy Floor Lamp, Miller Modular, Alice Coffee Table, Billie Bench, Violet Jug in Lilac + Mask Vessel
What values has every single Jardan sofa, couch, chair or table had in common over the past 30 years? How has our curiosity continually driven our innovation? How have the pieces we've made always become part of the family? And how do we make a collection that does all of these things for Australian homes today?

While making Weekend, our design team wanted to capture the essence of what it's like to share a weekend with family. On the weekend our lives are relieved of unwanted detail. We're comfortable and relaxed. We make time for breakfast, time to read, time to talk. We value the company of friends and loved ones, without the need for elaborate decoration or extraneous detail. The joy we get from family is – like the furniture in this collection – an embodiment of much deeper values. Grace, comfort, resilience, quality, growth, excellence.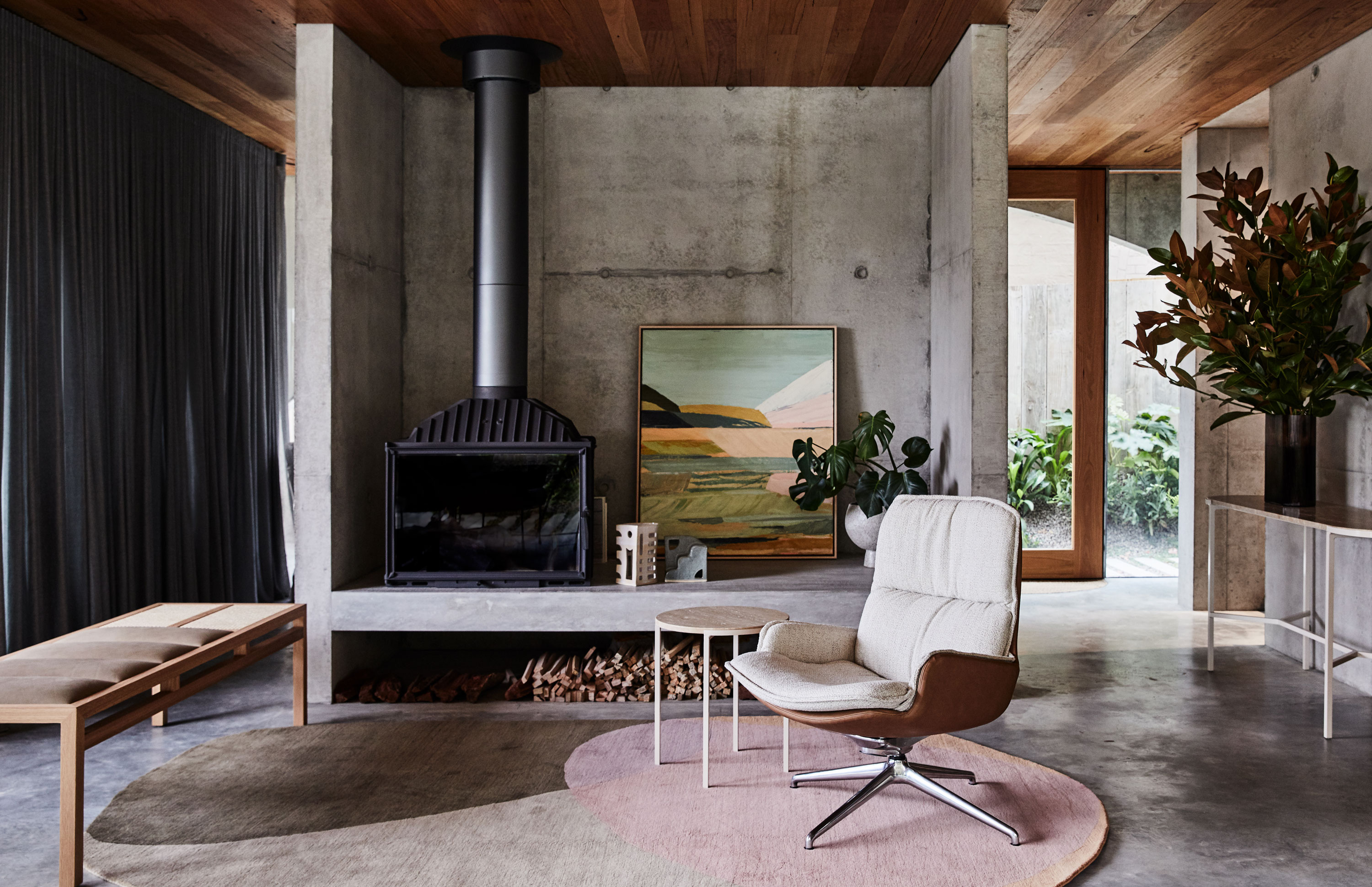 Billie Bench, Alice Side Table, Banjo Armchair, Bazaar Object in Eucalyptus, Futura Object in Oyster, Speckled Raku Vessel in Medium, Pebble Rug in Natural + Alice Console
With this in mind, the pieces in Weekend are deliberately devoid of bright or ostentatious details. But, finished with quality craftsmanship and beautiful materials, they are the kind of pieces you'll build a home around and never want to replace.

Once we'd decided on Weekend as a design theme, we created a collection of sofas, chairs, tables and complimentary pieces that are iconically Jardan. Ideas were initially sketched on paper, then put into 2D elevations, 3D printed, and prototyped on the floor of Jardan Lab. From there, the design team worked with the production team to evolve the designs.

Nick Garnham, Jardan's director, says this collaborative approach is essential to what makes a Jardan collection special. "Our design team work with our production team to continuously evolve our ranges," he says. "We do this constantly and you can see with every passing year that our production gets better, because we keep bringing things in house to improve our quality. Our designers walk out into the factory with our production team and talk about how to improve things. We all speak the same language."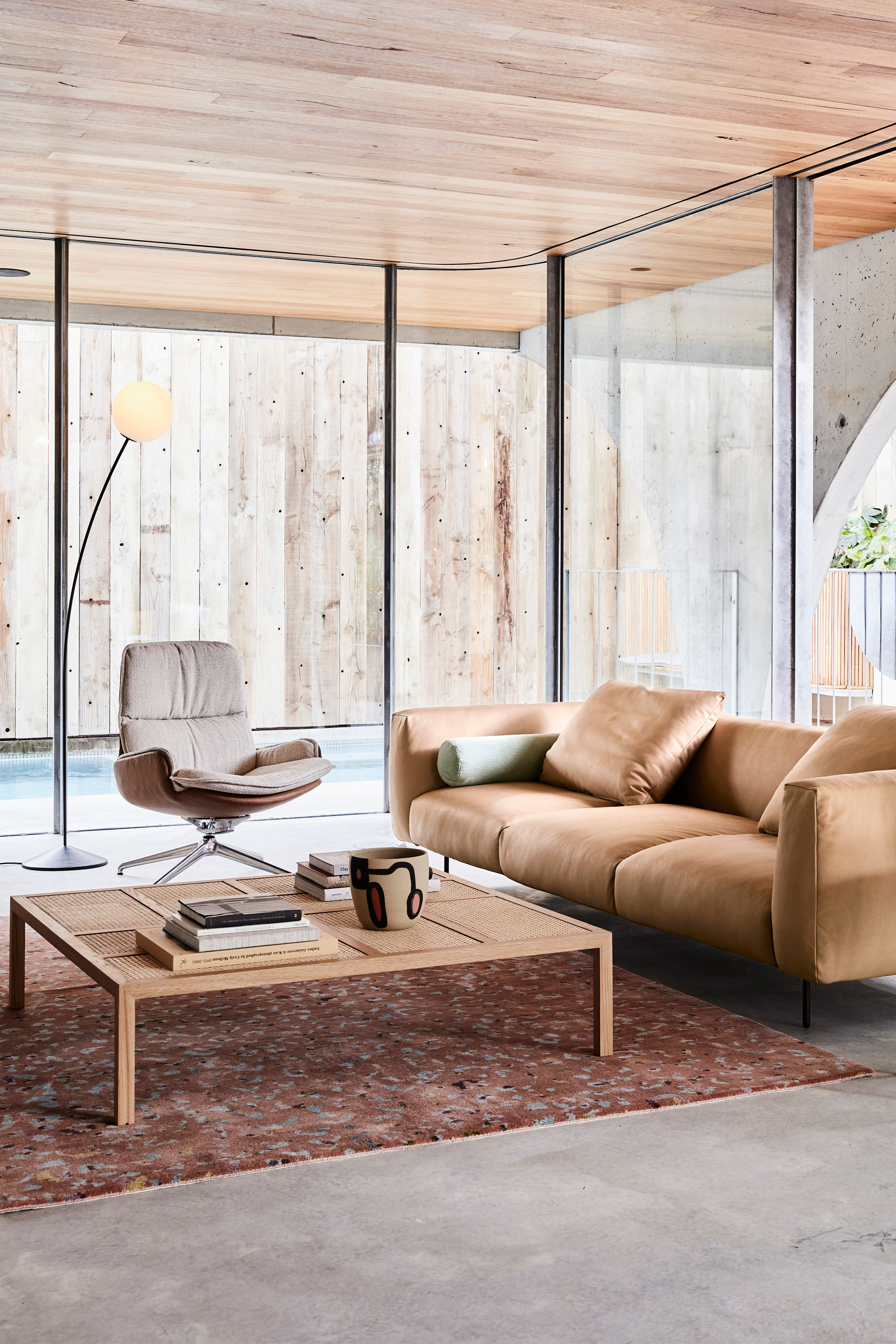 Banjo Armchair, Boyd Floor Lamp, Billie Coffee Table, Miller Sofa, Leo Rug in Blush, Bird Vessel + Jimbo Bolster in Glacier
Perched comfortably around the lounge setting from Weekend, Nick goes through the range in considerable detail. There's Miller, a timeless sofa that works easily into modular configurations and doesn't need to be dressed up with pillows or extraneous decorations. Alice, a travertine coffee table with fine steel legs. Banjo, an enveloping armchair with leather upholstery and swivel base. Billie, a coffee table with elegant joinery and inset rattan top. And Willow, an American Oak bed that builds on Billie's form and materiality. Along with key pieces like Miller and Billie, the range is complemented with three new lighting designs, a dining table, bench seat, and dining chairs.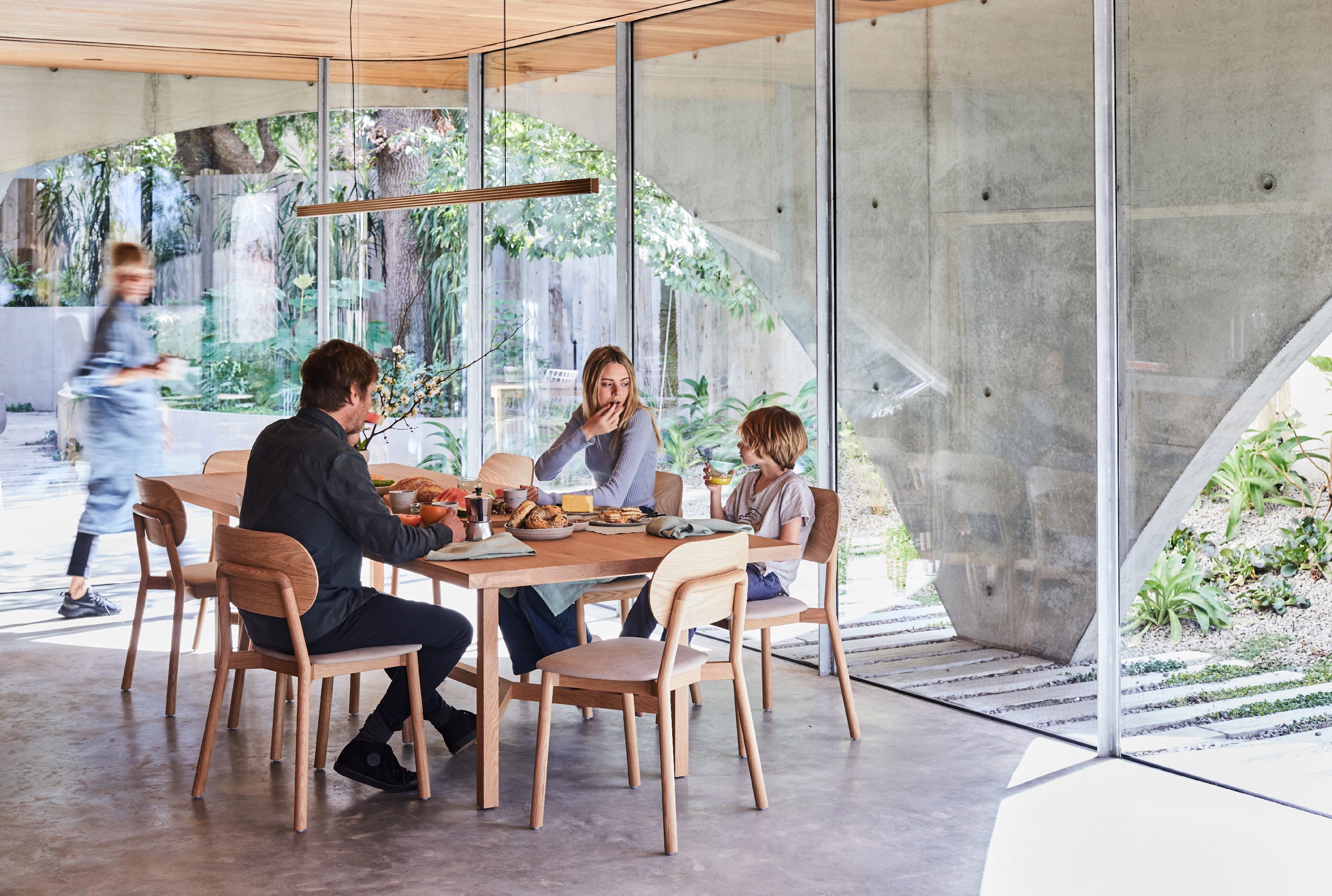 Cooper Dining Table + McKenzie Dining Chair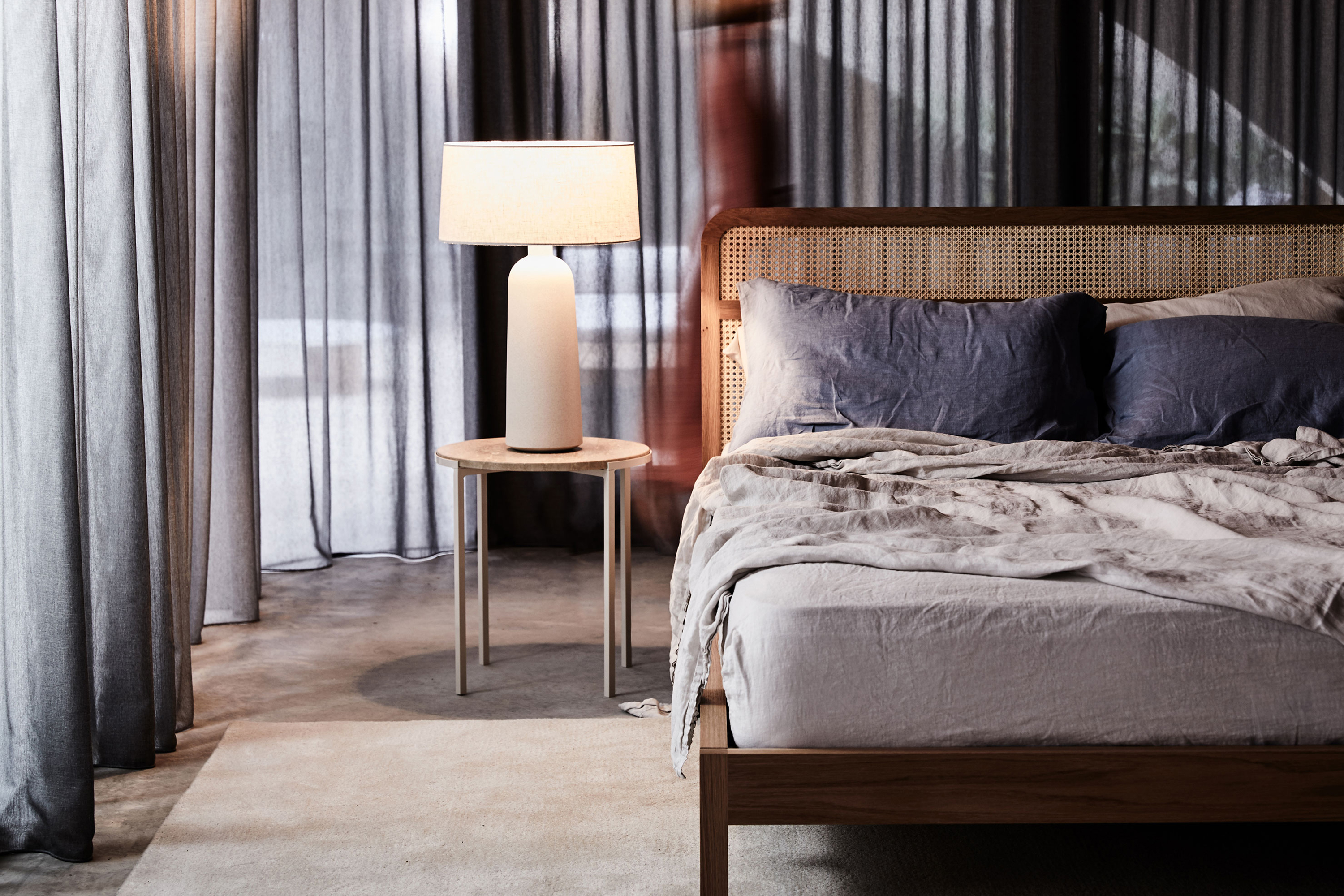 Heath Lamp, Alice Side Table, Willow Bed, Airo Grey Bed Linen + Airo Sky Bed Linen
Weekend shows a particular focus on lighting, too, expressing the benefits of improvements we've made in the design, manufacturing process and bringing in a new in-house lighting designer. Tables, sofas and chairs also incorporate a series of new ranges of materials from travertine stone, textured plain woven fabrics and beautifully soft pure aniline leathers.
"In asking all of those questions, we realised we're not returning to anything at all," says Nick. "We're honouring an essential and constant idea that we've been working on since the beginning: celebrating Australian family. Creating the pieces that become constants in the home for generations – in spite of everything a family throws at it."